San Diego is one of my favorite places to go on a quick weekend trip from Phoenix, AZ. The city is large enough to explore but is also surrounded by relaxing beaches and gorgeous scenery to enjoy.
Growing up in Arizona has given me the chance to take many weekend trips to San Diego, and there are certain places I have to go to every time that I visit. If you're looking for the best things to do in San Diego, I've included all my favorites in this blog post!
Here's how to spend the perfect relaxing three-day weekend in San Diego.
16 Best Things to Do in San Diego
1. Coronado Island
After arriving in San Diego, drive 15 minutes from downtown San Diego to Coronado Island!
Coronado Island is definitely one of the best things to do in San Diego. The island is filled with adorable boutiques, jaw-dropping hotels, and of course, gorgeous, sandy beaches.
Spend the afternoon relaxing on the beach, rent a bike to cruise along the beachfront, or stroll down Coronado's main street for a quaint shopping & dining experience. You can read my blog post about the best things to do on Coronado Island for more inspiration on how to spend your afternoon!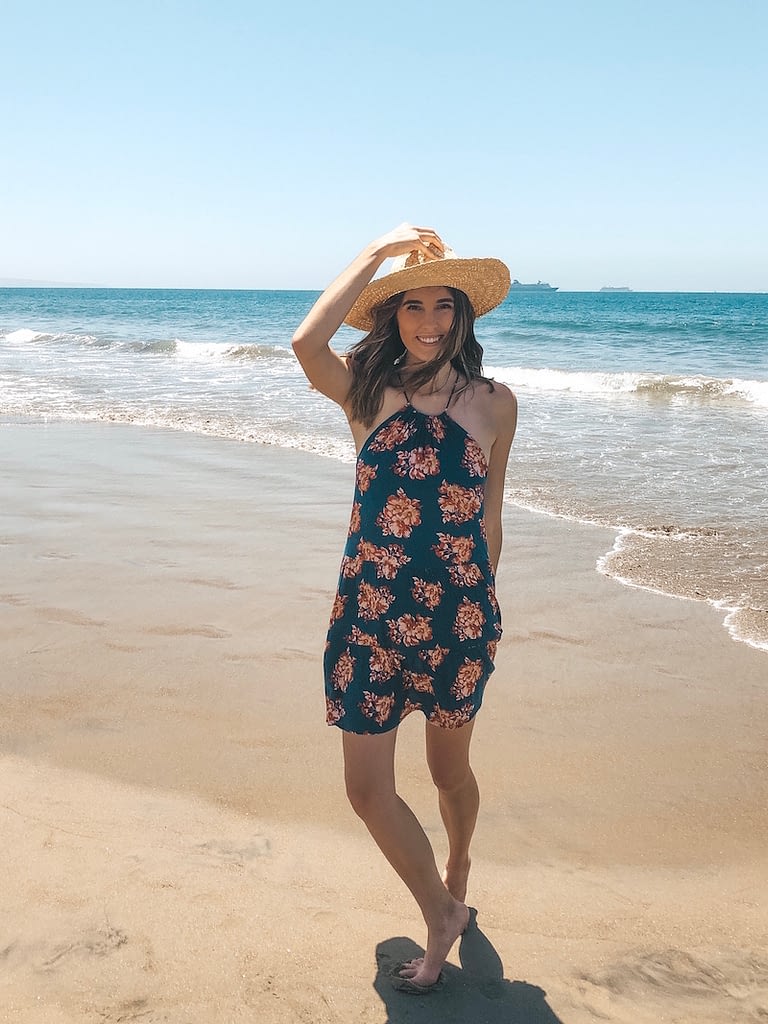 2. Hotel Del Coronado
Don't leave Coronado without visiting the crown jewel of the island: the legendary Hotel del Coronado. The hotel was built in 1888 and was designated as a National Historic Landmark in 1977. The Hotel del Coronado has hosted dozens of celebrities and political figures over the past century and continues to attract tourists worldwide.
Even if you don't stay in the Hotel del Coronado (it's pricey!), it is still fun to explore and peruse the shops around the lobby and enjoy the gorgeous beachfront views.
3. Bottega Italiana
While you are walking around Coronado Island, stop by Bottega Italiana for delicious gelato! It's freshly made in-store, and they have tons of unique flavors.
Before you leave Coronado Island, stop by Burger Lounge for a yummy grass-fed burger, or The Henry for a trendy & delicious array of Modern American fare.
4. Seaport Village
When you drive back to San Diego, enjoy a stroll through Seaport Village to soak up the waterfront views during sunset. It's one of the best things to do in San Diego, especially for tourists!
Stop at the San Pasqual Wine Tasting Room in Seaport Village to enjoy a glass of local, California wine (try one of the passionfruit wines, they are so unique and tasty) to finish your day.
5. Better Buzz
Start your morning with one of my San Diego essentials, Better Buzz Coffee!
Better Buzz is a small coffee chain & roastery in Southern California with a trendy and fun culture (some might say basic). Personally, I love Better Buzz, especially their speciality drink, The Best Drink Ever (yes, it's actually called that, and yes, it's actually the best drink ever!).
Along with delicious, locally-roasted coffee, Better Buzz serves some delicious acai bowls! Give Better Buzz a try when you are in San Diego. In my opinion, it's one of the best things to do in San Diego!
And if you're looking for another awesome coffee shop to try… check out Communal Coffee!
6. Little Italy Mercato Farmer's Market
Next, head downtown to Little Italy for the Little Italy Mercato Farmer's Market!
The Little Italy Mercato is from 8 AM – 2 PM year-round on Saturday mornings. With over 175 vendors and farmers, you will find everything you could ever want in a farmer's market.
From colorful fruits and flowers, fresh cheeses and baked goods, locally-made jams and hummus, and even kombucha on tap, there is something to satisfy everyone at the Mercato!
I've been to several farmer's markets, and this one is by far one of my favorites. The quality of the goods sold and the sheer size of the market is hard to beat! It's definitely one of the best things to do in San Diego, and I make a point to visit if I'm ever here on the weekends!
7. Balboa Park
After grabbing a bite to eat for lunch at the Little Italy Mercato, drive to Balboa Park. Though San Diego is known for its pristine beaches, Balboa Park rivals them in beauty!
Full of gardens, museums, unique architecture, and free entertainment, exploring Balboa Park is an excellent way to enjoy an afternoon in San Diego.
Here's a list of some of the best things to do at Balboa Park!
The Museum of Man and the California Tower
The Japanese Friendship Garden
San Diego Natural History Museum
The San Diego Air & Space Museum
The Botanical Building and Lily Pond
8. San Diego Zoo
My husband and I spent an entire day at the San Diego Zoo (like six hours!) and loved every second. The San Diego Zoo is clean, easy to navigate, and home to thousands of animals worldwide. The animals were very active when we visited (and seemed so happy!), which made our experience at the zoo so fun!
Plus, the San Diego Zoo isn't just one of the best things to do in San Diego, but it's actually one of the most famous zoos in the United States!
9. Little Italy
After a busy day exploring Balboa Park, head back to Little Italy for dinner! There are tons of fun things to do in Little Italy, like visiting the Piazza della Famiglia, dining at an authentic Italian restaurant, or grabbing a drink at the bars!
After dinner, head to Extraordinary Desserts for, you guessed it, an extraordinary dessert! This is a fun spot to visit to try and an extravagant slice of cake, petit dessert, or cookie!
10. Breakfast Republic
My favorite place to get breakfast in San Diego is Breakfast Republic. There are multiple locations in the San Diego area, but I recommend visiting the location is Pacific Beach for this itinerary.
The décor in all their restaurants is fun and trendy, and their dishes are themed to match the restaurant. They have an excellent variety of menu options, and I've enjoyed everything I've ever ordered here! Stopping at Breakfast Republic for breakfast is definitely one of the best things to do in San Diego.
11. Day Trip to La Jolla
After breakfast, drive 10 minutes north to La Jolla.
La Jolla is a gorgeous beach town known for its rugged coastline and the great variety of water activities. Taking a day trip to La Jolla is definitely one of the best things to do in San Diego. Here are some ideas of things to do during your day trip!
12. La Jolla Underwater Park
La Jolla Underwater Park remarkable spot for adventurers to go kayaking, snorkeling, or scuba diving to encounter a variety of sea creatures, like fish, dolphins, leopard sharks, and whales that call this ecological reserve home.
I haven't had the opportunity to visit the La Jolla Underwater Park yet, but it's on my list for the next time I visit San Diego. I would love to try this kayak and snorkel tour!
13. La Jolla Cove
La Jolla Cove is my favorite spot to visit in La Jolla. The rocky coastline is gorgeous, the caves are fun to explore, and it is an excellent vantage point to view the sea lions who enjoy hanging out there!
From my experience in La Jolla Cove, it is also an excellent spot to swim, lay on the beach, or go paddleboarding. This is a unique spot to see, and definitely one of the best things to do in San Diego!
14. Birch Aquarium at Scripps
If you want to experience the sea life in La Jolla without getting in the water, the Birch Aquarium at Scripps is the perfect place to spend your afternoon in La Jolla! There are tons of interactive exhibits and more than 5,000 fish in the aquarium.
15. Window Shopping in La Jolla
If you're looking for something a bit less adventurous to do during your day in La Jolla, be sure to walk around and go window shopping.
Prospect Street and Girad Avenue are located right next to the beach and filled with a good mix of trendy boutique shops and high-end stores.
16. Bobboi Gelato
Before you head home in the evening, be sure to stop by Bobboi Gelato for some genuine Italian gelato! All their gelato is natural and made in small batches. Be prepared to wait in line, though. This place is awesome, and everyone knows it!
Get an Awesome Value for the Best Things to Do in San Diego
Go San Diego Card
If you're planning to squeeze a lot of these best things to do in San Diego into your weekend trip, I would recommend purchasing the Go San Diego Card!
The Go San Diego Card is an all-inclusive pass that provides easy access to TONS of San Diego activities, like the San Diego Zoo, Balboa Park museums, La Jolla water activities, and dozens of other must-see places in San Diego!
I love using Go City Cards when I travel because it makes traveling more convenient. All I have to do is purchase one digital pass, and I am good to go! It's also a great value. If you're like me, this is a high priority when traveling!
Enjoy the Best Things to Do in San Diego During Your Weekend Trip!
Now you can see why San Diego is one of the most popular cities in California! I hope this travel guide helps you to plan and enjoy all the best things to do in San Diego during your weekend away.
If you visit San Diego, don't forget to share your pictures with me on Instagram! (@travelbybrit) Have a fun trip!

Disclosure: Some of the links in this post are affiliate links, meaning, at no additional cost to you, I will earn a commission if you click through and make a purchase. This helps me keep free content on my website, like this post about the "16 Best Things to Do in San Diego!"
Pin "The Best Things to Do in San Diego" for Later!
Did you enjoy this post about the best things to do in San Diego? You might also love these other Travel by Brit blog posts about California!
6 Best Things to Do on Coronado Island
10 Things to Do in Temecula for the Perfect Girls Weekend
8 Things to Do During a Day Trip to Huntington Beach