Are you planning a trip to Oahu and looking for an adventurous hike with breathtaking views? Look no further than the Lanikai Pillbox Hike. This local guide will provide all the necessary information before embarking on this popular trail.
We've got you covered, from where to park and what to bring to tips for navigating the sometimes steep and rocky terrain. We'll also share insider secrets about the best hiking times to capture that perfect Instagram-worthy photo. So, let's prepare for an unforgettable adventure on the Lanikai Pillbox Hike in Kailua on the island of Oahu!
This post was written by guest contributor Bridget from Bridget Gutierrez Travels — a local on the island of Oahu!
Lanikai Pillbox Hike Details
The Lanikai Pillbox Hike is a popular trail on Oahu, Hawaii. The hike offers breathtaking views of the surrounding coastline and crystal-clear waters. It is named after the old military pillboxes scattered along the trail of concrete bunkers built during World War II.
The trail is short — approximately 1.6 miles round trip. Still, it can be steep in certain sections, making it a moderate-level hike.
Distance: 1.6 miles
Elevation Gain: 406 feet
Route: Out-and-back
Difficulty: Moderate
Time: 60–90 minutes round trip
Dog-Friendly: Yes
Who Is the Lanikai Pillbox Hike For?
This hike suits nature enthusiasts and hikers of all experience levels, from beginners to advanced hikers. The trail is relatively short but involves some steep inclines and uneven terrain, making it a bit challenging.
It's also a popular hiking trail in Oahu for families with kids and dogs to enjoy, and it's free, making it one of the best free things to do on Oahu!
How to Hike the Lanikai Pillbox Trail
Lanikai Pillbox Trail starts off steep, and you will find ropes along the trail to help you pull yourself up. Most of the trail is loose, dry dirt. If you go when it's raining, the conditions will be muddy and slippery.
This trail is considered a moderate-level hike. Even though the trail is short, it can get complicated due to its steepness. Hikers will ascend about 406 feet along the route, which adds significant difficulty. Taking your time makes hiking this trail easier, and throughout the path, there are flat viewpoints to stop, catch your breath, and even take pictures.
After the steep dirt climb, the next section is a skinny trail that is less steep and easy to go up. After this section, you get to a rocky area. There is a dirt path to the right that most people choose to go on. Or you can carefully climb through the more prominent section where it's rocky. The dirt section is more slippery than climbing the rocky part. There are rocks and trees where you can hold on to help create leverage to push yourself up.
Then, there is the last section of a narrow rocky path to reach the first pillbox. In this final section, you will find hikers waiting for their turn to go down the trail and taking their time to get down, as it's tricky to descend in this area.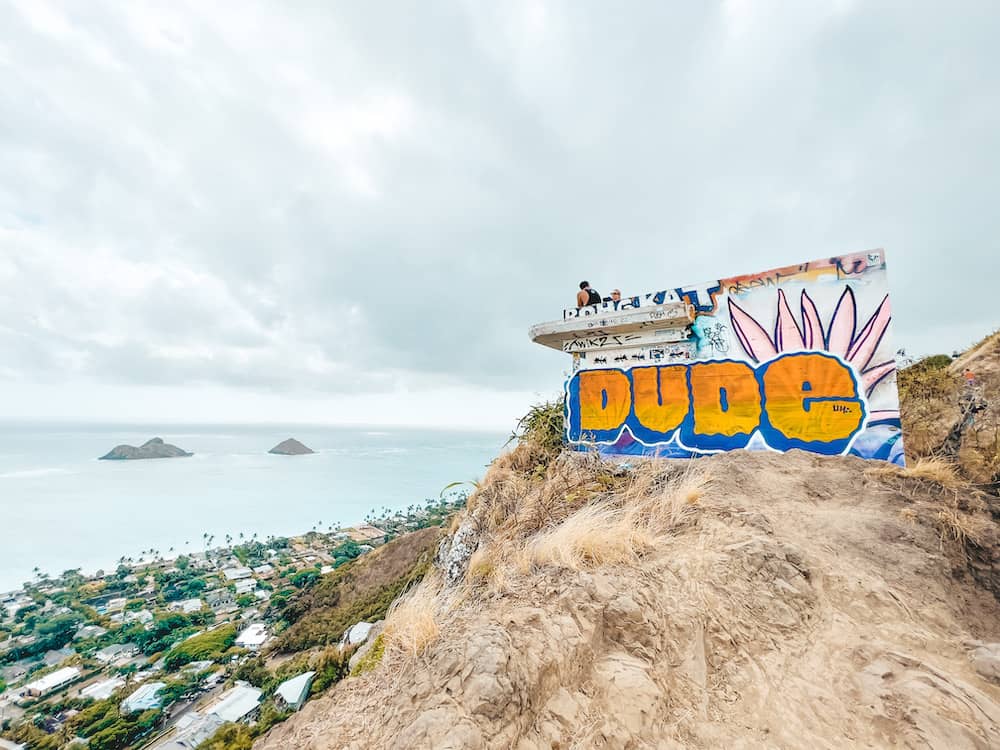 You must push yourself up to get to the top of the pillbox, as no ladders or steps are available. Most people stop here, and it will be the most crowded pillbox of the hike. The second pillbox is about 200 feet farther away and is generally less crowded.
The highlight of the Lanikai Pillbox Hike is undoubtedly the breathtaking views from the pillboxes. Once you reach the top, you'll be rewarded with a panoramic vista of the turquoise waters of Lanikai Beach and the Mokulua Islands. It's an ideal spot for taking photos, enjoying a picnic, or simply soaking in the natural beauty of Oahu.
How To Get To the Lanikai Pillbox Hike
Lanikai Pillbox Hike is in a neighborhood in Kailua, located on the eastern side of Oahu. You can rent a car, take a taxi or rideshare, like Uber or Lyft, or use a bus from your accommodation to Kailua. Depending on traffic, it's about a 30-40 minute drive from Waikiki and 1 hour and 20 minutes from the North Shore.
Once you're in Kailua, you must find parking near the trailhead. Lanikai is a residential area, and parking can be limited. You'll find the entrance to the trail at the end of Kaelepulu Drive, right across the street from the golf course. On the corner, you will see a dirt path with wooden steps and fenced with signs indicating this is a hiking trail.
Where To Park to Hike the Lanikai Pillbox Trail
The nearest parking to the Lanikai Pillbox Hiking Trail entrance is about two blocks away, where you can find a few parking spots around the park and in the residential area of Lanikai. Make sure to read all the signs indicating whether parking in the street you are trying to park is allowed. Many signs state that parking needs to be allowed, so pay attention.
Remember to be respectful of residents and avoid parking in front of driveways or restricted areas. Be aware that the police will give you a ticket if you are parked in the wrong place. Our biggest tip? Always double-check the signs. The best option for parking is the Kailua Beach Park parking lot. If you end up parking in the Kailua Beach Park parking lot, it is a 15 to 20-minute walk to the entrance of Lanikai Pillbox Trail.
Because Kailua is a popular place for tourists and locals, it's best to arrive early to secure a parking spot. Also, the weekends are a popular time for hiking, so parking is even more challenging. We recommend hiking this trail on a weekday, if possible!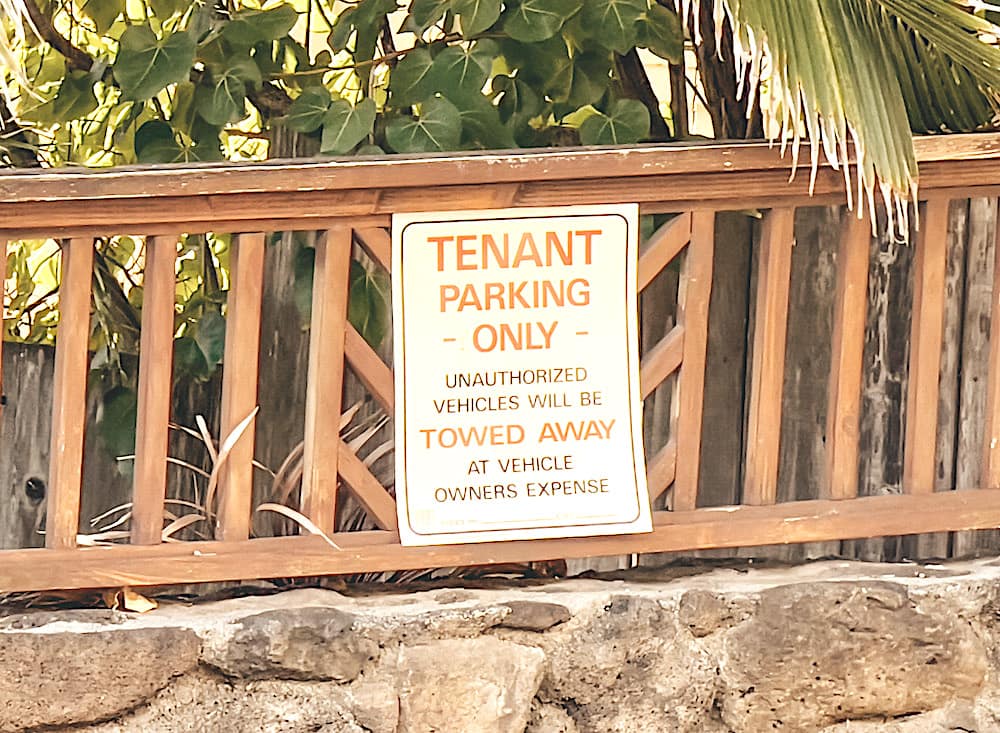 What To Pack For the Lanikai Pillbox Trail in Kailua
When preparing for a hike on the Lanikai Pillbox Trail, there are a few essential items to pack to ensure a safe and enjoyable experience:
Reef-Safe Sunscreen — Bring reef-safe sunscreen to protect your skin from the sun's rays. Having reef-safe sunscreen on hand is excellent if you plan on heading to the beach after the hike. Badger Mineral Sunscreen Cream and Sun Bum Mineral Spray are a few of our favorite sunscreens that are approved for use in Hawaii.
Reusable Water Bottle — Staying hydrated is essential, so pack a reusable water bottle to refresh you throughout the hike and reduce plastic waste. A HydroFlask Wide Mouth Bottle or a Stanley Stainless Steel Tumbler are both great options to keep your water cool.
Hat — Since there is no shade on this trail, a hat is a must-have item to shield yourself from the sun. Sunglasses are also a great choice if you would prefer them over a wide-brimmed hat.
Rashguard — Hawaii's sun can be intense, and a rashguard not only shields you from harmful UV rays but can also be incredibly useful if you head to the beach after the hike.
Snacks — Packing a light snack will give you some energy and provide you with something delicious to enjoy when you reach the top of the pillbox and enjoy the breathtaking views.
Backpack — A backpack will come in handy for storing all your items while you hike the trail, so you can be hands-free and use both hands to hold on to the ropes to get up and down the trail. The Osprey Hikelite Unisex Hiking Backpack is highly rated and perfect for day hikes, like the Lanikai Pillbox Hike.
When Is The Best Time To Hike the Lanikai Pillbox Trail?
The best time to hike the Lanikai Pillbox Trail is in the morning on a weekday. This is because it is less crowded with tourists, and the temperature is not too hot.
Hiking in the morning lets you beat the midday heat and enjoy cooler temperatures while exploring the trail. Additionally, weekdays are less busy than weekends, meaning you will encounter fewer hikers on the trail, allowing for a more peaceful and enjoyable experience.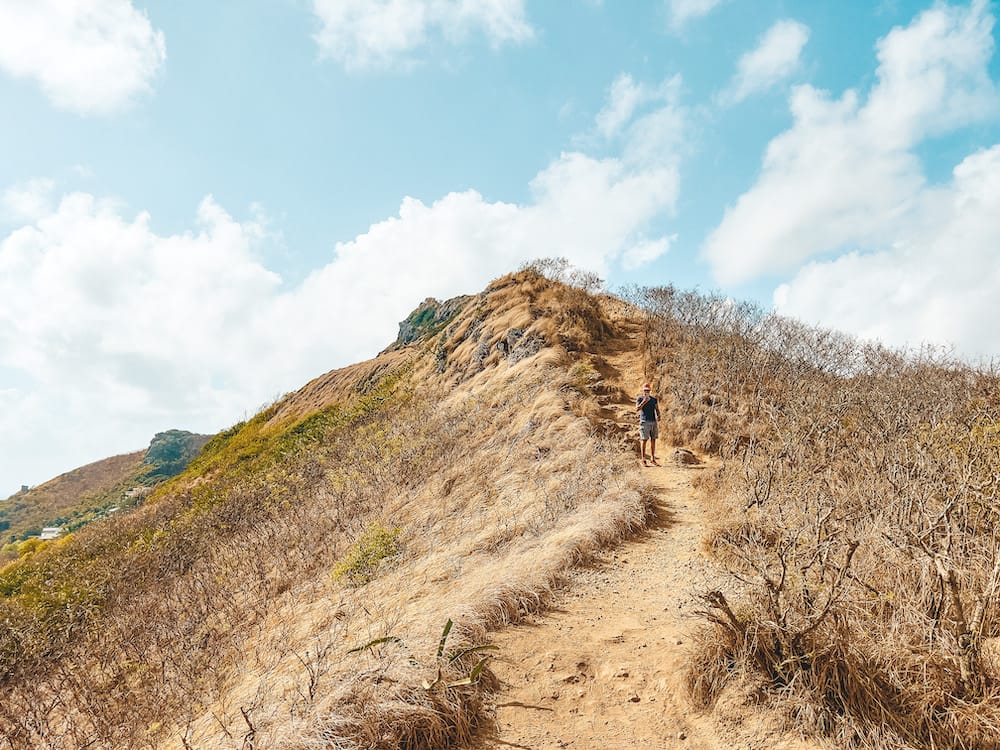 Tips to Hike the Lanikai Pillbox Trail
Pace Yourself
Take your time on the steep sections, and don't rush. This will make the hike more manageable and allow you to enjoy the journey and scenery.
Go at Sunrise
Hiking the Lanikai Pillbox Hike at sunrise is a breathtaking experience with stunning views and a peaceful and tranquil atmosphere. By starting your hike early in the morning, you can witness the beauty of the sun rising over the horizon over the ocean, casting a golden glow over the turquoise waters and lush landscapes below.
The best part is that you'll have fewer people to contend with than later in the day, allowing you to immerse yourself in the awe-inspiring surroundings. It will be worth it to wake up super early.
Hike During Noon
If you want to see the turquoise ocean colors for your photos, hiking at noon is the best time to catch the water's vibrant hue. Remember, it will be extra hot because there's no shade.
Go During Weekdays
Avoid weekends and holidays to avoid a crowded trail and the headache of finding parking.
Leave No Trace
Stay on designated paths, take all your trash, and respect the environment when hiking the Lanikai Pillbox Trail. Hawaii's delicate ecosystems are to be preserved and protected.
Wear Shoes With Good Traction
Wearing shoes with good traction is essential for hiking this trail safely. Proper footwear provides grip and stability, reducing the risk of slips and falls to ensure a more enjoyable and secure hiking experience. These Merrell Women's Moab Hiking Boots are affordable, comfortable, and provide fabulous grip and traction!
Things To Do After Hiking Lanikai Pillbox
Once you've conquered the Lanikai Pillbox Hike in Kailua, Hawaii, the adventure is far from over. Here are some tremendous post-hike options:
Relax at Lanikai Beach
You'll likely be hot and sweaty after completing the Lanikai Pillbox Hike. A great way to cool off is to head to Lanikai Beach, just four blocks from the hiking trail's entrance.
Lanikai Beach is one of the most famous Oahu beaches due to its soft white sand and clear blue water, with a fantastic view of the two Mokulua Islands, aka "Mokes." Keep in mind that this beach has no restrooms or showers and little to no shade. Lanikai Beach is a perfect spot to go snorkeling, swim, play beach games, or relax and sunbathe.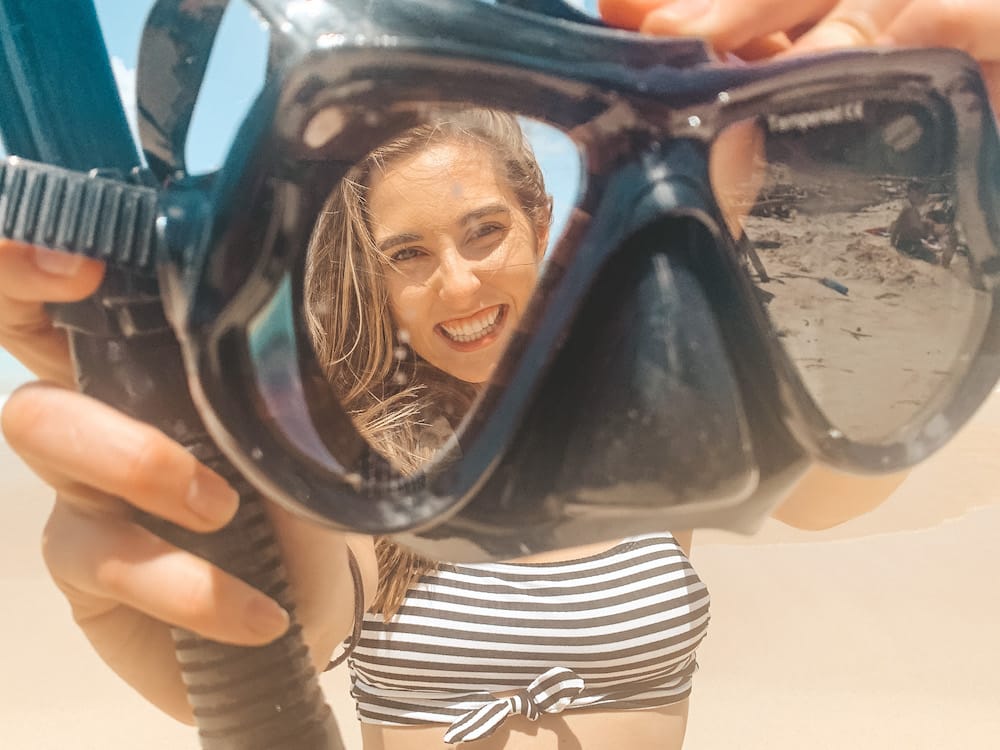 Dine at Buzz Steakhouse
After a rewarding hike and swimming in the clear waters, consider having a delicious lunch at Buzz Steakhouse. Everything on the menu is delicious, from burgers to fish, and remember to try the local cocktails or beers. Buzz Steakhouse is conveniently located right next to Lanikai in a neighborhood called Kailua, right in front of Kailua Beach Park and its parking lot.
Indulge in Shave Ice at Wilson's
On a hot day, treat yourself to a delicious dessert before returning to your hotel by stopping at Wilson's, a small local shave ice spot. Shave ice at Wilson's is some of the best on the island, with all flavors naturally made. Every bite is delicious, and it melts in your mouth.
Visit Nu'uanu Pali Lookout
Before returning to Waikiki to enjoy the best things to do in Waikiki, take advantage of the Nu'uanu Pali Lookout. This lookout provides fantastic views of the island's West side from above.
This lookout is significant in Hawaiian history, where King Kamehameha won a crucial battle while reuniting the Hawaiian Islands. Just be prepared that this place can be windy and chilly, so hold on to your hat. You don't want to lose anything. The mountains and neighborhoods facing the ocean on the West Side offer a picturesque view perfect for photos.
Lanikai Pillbox Hike FAQs
Do you need a reservation for the Lanikai Pillbox Hike?
A reservation for the Lanikai Pillbox hike is unnecessary, as it's open to the public.
Is the Lanikai Pillbox hike free?
Yes, the Lanikai Pillbox Hike is free to enter.
How difficult is the Lanikai Pillbox Hike?
The Lanikai Pillbox Hike is considered a moderate hike. What makes it difficult is how steep the loose dirt can be, making it slippery to go up the hill. There are ropes to assist you in going up the mountain. Additionally, taking time and going at your own pace can make the hike more manageable.
Final Thoughts: Guide to the Lanikai Pillbox Hike
In conclusion, the Lanikai Pillbox Hike in Kailua, Hawaii, promises an unforgettable adventure for hikers of all experience levels. This local guide has provided valuable information, from how to get there and what to pack to tips for the best hiking times and enjoying post-hike activities.
Whether you're a nature enthusiast, a family with kids, or a seasoned hiker, this trail offers a unique blend of challenging terrain and breathtaking views. Remember to be mindful of trail etiquette, leave no trace, and wear appropriate footwear for traction.

Disclosure: Some of the links in this guide to the Lanikai Pillbox Hike are affiliate links, meaning, at no additional cost to you, I earn a commission if you click through and make a purchase. This helps me keep the content on my website free, like this guide to the Lanikai Pillbox Hike.
Save This Guide to the Lanikai Pillbox Hike for Later
Read More
Looking for more things to do on Oahu during your vacation? Check out these other travel guides about the island!