Considering a trip to Disneyland in 2021? After closing in March 2019 due to the COVID-19 pandemic, Disneyland and California Adventure recently reopened their doors to out-of-state visitors on June 15, 2021, with some new guidelines and restrictions in place to keep visitors safe and healthy.
I visited Disneyland and California Adventure twice in July 2021. In my opinion, the key to having a successful trip to the parks with the new health guidelines and restrictions is knowing what to expect before you arrive and planning ahead.
To help you have a fantastic trip to Disneyland and California Adventure, I've organized this post with some commonly asked questions about visiting Disneyland in 2021. At the end of the post, I've added some of my best tips (in general) for visiting the parks to help you save money & maximize your tickets!
Without further ado, here's everything you need to know about visiting Disneyland in 2021!
Commonly Asked Questions about Visiting Disneyland in 2021
What are Disneyland's COVID-19 Policies? What are the Mask Guidelines at Disneyland in 2021?
Currently, Disneyland recommended that guests are fully vaccinated or receive a negative COVID-19 test result before entry. From my experience, Disneyland did not ask for proof of vaccination or a negative test, and they did not complete a temperature check upon entrance to the park.
When I first visited Disneyland in 2021 (mid-July), masks were optional for vaccinated people indoors and outdoors, and masks were recommended for non-vaccinated people indoors. However, as of July 30, 2021, rules regarding masks and face coverings changed. Now, face masks are required by all guests (ages two and up), regardless of vaccination status, while indoors, including on indoor rides. Face masks are optional outdoors. Masks were required during my second trip to Disneyland in 2021. In my opinion, the mask policy hardly changed my experience.
Also, it's important to note that Disneyland requires you to purchase tickets and make park reservations before you arrive. Park reservations can be made up to 120 days in advance, depending on availability. You can read more about this process on Disneyland's website.
Note: Please read the latest health information in Orange County before your visit to Disneyland to stay up-to-date on the latest guidelines and information.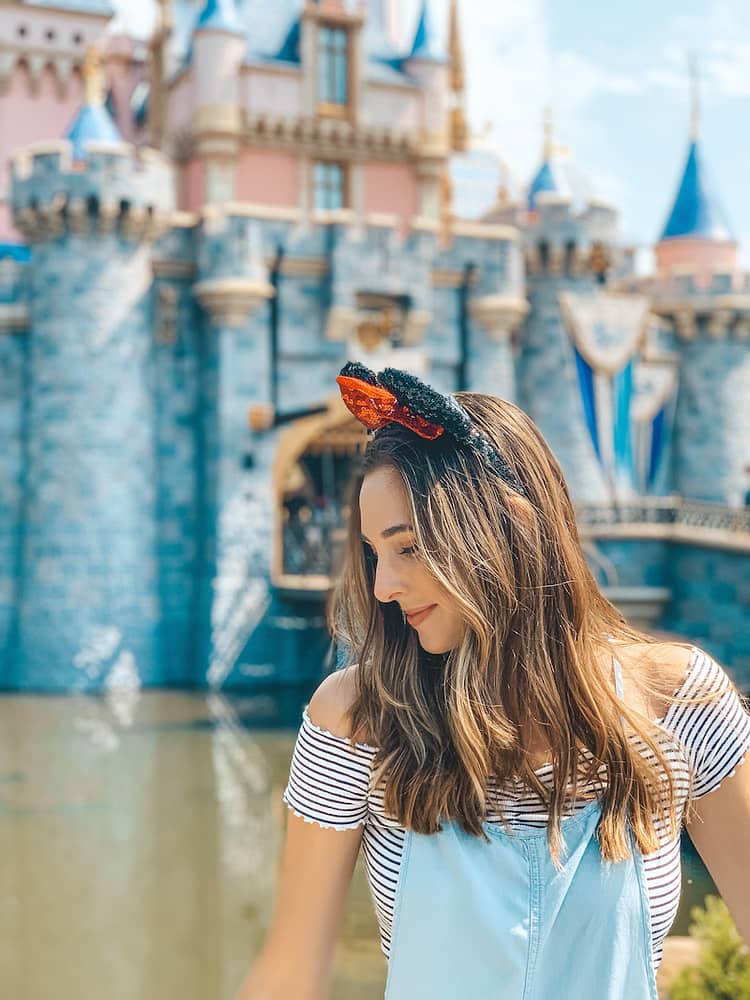 Should I Buy a Disneyland Park Hopper Ticket?
Before visiting Disneyland in 2021, I would frequently buy a one-day park hopper to visit both Disneyland and California Adventure in one day. However, unless you're planning to spend at least two days at the parks, purchasing a park hopper might not be the best option for you.
Currently, Disneyland and California Adventure only allow guests to "hop" parks after 1 PM each day, so if you start your day in Disneyland, you can't enter California Adventure until 1 PM. After 1 PM, you can hop back and forth in-between parks as many times as you'd like.
If you visit the parks for more than one day, I recommend buying the "One Park Per Day" tickets. Instead of park hopping, we spent one full day in Disneyland and one full day in California Adventure and felt like we had the perfect amount of time to ride everything (we even rode some rides three times!). Plus, you'll save up to $55 per ticket.
However, if you'll only be in the parks for one day, I still recommend purchasing park hoppers so you can experience both parks!
Do I Need to Download the Disneyland App?
Although I'd always recommend downloading the Disneyland App on your smartphone before visiting the parks, it's imperative to have it before visiting Disneyland in 2021. You can use the app to:
Check attraction wait times in both Disneyland and California Adventure (see the photos below)
Join virtual queues for popular rides like Rise of the Resistance and WEB SLINGERS: A Spider-Man Adventure (see photo below)
Make mobile food orders for restaurants and quick-service food locations across the park
You can also sync your park tickets to the app. Although this is convenient for entering the parks, it's necessary for joining virtual queues. Make sure that your entire party has their tickets on one person's app, so you can join virtual queues at the same time to ride the attractions together.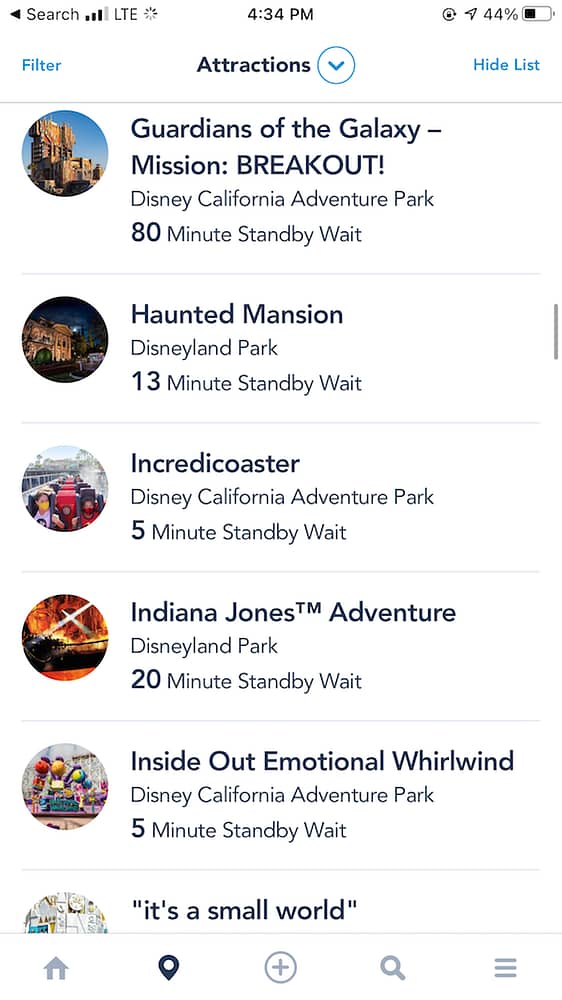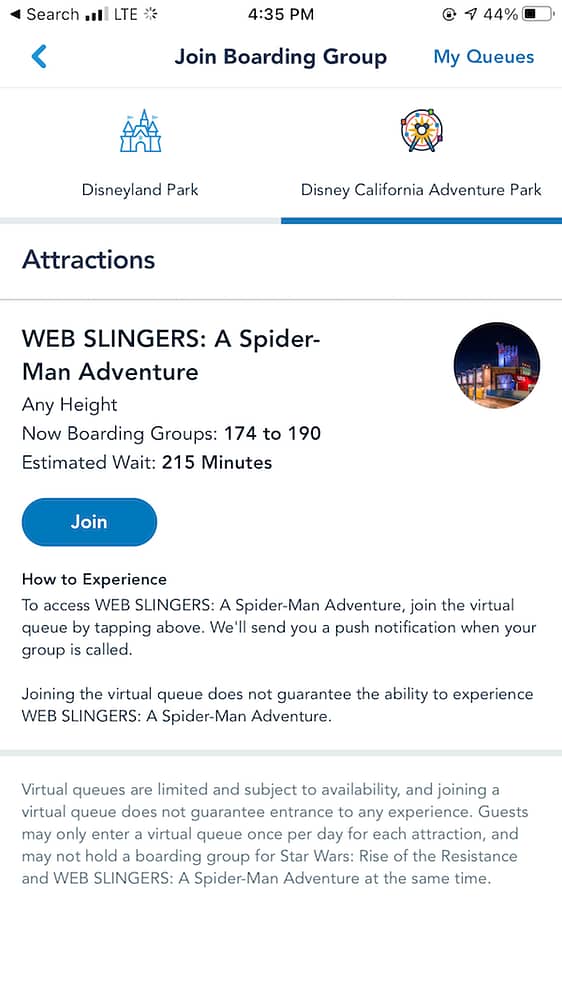 How Do I Join Virtual Queues? Which Rides Have Virtual Queues?
Disneyland recently released virtual queues for select rides. Once you join a virtual queue, you are essentially on a "waitlist" for the ride for a fixed amount of time. When the time is up, you have one hour to show up at the ride's entrance. The cast member will scan your ticket, and you'll be able to wait in the physical line (that's usually pretty short) to go on the ride.
Virtual queues are awesome! You're essentially "waiting in line" for a popular ride that would otherwise have a two-hour wait while you're doing other things in the park. Personally, I think virtual queues are here to stay and will be introduced to more rides in the future.
There are currently two rides with virtual queues—Rise of the Resistance in Star Wars: Galaxy's Edge at Disneyland and WEB SLINGERS: A Spider-Man Adventure in the Avenger's Campus at California Adventure.
You can join your first virtual queue at 7 AM. It's important to join the queue that corresponds with the park you're planning to visit in the morning. So, if you're visiting Disneyland, join the queue for Star Wars, and if you're visiting California Adventure, join the queue for Spider-Man.
It's critical to have the Disneyland App open on the "Virtual Queue" page and have the ride you want to join the queue for selected. The queues fill up within seconds, and you won't have another chance at joining until the afternoon.
Anyway, if you're lucky enough to make it in the queue, the app will give you a time frame within 8 AM and 12 PM to return to the ride. If you miss your first chance at the queue (or if you're planning to park hop to the other park in the afternoon), you can try again for the second time frame at 12 PM. Since this queue lasts from 1 PM until the parks close, it's usually much easier to secure a spot in line.
Is Disneyland Doing Fast Passes? Are the Wait Times Long?
If you're skilled at using the Disneyland FASTPASS system, you may (like me) be dismayed to discover that Disneyland has currently halted the distribution of FASTPASS tickets. They are also no longer selling the Disney MaxPass—a $20 addition to your tickets that allows you to make FASTPASS reservations from your smartphone.
I was surprised to discover that lines moved relatively quickly—even without the FASTPASS lines. We never waited longer than 45-60 minutes for a ride, and that was even with weekend wait times!
I think the FASTPASS lines slow the regular lines down considerably. Without them, the standby lines moved quickly for most rides!
Do I Need to Make Food Reservations on the App?
One of my favorite parts about visiting Disneyland in 2021 was discovering the new (and better!) way to order food—the Disneyland App! However, as much as I love ordering on the app, it's important to note that as of June 15, 2021, ordering food on the app is not required, and all dining establishments offer a standard line.
On the app, you select a time frame when you'll arrive at the restaurant (usually 15-45 minutes from the current time) and when you arrive, you can notify the kitchen staff by clicking a button. They'll let you know when your food is ready to pick up (usually about 5-10 minutes from when you arrive).
Pro Tip: If you want to eat at a sit-down restaurant, like Blue Bayou, I recommend making reservations at least one month in advance.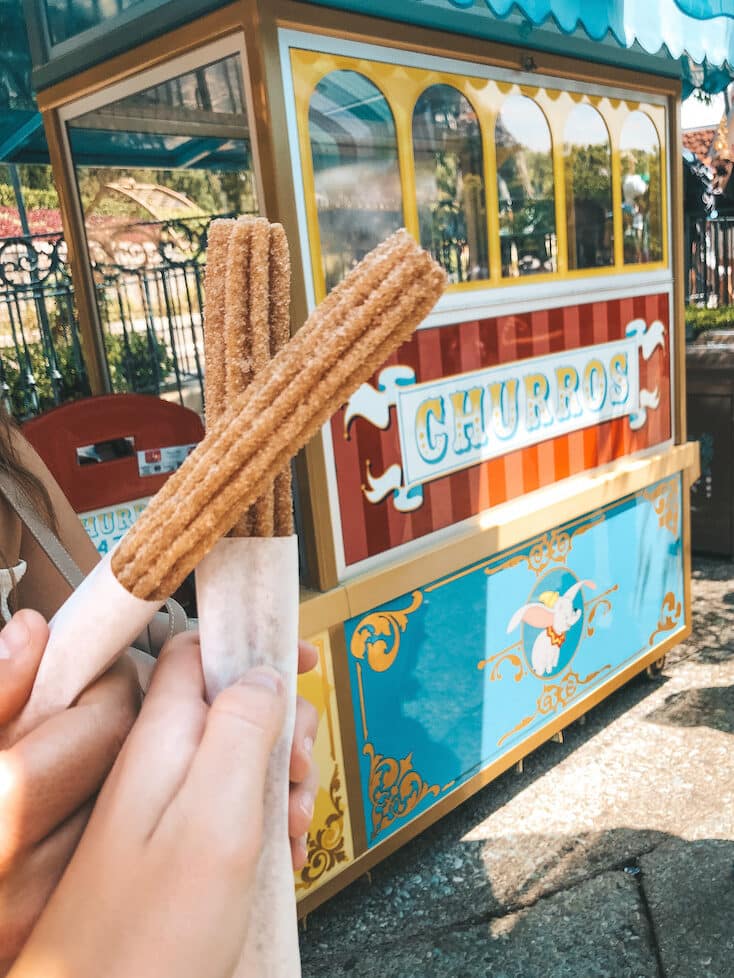 Can I Meet the Characters? Are There Fireworks? Can I Watch Shows?
Currently, Disneyland and California Adventure are offering minimal options for parades, shows, and events. If you're visiting with small children who are excited to meet Mickey Mouse and Cinderella, this may not be the ideal time to visit the parks.
Disneyland: Disneyland is currently showing the Mickey's Mix Magic with Fireworks show at 9 PM each evening. There are no other parades, shows, or events. Characters are scattered throughout the park for photo opportunities, but there are currently no meet-and-greets.
California Adventure: California Adventure does not have any nighttime shows, parades, or events. However, if you visit the Avengers Campus, The Avengers perform entertaining shows throughout the day that can be viewed from most vantage points in the land. Characters are also scattered throughout the park for photo opportunities, but not meet-and-greets.
Where Should I Stay When Visiting Disneyland in 2021?
I recommend staying at a hotel within walking distance of the parks or offering a shuttle system to and from the parks, especially if you are flying from out of state. Here are some recommendations:
Should I Visit Disneyland Right Now?
I like to ride attractions, so I spend most of my days hopping from line to line and grabbing snacks in-between. From my experience, aside from not having FASTPASS tickets, I thought visiting Disneyland in 2021 was similar to my experiences visiting in the past.
However, if you're someone who likes to watch shows and sit down for meals, or you're traveling with small kids who want to meet characters, you may have a better experience visiting Disneyland and California Adventure when the parks loosen some of their COVID-19 restrictions.
General Tips for Visiting Disneyland
No matter when you choose to visit, here are some money-saving and time-saving tips for Disneyland & California Adventure!
Bring your own water & snacks to save hundreds of dollars. Water bottles in the park sell for $4.25 each! You can bring sealed plastic water bottles, or a refillable water bottle, like a HydroFlask or Nalgene, into the park. I also bring some protein bars to snack on in-between meals. You can also purchase a locker outside the parks for just $10 a day to store extra water bottles and snacks. This is also great if you bring a change of clothes after the water rides, like Splash Mountain.
Bring a portable charger so you can use your photo to check wait times, join virtual queues, order food, and take photos without worrying about running low on battery.
Arrive at the parks at 7 AM so you can be first in-line at the entrance. You'll be allowed to enter Main Street or Buena Vista Street in the parks at 7:30, and you can speed walk to your first ride after the rope drop at 8 AM.
Ride the popular attractions during the first few hours in the parks to avoid long wait times in the afternoon. In Disneyland, the attractions you should ride early are Space Mountain, Splash Mountain, Pirates of the Carribean, Haunted Mansion, Indiana Jones, and the Disneyland Railroad. In California Adventure, you should head straight to the Radiator Springs Racers, but then ride Soarin' Over the World, Guardians of the Galaxy, or the Incredicoaster.
Make Memories at Disneyland in 2021
Are you planning to visit Disneyland in 2021? If so, I hope you have a magical time, and these tips help you to plan an unforgettable vacation!
Disclosure: Some of the links in this post are affiliate links, meaning, at no additional cost to you, I will earn a commission if you click through and make a purchase. This helps me keep free content on my website, like this post about "Tips for Visiting Disneyland in 2021."
Pin These Tips for Visiting Disneyland in 2021 For Your Trip Later This Year!
Planning a Southern Califonia road trip after visiting Disneyland in 2021? Check out some of these stops along the way!