Savannah vs. Charleston — deciding which of these two charming destinations to visit in the Southeastern USA can be a challenging (and nearly impossible) decision. Both cities offer a similar feel — southern charm, rich history, fabulous food, and stunning architecture — but each city also has its own personality.
Ideally, you should visit both cities on a road trip, but if you only have time for one or the other — Savannah vs. Charleston — this blog will help you decide which southern city is the best for your vacation!
Overview of Savannah vs. Charleston — Location, History & Culture
Charleston, South Carolina, and Savannah, Georgia, are two of the most charming and historic cities in the Southwestern United States. These cities are only a few hours apart and offer visitors a similar experience of southern charm, fabulous dining, and history dating back to the American Revolution and Civil War.
Charleston
In Charleston, you have to visit Fort Sumter National Monument in Charleston Harbor, where the "first shots" of the Civil War were fired in 1861. If you enjoy learning about war history, you should also visit Patriot's Point Naval & Maritime Museum, where you can tour the USS Yorktown Aircraft Carrier — noteworthy for its role in the pivotal Battle of Midway in World War II — and USS Laffey Destroyer.
In addition to military history, Charleston also has a strong colonial history, with attractions such as the Old Exchange and Provost Dungeon, which offer insight into the city's colonial past.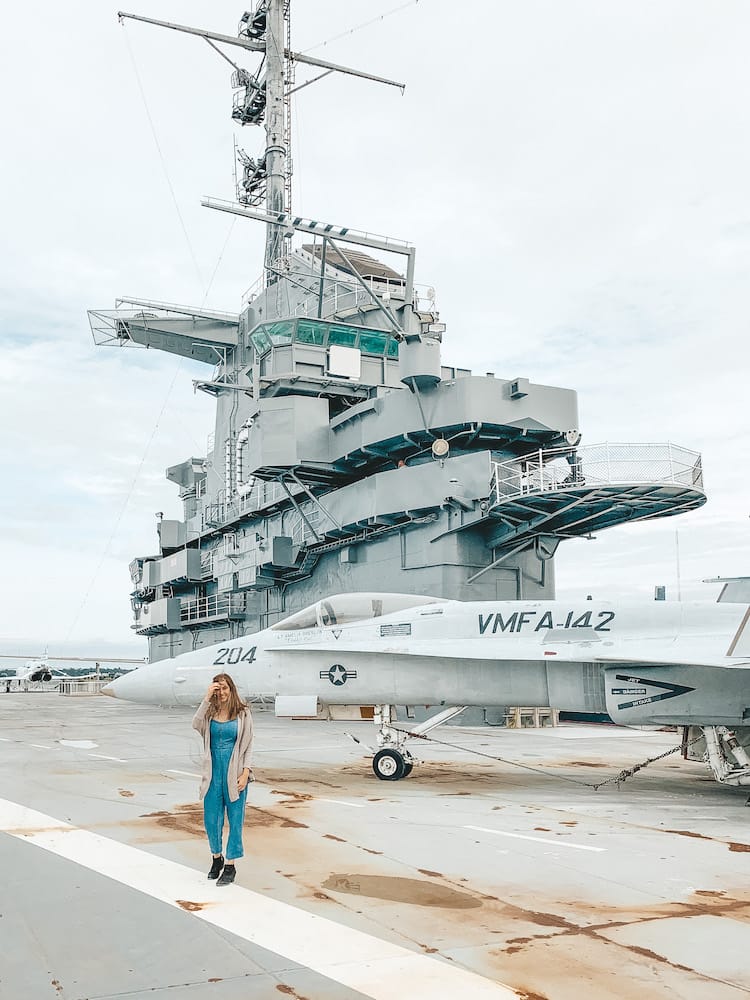 Savannah
Savannah, on the other hand, is home to several historic properties, such as the Owens-Thomas House and Mercer-Williams House Museum (which is the site of the popular book and movie, Midnight in the Garden of Good and Evil). This city is also filled with stunning parks and squares filled with historic monuments and statues honoring important figures in the city's history.
The Olde Pink House, a historic restaurant and bar that dates to the 1700s, is another must-visit spot in Savannah — for both food and history. It's said to be one of the places where the soldiers plotted the Revolutionary War!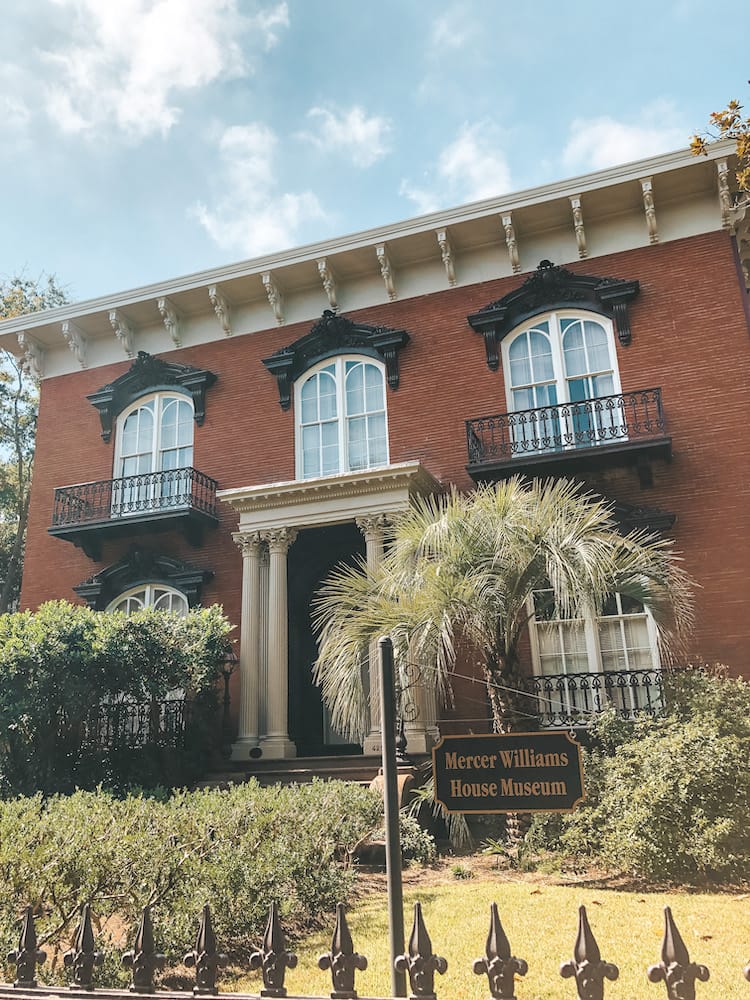 Weather in Savannah vs. Charleston
Charleston and Savannah are both known for their mild, humid climates — there isn't really a notable difference between the weather in both cities. The summers are hot and muggy, with temperatures reaching 90°F. Overall, winters are mild, but both cities experience a few cold snaps with average lows around 40°F.
Spring is the best time to visit Savannah and Charleston for comfortable weather. March, April, and May are ideal if you want to enjoy the sunshine and warm temperatures before the humidity sets in, and during these months, you can also enjoy the gorgeous blooming flowers, including the stunning pink azaleas in Savannah, and the magnolia and jasmine flowers in Charleston.
The fall is another great option for visiting Savannah and Charleston — the excessive heat and humidity lift by October, but the weather is still warm through November and December. However, keep in mind that late summer through early fall is hurricane season, so while these coastal cities are less at-risk than other states, like Florida, it's still smart to keep this risk in mind when traveling in October or November.
Accommodations in Savannah vs. Charleston — Hotels, Bed & Breakfasts, Vacation Rentals
When you visit Charleston and Savannah, you will be able to choose from several options for accommodations — from luxurious hotels to charming bed & breakfasts. Whether you're looking for an upscale experience or something that is laid-back and low-key — you're sure to find a place you'll love in each city from this list below.
Charleston
In Charleston, the Mills House Charleston is a fabulous place to stay in the Historic District, especially if you plan to explore the city by foot. This gorgeous hotel is known for its stunning pink exterior and historic facade, but the lobby, rooms, and on-site restaurant are just as beautiful.
Other charming places to stay in Charleston include The Dewberry Charleston, a hotel with stylish rooms, an upscale brasserie, and a luxurious spa, as well as the French Quarter Inn, located right next to the Charleston City Market, which greets guests with complimentary champagne upon arrival.
Savannah
Savannah is filled with gorgeous luxury hotels, like the DeSoto Savannah or Marriot Savannah Riverfront, that both offer stunning views of Historic Savannah and River Street.
Or, you can consider staying at a charming bed & breakfast, like Hamilton-Turner Inn. This historic home is supposedly haunted, and it has even been said to be the inspiration for the Haunted Mansion at Disneyland! If you're looking for a haunted hotel stay, The Marshall House is considered to be one of the top ten historic hotels in America.
Dining Experiences in Savannah vs. Charleston — Restaurants and Cuisine Specialties
When it comes to the dining scene in Savannah and Charleston — there is truly something for everyone. Both cities have a rich culinary heritage and offer a wide range of restaurants serving everything from delicious local dishes — like fried chicken and barbecue — to innovative twists on international cuisine.
Charleston
Charleston is known for its world-class fine dining scene with an emphasis on fresh seafood and southern cuisine. If you come to this foodie city with high hopes — you won't be disappointed.
Husk is one of the best restaurants for southern-inspired dishes with locally sourced ingredients. It is so popular, it has sister restaurants in Savannah and Nashville. Leon's Oyster Shop is an unpretentious oyster bar that's famous for — you guessed it — oysters (and custom cocktails), but 167 Raw is a better spot to visit if you're looking for an upscale seafood experience.
While you're in Charleston, you must visit Poogan's Porch for breakfast. Don't sleep on the chicken and waffles — this dish is simply amazing! Miller's All Day is another popular spot for brunch, and Carmella's is a must-visit for cocktails, coffee, or dessert.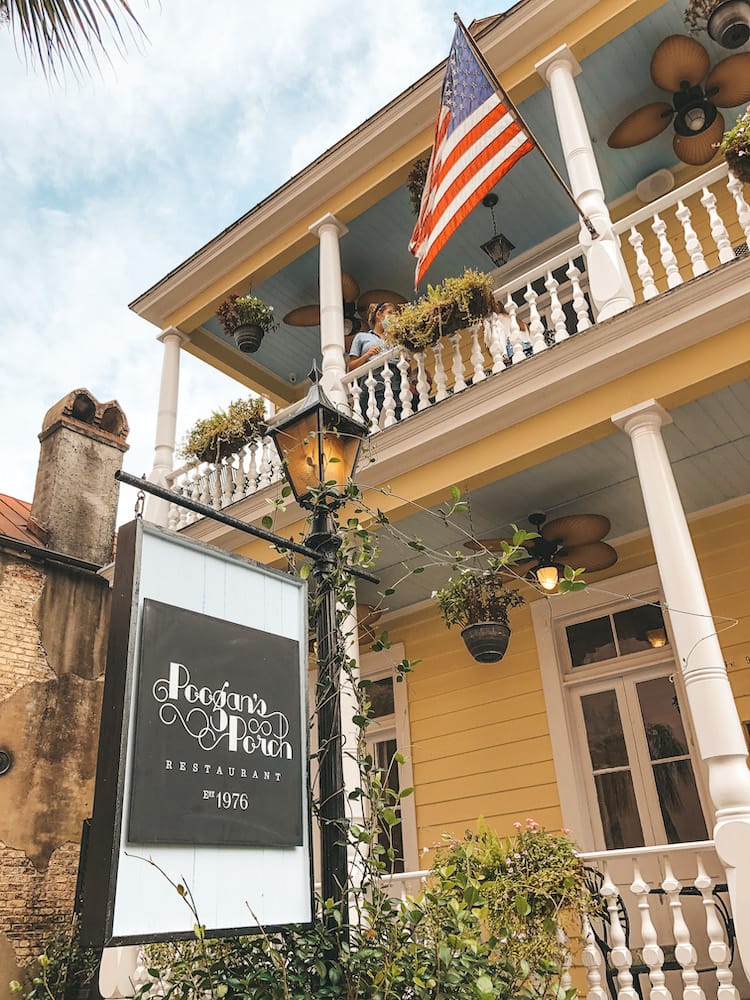 Savannah
Savannah may not be as famous for its culinary scene as Charleston, but this city certainly delivers no shortage of southern comfort food, delicious brunch spots, and unique dining experiences. Personally, I liked the dining scene in Savannah better than in Charleston.
The Olde Pink House, as I mentioned earlier, is a must-visit restaurant for a fancy dinner and one of the best places to eat in Savannah. This historic restaurant (located in an old pink house, hence the name) serves southern favorites, and the service is impeccable — just be sure to get reservations!
If you're looking for somewhere trendy, fun, and unique, check out Collins Quarter for brunch and Treylor Park for dinner. Both restaurants serve fun cocktails, and Treylor Park serves fried chicken pancake tacos that you must try. Mirabelle is another great spot in Savannah for breakfast and serves fluffy, Belgian-style waffles (serious yum!), and you can't miss getting an ice cream cone at Leopold's — an iconic ice cream shop in Savannah that's been around for over a century!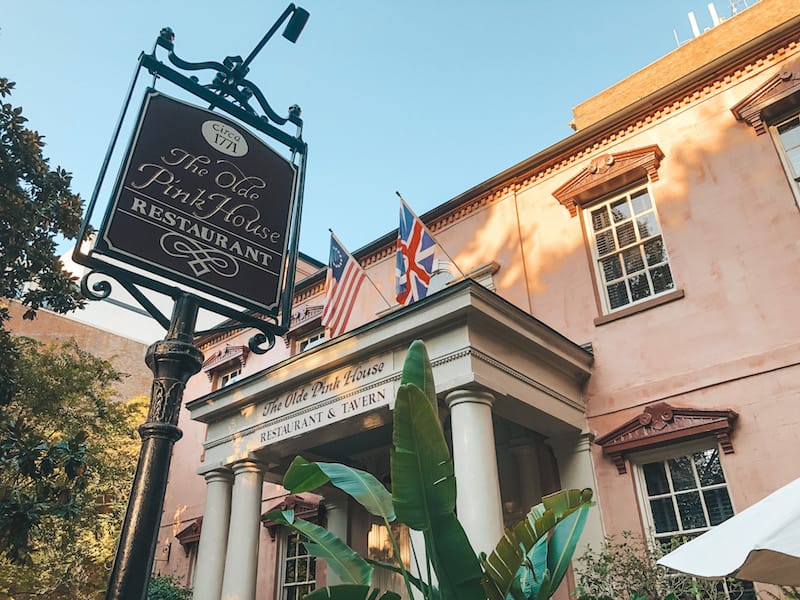 Museums, Landmarks & Other Attractions in Charleston and Savannah
Though Savannah and Charleston have plenty of historical sites to visit and admire, these destinations are both filled with plenty of other fun museums, landmarks, and activities right in the heart of the city to keep you busy during your vacation.
Charleston
In Charleston, you'll find a plethora of attractions to explore and activities to enjoy, including the Joe Riley Waterfront Park in the heart of Downtown Charleston. This spacious park offers picturesque views of Charleston Harbor and a wide range of recreational facilities such as walking paths, playgrounds, and dog parks. It's also home to the iconic Pineapple Fountain!
You'll also want to pay a visit to Rainbow Row — a row of colorful 18th-century homes that line East Bay Street. While you're there, be sure to snap a photo for the 'gram. Then, walk down to The Battery, where to can spot the boats sailing out to Fort Sumter National Monument. If you're looking for a romantic activity, consider riding a horse-drawn carriage through Downtown Charleston.
Don't miss the chance to visit the South Carolina Aquarium, located in Charleston Harbor near Waterfront Park. This aquarium has a strong focus on rehab, rescue, and release, and is filled with plenty of animals, including sea turtles, otters, and stingrays. On the aquarium's boardwalk path, you may even catch a glimpse of a dolphin in the harbor.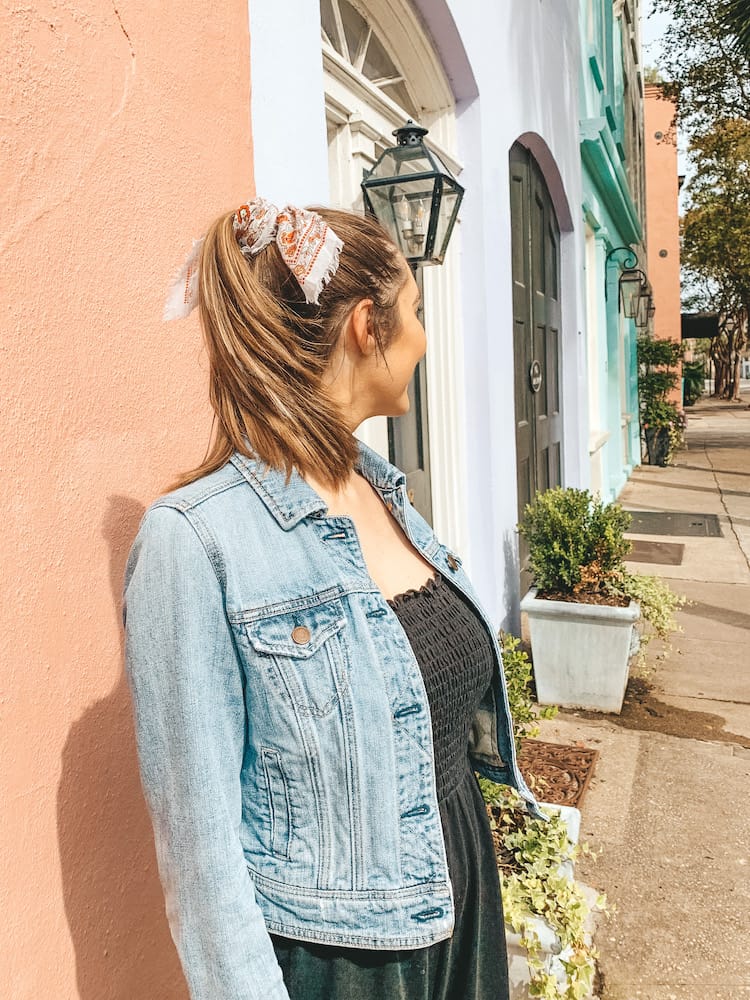 Savannah
Savannah is filled with plenty of quaint streets, charming squares, and beautiful parks to explore during your vacation, like Jones Street, nicknamed the "Most Beautiful Street in America," and Forsyth Park, a stunning urban park filled with mossy oaks, winding walking paths, and a large fountain that makes for a beautiful photo!
If you're looking for a hub for shopping, head over to the historic City Market. Here, you'll find street performers, quaint boutiques, and the Georgia Tasting Room (which I highly recommend for inexpensive wine tasting). It's a great place to spend an afternoon!
River Street is another popular shopping, dining, and nightlife hub in Savannah. Grab some beignets at Huey's on the River or a drink at Wet Willie's and walk along this cobblestone street at sunset. Yes, you can order drinks "to-go" in Savannah's Historic District — which only adds to the fun of your vacation! If you're interested, you can also go on a riverboat cruise or dinner cruise on an old-fashioned steamboat or paddleboat from River Street.
Finally, you can't miss the chance to go on a spooky ghost tour in Savannah — one of the most haunted cities in America! There are several ghost tour providers in Savannah you can choose from, but Ghosts & Gravestones is one of the most popular tour operators.
Beaches & Day Trips in Savannah vs. Charleston
Both Charleston and Savannah have some fabulous day trips you can enjoy from the city. Compare and contrast the types of adventures you can have in Savannah vs. Charleston to determine which destination matches your vacation style best.
Charleston
Charleston is surrounded by beautiful beaches and stunning natural landscapes — so if you have a car, don't miss out on some of the most fun day trips from Charleston.
Folly Beach is one of the most popular beaches in Charleston. This long beach offers plenty of space for swimming, sunbathing, and surfing, and other attractions, including the Folly Beach Fishing Pier and Center Street, filled with surf shops, art galleries, and restaurants. Another popular beach in Charleston is Sullivan's Island — a quiet, upscale beach with stunning views of the Atlantic Ocean — and Kiawah Island, a bit further from Downtown Charleston, offers stunning white-sand beaches and opportunities for golfing, kayaking, hiking, and more.
However, beautiful beaches aren't all that Charleston has to offer in terms of day trips — you can also visit Boone Hall Plantation for a fascinating history lesson, the Charleston Tea Garden to watch (and learn!) how tea is grown, harvested, and manufactured, and Cypress Gardens, where you can drift on a rowboat through mossy oaks, just like in the iconic romance movie, The Notebook.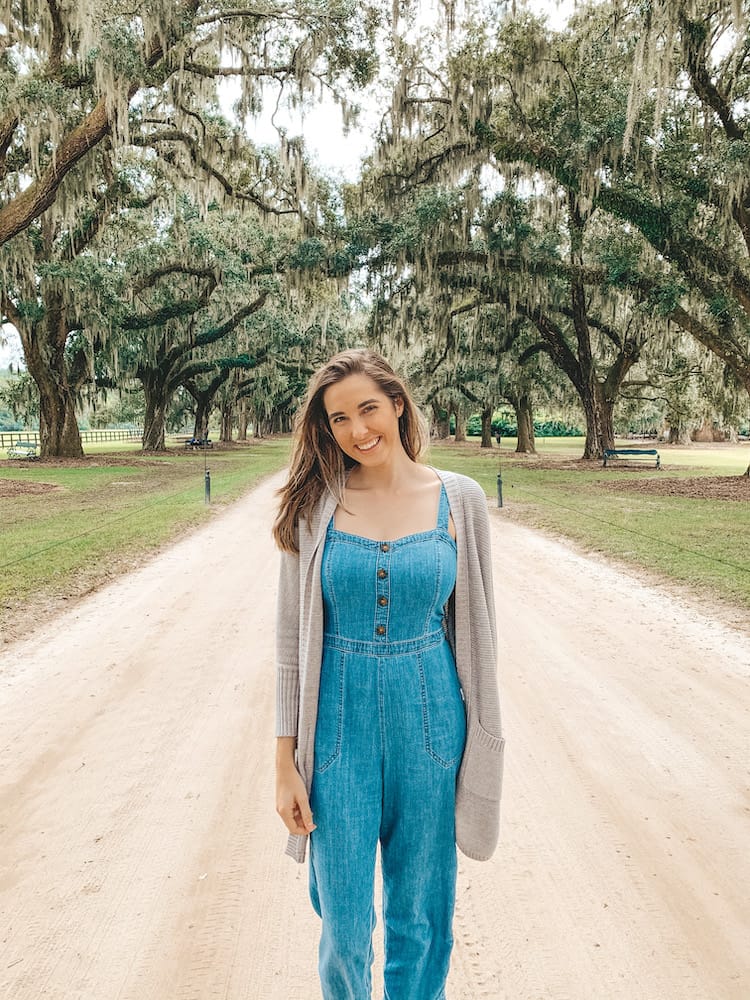 Savannah
Though Charleston may offer a larger quantity of day trips, the quality of day trips from Savannah is just as great. Some of the quickest day trips outside of Downtown Savannah include the Wormsloe Historic Site or Bonaventure Cemetery — the site of Midnight in the Garden of Good and Evil.
However, Tybee Island — arguably the best day trip from Savannah — offers the ultimate beach day experience and shouldn't be missed during your southern vacation. In addition to sunbathing and swimming, you can also enjoy fun activities on this barrier island, like surfing, kayaking, fishing, and dolphin-watching tours. Not to mention, Tybee Island offers plenty of restaurants with fresh seafood dishes and fun souvenir shops.
Jekyll Island is another popular destination, just north of Tybee Island, filled with lush nature preserves where you can see wild alligators, loggerhead sea turtles, and other wildlife. While you're here, you can also golf on one of the island's four award-winning courses, explore the island's historic district, hit the beach, or visit the Georgia Sea Turtle Center.
Nightlife Options in Savannah vs. Charleston — Bars and Clubs
From casual breweries and lively clubs to upscale cocktail lounges and quirky pubs, both Charleston and Savannah have plenty to offer in terms of nightlife. These are just a few of the nightlife options you can choose from when you visit Savannah vs. Charleston.
Charleston
For some of the best live music in Charleston — head to Pour House Charleston. With an expansive lineup of local and national acts that range from indie rock to classic jazz, there's always something exciting happening at The Pour House. You can also find delicious food, beer, wine, and cocktails being served up while you take in and enjoy incredible live music.
If you're into craft beer and a more relaxed atmosphere, then check out Holy City Brewing located in North Charleston. They specialize in small-batch handcrafted beers and serve sandwiches, salads, burgers, and sharable dishes. Whether it's Wednesday Night Trivia or Live Music on Friday & Saturday — there is always something fun happening at Holy City Brewing!
Prohibition is a fabulous spot for craft cocktails in Charleston. This upscale, prohibition-style lounge serves food and drinks in a unique atmosphere. Or if you're looking for a swanky cocktail bar, head over to Citrus Club for tasty food and drinks and stunning rooftop views of Charleston.
Savannah
Savannah has plenty of places to enjoy beer, wine, and cocktails — and in Historic Savannah, you're allowed to bring drinks "to go" and walk around with them, which is just as fun as it sounds. For example, Wet Willie's on River Street serves up alcoholic slushies, and this is one of the most popular spots for grabbing a cool, refreshing drink while walking around Savannah.
If you're looking for unique places to sit down with a cocktail, consider visiting a few of the speakeasies in Savannah, like Alley Cat Lounge and Artillery Bar. While both cocktail bars are upscale, Alley Cat Lounge has a more laid-back vibe, which is perfect for a casual nightcap, while Artillery Bar is fancier and would be a great stop for a bachelorette party or date night.
Finally, don't miss the chance to grab a drink at Peregrin — a sophisticated hotel rooftop deck — for spectacular views of Historic Savannah.
Cost Comparison — Savannah vs. Charleston
When it comes to deciding between visiting Savannah vs. Charleston, the cost of your trip will likely be a major factor. Fortunately, both cities offer plenty of affordable options for lodging, transportation, food, and entertainment — regardless of your budget.
When comparing the two destinations side-by-side, Charleston tends to be slightly more expensive than Savannah overall due to its larger size and higher cost of living. Plus, it's difficult to explore Charleston without a rental car, since the beaches, attractions, and main sites in Charleston are spread out, whereas, in Savannah, most restaurants, attractions, and other notable landmarks are located within walking distance in Historic Savannah.
If you're looking to save money on your trip to Savannah or Charleston, consider booking your trip in the off-season (December, January & February). While it will be cooler during these months, you won't have to deal with the humidity, high prices, or tourists that come in the spring, summer, or fall.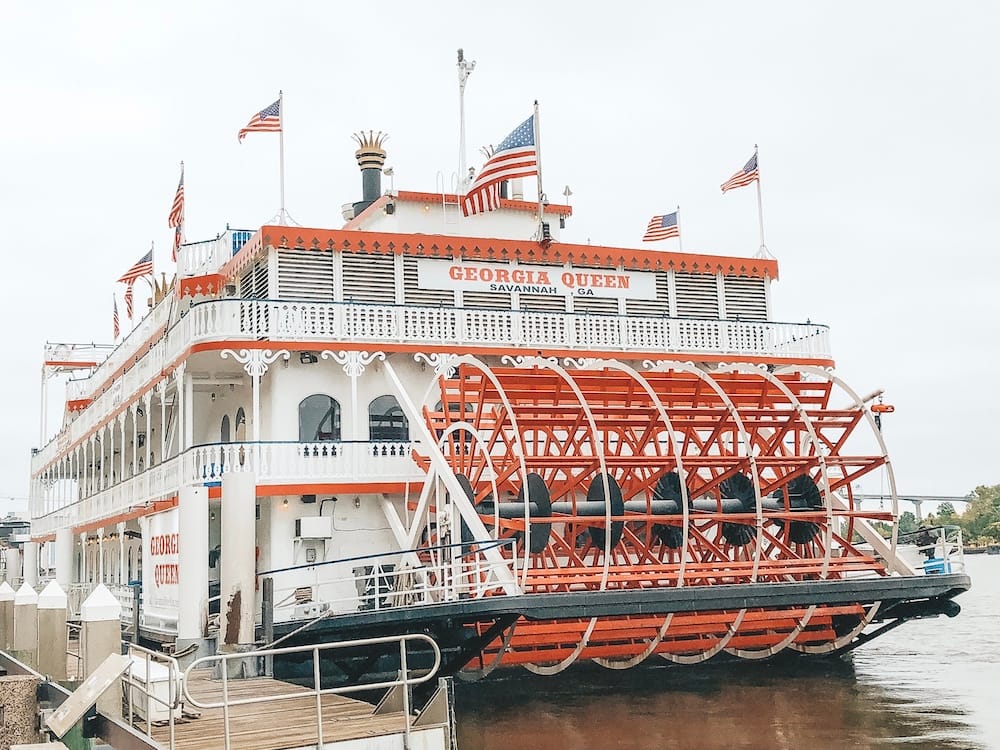 Which Is Better to Visit — Savannah or Charleston?
Ultimately, deciding whether Charleston or Savannah is a better destination for your vacation is only up to one person — you!
Charleston tends to offer more war history, beautiful day trips, museums and activities, and upscale dining, whereas Savannah offers more green spaces, romantic charm, southern restaurants, and stunning architecture. So, which city will it be: Savannah or Charleston? Let me know which city you decide to visit in the comments below.

Disclosure: Some of the links in this post about Savannah vs. Charleston, are affiliate links, meaning, at no additional cost to you, I earn a commission if you click through and make a purchase, so I can keep content on my site free, like this post about Savannah vs. Charleston!
Haven't Decided on Savannah vs. Charleston? Save This Post for Later!
Read More
Whatever you decide in the debate between Savannah vs. Charleston, you can use these posts to help you plan your trip to either destination: