Savannah, GA, is one of the most beautiful (yet interesting!) cities I've ever visited. If you are looking to visit a place with southern charm, delicious food, and exciting history—Savannah is the perfect place for you!
Savannah wasn't always on my radar or travel bucket list. However, after searching for safe locations to travel for our anniversary during the Covid pandemic, my husband and I decided to spend a weekend in Savannah as part of our Southeastern U.S. road trip from Charleston to Asheville.
I'll be honest—I expected Savannah to be my least favorite city we visited on our road trip—but it turned out to be my favorite!
During our weekend in Savannah, I fell in love with the city's charm and became engrossed in the unique, spooky history.
I created this guide to help you have an unforgettable weekend in Savannah! It includes the best things to do, where to stay, how to get to Savannah, and my best tips for visiting the city.
So, without further ado, let's get started!
Tips for Your Weekend in Savannah
Before we get into the details of planning your weekend in Savannah, here are some general tips you should know:
Don't Rent a Car
If you stay in Savannah's Historic District, you will not need a car to see the city's main attractions. Everything on this guide, from one side of the town to the other, shouldn't be more than a 20-minute walk!
When to Visit
Aside from the hot, humid summer months (July-September), Savannah's weather is enjoyable year-round. However, the most beautiful time to visit Savannah is in April when the flowers are in full bloom! 
Partner Your Weekend in Savannah with Charleston
Add a few days in Charleston to your weekend in Savannah for a week-long trip!
Read Midnight in the Garden of Good and Evil
Before your weekend in Savannah, read (or watch!) Midnight in the Garden of Good and Evil to get a small taste of Savannah's charm and history!
Where to Stay in Savannah
Savannah has no shortage of charming and comfortable accommodations to host you during your visit—from haunted historic hotels to cozy bed and breakfast stays.
We found a killer deal on Booking.com (one of my favorite travel apps!) to stay at The DeSoto Savannah for three nights during our weekend in Savannah. We are so glad that we stayed at this charming hotel!
The DeSoto Savannah
I would highly recommend The DeSoto to anyone staying in Savannah. Here's why!
The hotel is in a perfect location.
The lobby is charming, with gorgeous chandeliers, a coffee shop, and a beautiful ambiance.
The views from the top floors of the hotel are incredible. I would argue it's the best view in Savannah!
You can enjoy relaxing at the rooftop pool, which offers a spectacular view of the city.
The price is certainly right!
Even though I would personally recommend The DeSoto, here are some other fantastic options for accommodations:
Hamilton-Turner Inn
The Hamilton-Turner Inn is a bed & breakfast is located in charming Lafayette Square. It is speculated to be the inspiration for Disney's Haunted Mansion!
Marshall House
The Marshall House is Savannah's oldest and most haunted hotel. Travel & Leisure's named the Marshall House one of the "13 Most Haunted Hotels in America" in 2020, and USA Today ranked the Marshal House the 8th most haunted hotel in the world.
No matter where you stay in Savannah, it's vital for your home base to be located in the Savannah's Downtown Historic District, especially if you plan to forgo a car. 
For the best location, choose accommodations that are:
North of Gaston Street
South of Bay Street
East of Montgomery Street
West of Price Street
If you're looking for a peaceful, romantic stay, I recommend staying south of Liberty Street. If you are looking to be near the action, stay north of Liberty Street. If you stay within these streets, all the places in this guide will be no further than a 20-minute walk, no matter which direction you are coming from!
How to Get to Savannah, GA
There are several ways to get to Savannah, GA. If you are flying, the closest airport to Savannah is the Savannah/Hilton Head International Airport, which is located just 30 minutes from Historic Downtown Savannah.
If you're driving to Savannah, you'll likely arrive via the I-26 or I-95. Some of the closest major cities to Savannah are:
Charleston, SC—107 miles
Jacksonville, FL—139 miles
Atlanta, GA—248 miles
Charlotte, NC—252 miles
Unless you drive your own car to Savannah, I would highly recommend forgoing a vehicle in the city. Parking in Savannah can be expensive. Unless you plan to take a day trip to Charleston, Hilton Head Island, or Tybee Island during your weekend in Savannah, everywhere in Downtown Historic Savannah (and on this guide!) is walkable.
12 Things to Do During Your Weekend Savannah
There's no shortage of things to do during your weekend in Savannah! Here are 12 activities you can't miss during your time in the city.
1. Dine at The Olde Pink House
During your ghost tour, you might stop by The Olde Pink House—one of Savannah's most iconic (and haunted!) restaurants. Dining at The Olde Pink House is a must during your weekend in Savannah—trust me!
The Olde Pink House is the perfect location for an upscale dinner, a romantic date night, or a fancy celebration. My husband and I celebrated our first anniversary here, and we couldn't have chosen a better location for an unforgettable evening. The staff is fantastic, and the food is excellent!
The Olde Pink House also has a fascinating history. The home was built in 1771 as a private residence and held secret meetings to secure the thirteen colonies' independence from England. The house didn't become a restaurant until the 1920s after a woman transformed the home into a tea room. She painted the home pink—and the color stuck!
This restaurant is one of the most popular in Savannah, so don't forget to make a reservation before your weekend in Savannah. We made our reservations on OpenTable.
If you miss the chance to make a reservation, don't worry—there are tons of awesome restaurants in Savannah. Check out my list of the best places to eat in Savannah for more recommendations!
2. Explore Savannah's 22 Squares
You might be surprised that one of the best things to do during your weekend in Savannah is simply walking around the city.
Historic Savannah is built around 22 picturesque squares and parks, perfect for strolling through or relaxing in. Most squares also include a monument or plaque, so it's a great way to learn more about Savannah's history!
If I had to choose, my five favorite squares and parks are:
Lafayette Square
Calhoun Square
Monterey Square
Forsyth Park
Chippewa Square
Of course, you'll have to decide your favorites after visiting!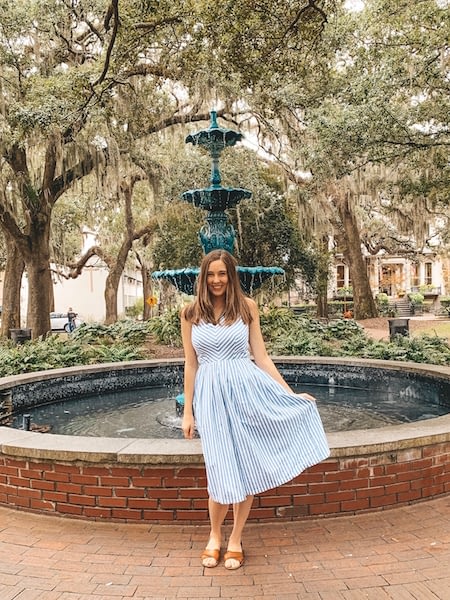 3. Enjoy Ice Cream at Leopold's
Leopold's Ice Cream is undoubtedly Savanah's most iconic dessert spot that you can't miss during a weekend in Savannah. This ice cream shop has been around since 1919 and is a Savannah tradition.
The store has authentic, vintage touches—the black marble soda fountain, wooden back bar, and telephone booth were all transferred from the original location!
The most popular flavors are Lemon Custard, Rum Bisque, and Tutti Frutti—rum ice cream with candied fruit and Georgia pecans. I got the Savannah Socialite—chocolate ice cream with toasted Georgia pecans and swirled with bourbon caramel—and I thought it was delicious!
4. Walk Down River Street
Savannah was built along—well, you guessed it—the Savannah River! When Savannah was constructed in the 1600s, the river was used for fishing, transportation, and trade. Now, the Savannah River is situated beside River Street—one of the most popular places in Historic Savannah to walk around, shop, or grab a drink.  
When you walk down to River Street, you feel like you are stepping back in time! The streets are lined with cobblestones, steamboats are chugging down the river, and the shops and restaurants look like you would imagine they have for decades.
Here are the best things to do along River Street during your weekend in Savannah:
Enjoy a Savannah Riverboat Dinner Cruise
Stop by Huey's for some delicious beignets (the best I've ever had!).
Check out the unique vendors at the River Street Market Place.
Visit Savannah's Candy Kitchen for a massive assortment of candy, along with homemade caramel apples, popcorn, and fudge.
Peruse A Christmas On the River to find a Christmas tree ornament (or to get in the holiday spirit!).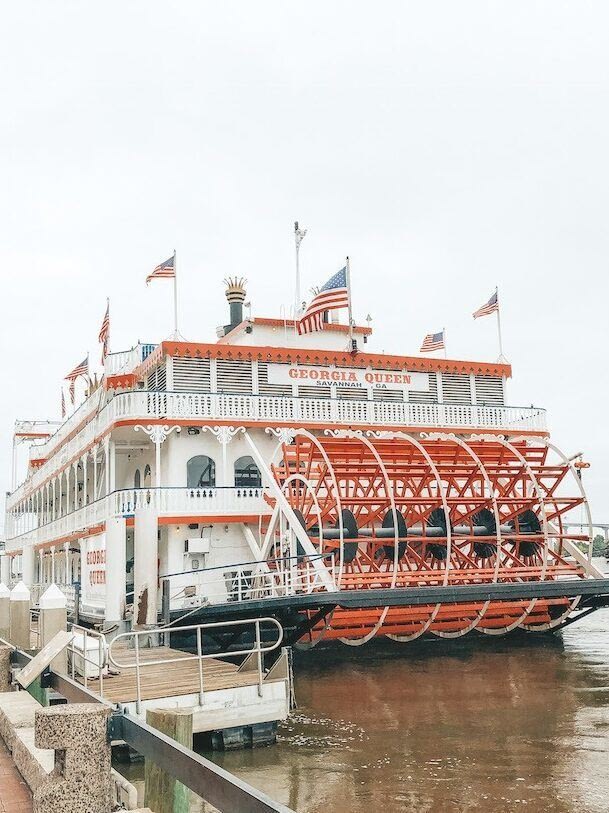 5. Go on a Spooky Ghost Tour
Did you know that Savannah is haunted? Like, really haunted? I knew Savannah has a haunted history before visiting but fell in love with learning about the city's interesting, spooky ghost stories during our weekend in Savannah.
One of the best ways to learn more about haunted Savannah is to take a ghost tour during your time in the city. We went on The Beyond Good and Evil Ghost Tour by Ghost City Tours, and it was fantastic—our tour guide was so informative!
Here are some other unique ghost tours in Savannah:
Savannah Trolley Tour by Ghosts and Gravestones of Savannah
Haunted Pub Crawl and Walking Ghost Tour by Spooky Savannah Ghost Tours
"Dead of Night" Walking Tour by Ghost City Tours
Before your visit, check out my blog post about six haunted places in Savannah that you can't miss during your weekend in Savannah!
6. Peruse E. Shaver Booksellers
I've always been a sucker for quaint, cozy local bookstores. So naturally, I was over-the-moon excited when we stumbled upon E. Shavers Booksellers in Madison Square during our weekend in Savannah!
E. Shavers Booksellers is a full-service independent bookstore that is in an old house. The décor is warm and welcoming, and the staff is so friendly—even the resident cats. They have a vast selection of books to choose from, and to my delight, a whole section dedicated to the Young Adult genre.
You could spend hours exploring the adorable nooks and crannies of this bookstore. After spending about an hour there, my husband and I each bought a book to read on our plane ride home.
Check out E. Shavers during your weekend in Savannah! And please buy a book while you are there—in the age of Amazon, local bookstores need our support more than ever.
7. Walk in Forsyth Park
Forsyth Park is perhaps Savannah's most popular attraction. The park spans over 30-acres and is most easily recognized by the city's most famous fountain—modeled after the French fountains at Place de la Concorde in Paris.
During your weekend in Savannah, stroll through the mossy oaks that line Forsyth Park to snap a picture with the fountain, or grab a bite to eat at the Collins Quarter at Forsyth Park!
8. Visit the Cathedral Basilica of St. John the Baptist
The Cathedral Basilica of St. John the Baptist is hard to miss—at nearly 215 feet tall; it stands as one of Savannah's most prominent landmarks in Lafayette Square.
The Cathedral Basilica of St. John the Baptist is a 19th-century Roman Catholic church and an example of neo-gothic architecture. The church reminded me of many of the stunning Gothic cathedrals and churches we saw during our trip to Europe, like Sainte Chapelle!
We were lucky to arrive during a guided tour to learn interesting facts about the building's history, architecture, and traditions that we would have missed otherwise.
Admission to the Basilica is free, but the church requests a $3 donation per adult to upkeep the beautiful space for decades to come.
Tip: After visiting the Cathedral Basilica of St. John the Baptist, walk across the street to Mirabelle Savannah to enjoy a fantastic liege-style waffle (I recommend the peach cobbler waffle!).
9. Tour a Historic Home
During your weekend in Savannah, you can't miss a chance to tour one of Savannah's many historic homes. Here are a few of the most popular options!
Juliette Gordan Low Birthplace
Home where the founder of Girl Scouts of America was born & raised.
Mercer-Williams House
The famous, historic mansion where the murder takes place in the Midnight in the Garden of Good and Evil.
If you are interested in Midnight in the Garden of Good and Evil, check out this walking tour that visits all of the most famous spots in the book and movie! This is also a great way to become acquainted with Savannah's most popular attractions. However, do note that this tour excludes entrance into the Mercer-Williams House.
Owens Thomas House and Slave Quarters
Most well-known for being a boarding home and where Revolutionary War hero Marquis de Lafayette gave a speech during his time in Savannah.
Check out this tour for admission into the Owen-Thomas House, Jepson Center Art Museum, and Telfair Academy for only $21 per person!
Sorrel-Weed House
This beautiful antebellum home that hosted Confederate General Robert E. Lee and is best known for its dark, haunted history.
Other popular museums to tour include the Telfair Academy and Jepson Center. You can read about them here!
10. Shop at the City Market
City Market is located just west of Ellis Square and is one of the most fun places to visit during your weekend in Savannah. There are tons of places to shop at City Market. Some of my favorite places to visit here are:
The American Prohibition Museum—From smuggling to speakeasies, this adults-only museum offers brings the history of the Prohibition Era to life. After the tour, visit the speakeasy attached to the museum to enjoy Prohibition-style drinks!
The Georgia Tasting Room—Enjoy six wine tastings for only $3 at the Georgia Tasting Room! Check out my Savannah Food Guide for more information about the Georgia Tasting Room.
11. Walk Down Jones Street
Did you know Jones Street is considered the prettiest street in America? And for a great reason! The gorgeous mossy oaks and beautifully decorated homes lining the street make for a beautiful stroll and some spectacular photos during your weekend in Savannah.
Fun Fact: This street is also suspected to be where the phrase "keeping up with the Jones's" ordinated. Who knew, right?
12. Relax at the Paris Market
The Paris Market is one of my favorite places that we stumbled upon during our weekend in Savannah.
The Paris Market is an adorable boutique that sells high-end furniture, stylish gifts, and antique Parisian treasures.
The best part of the Paris Market is the Paris Market Café. This adorable café is tucked away in the boutique and serves espresso, tea, wine, champagne, and pastries. The café is chic and charming—in fact, the founder modeled the space after one of her favorite spots in Paris!
[RELATED: What I Wish I Had Known Before Traveling to Paris]
Tip: After visiting the Paris Market, walk down the street to the Savannah Bee Company—another one of Savannah's cutest stores where you can sample honey & mead!
The Perfect Weekend in Savannah
Well, there you have it—the best way to spend an enchanting weekend in Savannah. Which of these activities sounds the most fun to you? Let me know in the comments!

Disclosure: Some of the links in this post are affiliate links, meaning, at no additional cost to you, I earn a commission if you click through and make a purchase.
Pin this Post for Your Weekend in Savannah!
By the way—If this blog inspires you to plan a weekend in Savannah (and Charleston!), here are some other posts to help you plan the perfect trip!
Epic 9 Day Southeast Road Trip Itinerary
The 14 Best Places to Eat in Savannah, GA
The 6 Haunted Places in Savannah You Need to Visit
5 Unforgettable Day Trips from Charleston