Dubrovnik is a beautiful city on the Adriatic coast, known for its impressive city walls and beautiful stone buildings. Wandering the streets here is like stepping back in time, as you're surrounded by 16th-century palaces, towering walls, and picture-perfect scenery literally taken from film sets.
Compact and easy to walk around, a weekend in Dubrovnik is the perfect amount of time to explore this charming city. With this guide, you'll discover how to make the most out of your time and even get to see one of Croatia's beautiful islands. This itinerary for three days in Dubrovnik perfectly balances relaxation with discovering the best of Dubrovnik. So, let's dive right in!
This post was written by guest contributor Kizzi from Off to Get Lost.
Weekend in Dubrovnik (Day 1) — Exploring Old Town
During the first day of your weekend in Dubrovnik, you'll explore the best that the city's famous Old Town has to offer.
With so much to see in Old Town Dubrovnik, it might look like a whistle-stop tour. However, many of the museums are quite small, so don't worry — you'll still have plenty of time to relax with a drink or two and enjoy some incredible Croatian cuisine!
Dubrovnik City Walls
Start your first day in Dubrovnik by seeing the city from above. The Dubrovnik City Walls have stood for over 700 years — making them one of the oldest defensive structures in Europe! What you'll see of the walls today was mainly built in the 1600s, and they've played an important role in Dubrovnik's history.
Extending over one mile, it takes just under two hours to walk the entirety of the walls. At this pace, you will have plenty of time to take a leisurely walk and can even stop by one of the bars on your way around the walls for refreshments. If you're traveling during the hotter months, it's nice to do this walk before the sun gets too high, which is why this iconic attraction is so early on this weekend in Dubrovnik itinerary.
You can also take a Dubrovnik City Walls Tour that will allow you to beat the crowds by arriving early and learn interesting facts from a local guide about the city's past, present, and future!
Ice Cream
After an enjoyable (but warm!) walk around the walls — it's time to cool down. And fortunately, one of the best ice cream shops in Dubrovnik is just inside the walls. Walking down from Pile Gate, you'll discover Boccapiena — one of the top spots for ice cream in Dubrovnik!
This ice cream shop serves all the well-loved favorites with a few unique flavors thrown in there (try the green apple — you won't regret it!). There are so many flavors to choose from that you can try a different flavor each day. The staff are friendly and make visiting here a delightful experience.
Franciscan Monastery
Tucked down a small ally just after the Pile Gate is the Franciscan Monastery. This 14th-century building holds a small museum and a historic pharmacy that still runs today.
In the museum, you'll find historical artifacts, including relics, paintings, and even jewelry. It's a very small museum, so it won't take you long to walk around, but the small garden is a peaceful place that is a must-visit while you are here.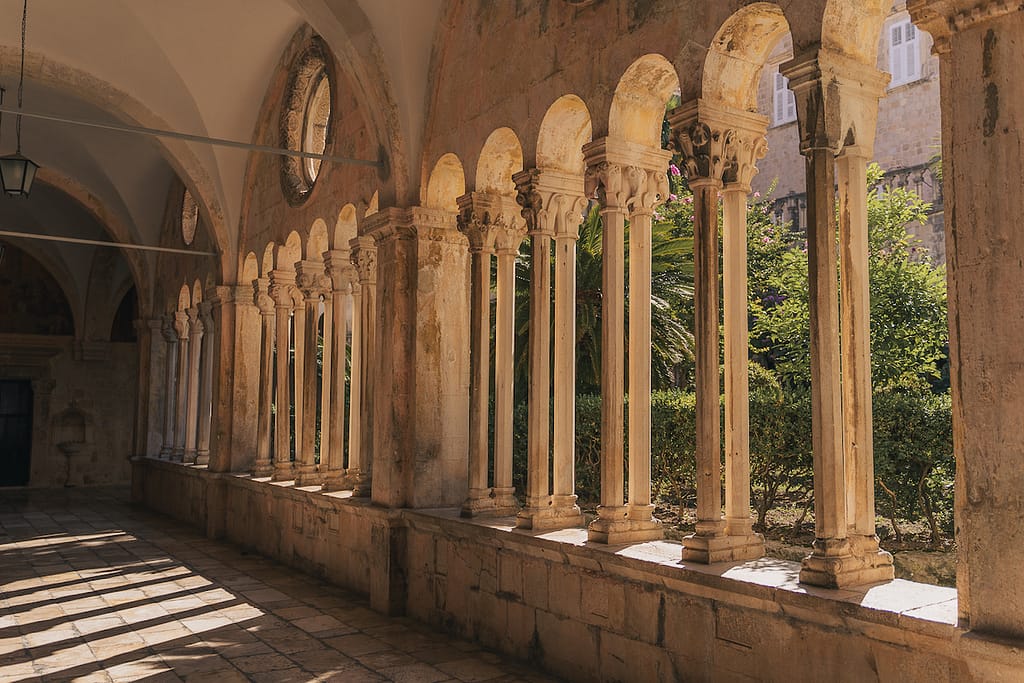 Sponza Palace
Sponza Palace is a 16th-century palazzo that is a beautiful piece of Renaissance and Gothic architecture. The front is lined with a beautiful arched walkway which hints at the stunning architecture found in the courtyard inside.
But beauty isn't all Sponza Palace has to offer. Sponza Palace is also home to the Memorial Room of the Dubrovnik Defenders, which has photos of the men who were killed during the Croatian War of Independence. It's a heartbreaking but important reminder of Croatia's recent history.
Rector's Palace
Just along from the Sponza Palace is Rector's Palace, another building that mixes Gothic and Renaissance style architecture.
Inside, you'll find a small museum that is part of the Dubrovnik Museum, which exhibits ancient furniture and paintings by locals. You can also visit the palace's armory and prison, which was used to hold some of the most notorious criminals.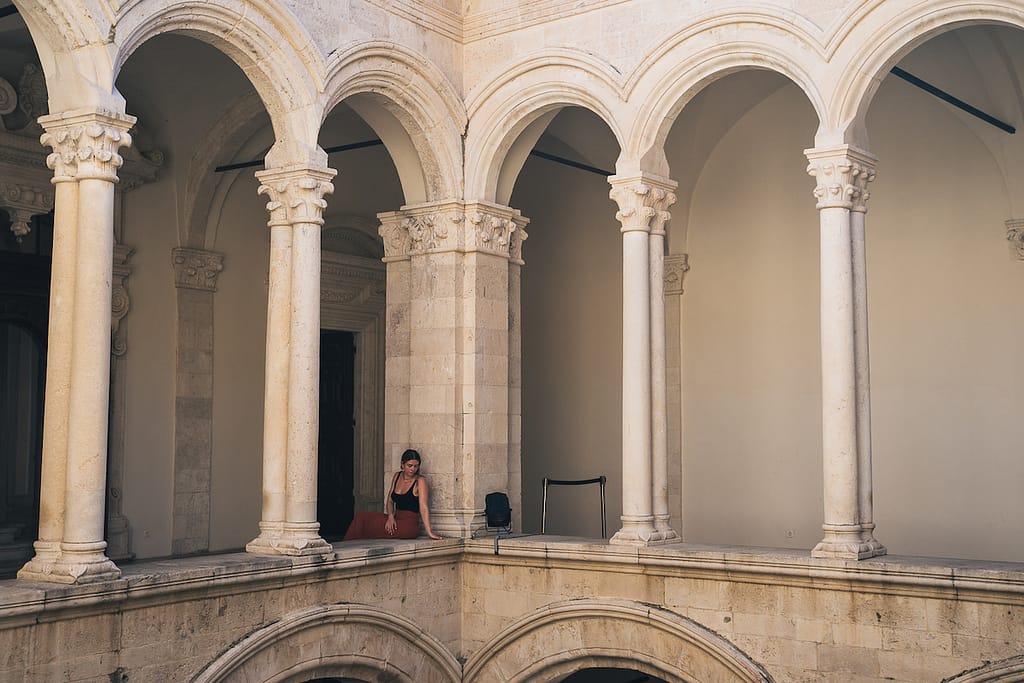 Watch the Sunset at Buža Bar
Buža Bar is one of the best places to watch the sunset in Croatia, purely for the atmosphere it invites. Hidden on the outside of the walls, this bar is built on top of the rocks that surround the Old Town. Perch on some of the rocks, jump into the Adriatic Sea, and grab a drink!
Due to the increasing popularity of Buža Bar, they have opened a second bar just around the corner called Bard Mala Buža. This bar is much more relaxed and tends to be less busy than the main bar. They're not too far apart from one another, so try them both out and see which one suits you best before settling in to watch the sunset.
Weekend in Dubrovnik (Day 2) — Forts, Beaches & More
There is no doubt that Dubrovnik is most famous for its Old Town, and after your first day in the city — you'll understand why!
However, Dubrovnik has a lot more to offer. Throughout the second day of your weekend in Dubrovnik, you'll explore perfect swim spots, see historical and TV-worthy forts, and discover the best vantage point to watch the sunset.
Lovrijenac Fort
Lovrijenac Fort sits impressively outside of the city walls. Standing over 120 feet above sea level, it's a bit of a walk, but it's definitely worth the visit. The fort has been protecting Dubrovnik for centuries, and it offers incredible views of the city and surrounding area.
You actually don't have to pay an additional entry fee to check out Lovrijenac Fort — the cost of admission is included in your entrance ticket to the City Walls. Additionally, Game of Thrones fans might recognize this iconic spot — it was the original filming location of the Red Keep in King's Landing! You can go on this Game of Thrones Walking Tour to see popular filming locations from the TV series, including Lovrijenac Fort.
If you're visiting in the summer and would like to return in the evening, Lovrijenac Fort also serves as a theater and shows famous plays, like Hamlet by Shakespeare.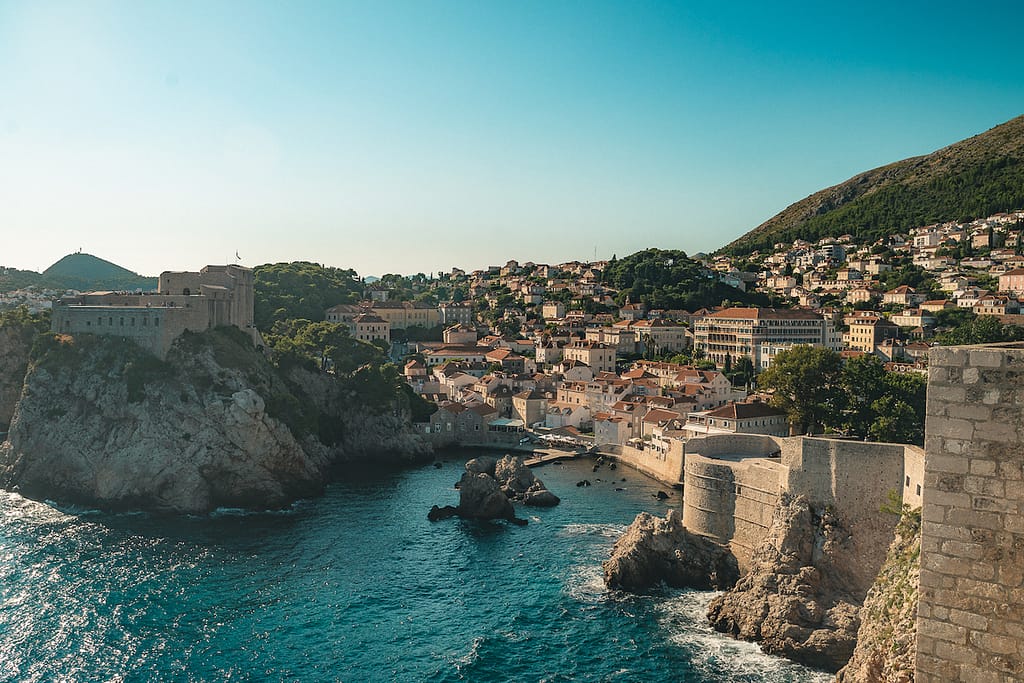 Danče Beach
Ready to cool off after that strenuous hike to Lovrijenac Fort? Fortunately, there are beautiful swimming spots for you to enjoy on either side of the fort.
One of the best spots for rock jumping and swimming is Plaža Danče (Danče Beach). This beach is made up of rocks and concrete platforms, so it's not your typical "sandy" beach. However, the surrounding crystal clear water, beach bar, and general liveliness make it a vibrant and fun place to be.
With small and large rocks to jump from or a trusty ladder for those who'd rather ease themselves in, you can grab a rock to lounge on at Danče Beach, where spend the rest of your morning during your weekend in Dubrovnik enjoying the cool waters in the Adriatic Sea.
Banje Beach
On the other side of Old Town Dubrovnik, you'll find a more traditional beach — Plaža Banje (Banje Beach).
Banje Beach offers golden sand and stunning views of Lokrum Island and Old Town. You can rent water sports equipment to go jet skiing, parasailing, tubing, and more, and there is a popular beach bar — Banje Beach Club — that you can enjoy in the evening.
Because of the many things to do at Banje Beach, it does get pretty busy, especially in the summer, but if you don't mind the lively atmosphere, this is a great place to stop during your weekend in Dubrovnik!
Beach Bar Dodo
After you've got your share of the sun and begin feeling a bit hungry, head to Beach Bar Dodo. Hidden behind a small doorway that is easily missed, this chill, relaxed bar feels like the perfect secret. Slip down and discover the small cover sitting beneath the Lovrijenac Fort.
If you still fancy getting in the water, there's a small pebble beach perfect for swimming, or some of the surrounding rocks are great for cliff jumping. The locals here jump incredibly high points, so you can watch in awe as they jump from impressive spots along the cliffs.
If you've had enough of the water, grab a seat and order a drink and some food. If you have spare time, you can also rent a kayak from here and explore Dubrovnik's coastline from the water. There are also some stunning sunset tours that take you around the outside of Old Town Dubrovnik!
Dubrovnik Cable Car
The walls might have given you some beautiful views of the city — but that's not all Dubrovnik has to offer in terms of stunning views!
If you want to see even more impressive views of Dubrovnik, you must head to the top of Srd Hill on the Dubrovnik Cable Car. You can see up to 37 miles of panoramic views on a clear day! The Dubrovnik Cable Car runs from 9 AM each morning and closes at a different time each evening, depending on the month. In the summer, the cable car will stay open until midnight, but in the spring, fall, and winter, it closes earlier. The cable car is closed in February.
If you're feeling ambitious, you can also take the steep walk to the top of Srd Hill. The trail is only about 1.5 miles to the top, and the hike should take about an hour — you could probably do it faster, but you'll definitely want to stop for pictures of the sunset.
Weekend in Dubrovnik (Day 3) — Scenic Island Day Trip
If you have three days to spend during your weekend in Dubrovnik — you are lucky enough to have time to explore one of the gorgeous islands off the coast of Dubrovnik!
Each of the beautiful islands listed below — Lokrum, Mljet, and Korčula — are just off the coast of Dubrovnik and are perfect for a day of exploring. Each island offers its own experience, so read about each one and see which one suits you the best.
Island Option 1: Lokrum Island
Just a ten-minute ferry ride from Old Town Dubrovnik, Lokrum Island is one of the most convenient places to visit to end your weekend in Dubrovnik.
Lokrum Island is a completely uninhabited nature reserve and provides the perfect escape from the busy streets of Dubrovnik with lush trees and plenty of swimming spots. You can spend your entire time on the island dipping in and out of the Adriatic Sea, but some other popular attractions include the Botanical Gardens and the ruins of the Benedictine Monastery that was built during medieval times.
Getting to Lokrum from Dubrovnik is easy — just take the boats the leave every half hour during the summer from Porporela (Dubrovnik's Old Port). If you're spending a weekend in Dubrovnik in the fall, winter, or spring, check the schedule to see when boats are leaving for Lokrum Island since they leave more infrequently. You can also book a kayak tour to ride to and from the island for a fun and adventurous way to travel to Lokrum!
Option 2: Mljet Island
If you're looking for an island filled with beautiful natural swimming spots and nature that is a bit further away — Mljet is the place to go.
The highlight of visiting Mljet is Mljet National Park — Croatia's hidden gem. This national park includes two saltwater lakes surrounded by a lush pine forest. Here, you can spend your day exploring the forest, taking breaks from the heat by swimming in the warm but refreshing water, and bathing in the warm sun. There are also kayaks and paddleboards available to rent, or electric bikes if you want to explore more of the park on your day trip.
For lunch, head to Pomena, which is just a quick ten-minute walk from the park. It's a small tourist town on the coast of Mljet Island that has a few restaurants for you to choose from.
You must take a ferry to get to Mljet from Dubrovnik. The journey takes about just under two hours and costs just over $20 for a return trip. Boats leave Dubrovnik at 9:15 AM, and the final boat departs the island at 4 PM, so you'll have plenty of time to enjoy the island.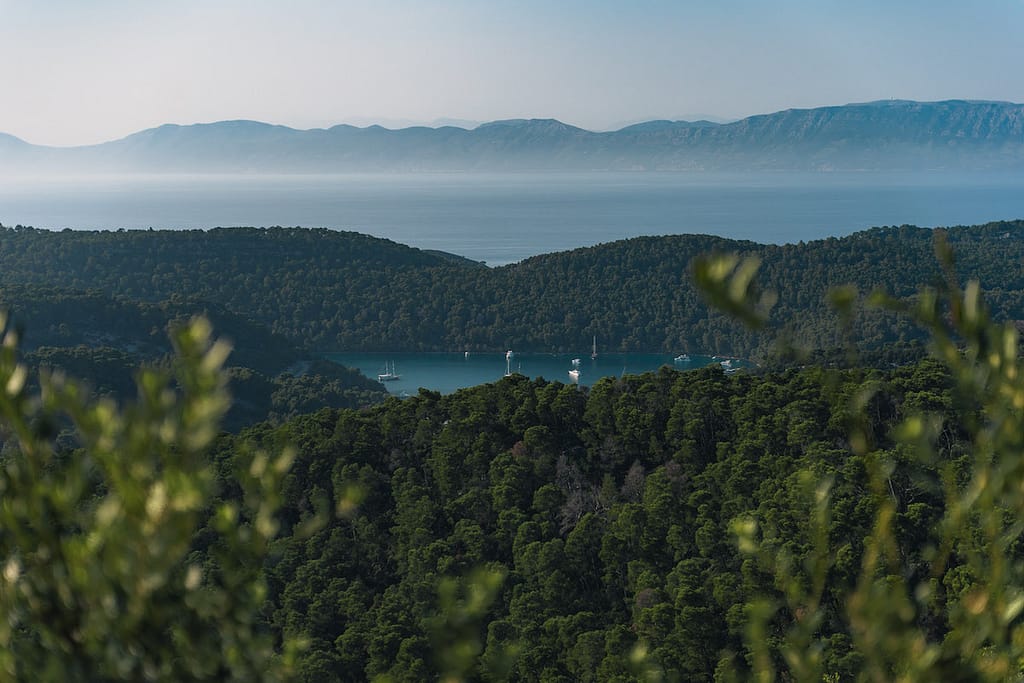 Option 3: Korčula Island
Your third and final option during the last day of your weekend in Dubrovnik is a day trip to Korčula Island. Known as "Little Dubrovnik," Korčula Island has its own charm.
Korčula's Old Town is much smaller and quieter than Dubrovnik's Old Town and is made up of crooked alleyways and quaint shops, red-roofed buildings, and seafront restaurants. You'll be able to explore the streets in an hour or two — and it's a great spot for a delicious breakfast!
After exploring Old Town, head over to visit the wild deer of Bajia Island, or rent a bike and cycle along the beautiful coastline to the white pebble cove of Vaja Bay. With the Pelješac Peninsula as Korčula's backdrop — it is a beautiful island that delights in more ways than one!
To get to Korčula, take a direct ferry from Dubrovnik to Korčula Town. The trip takes anywhere from two hours to 2.5 hours and costs between $20–$50, depending on the time of day the ferry is taken. The ferry times change depending on the season and day of the week, so make sure to check for an updated timetable on the day you wish to travel.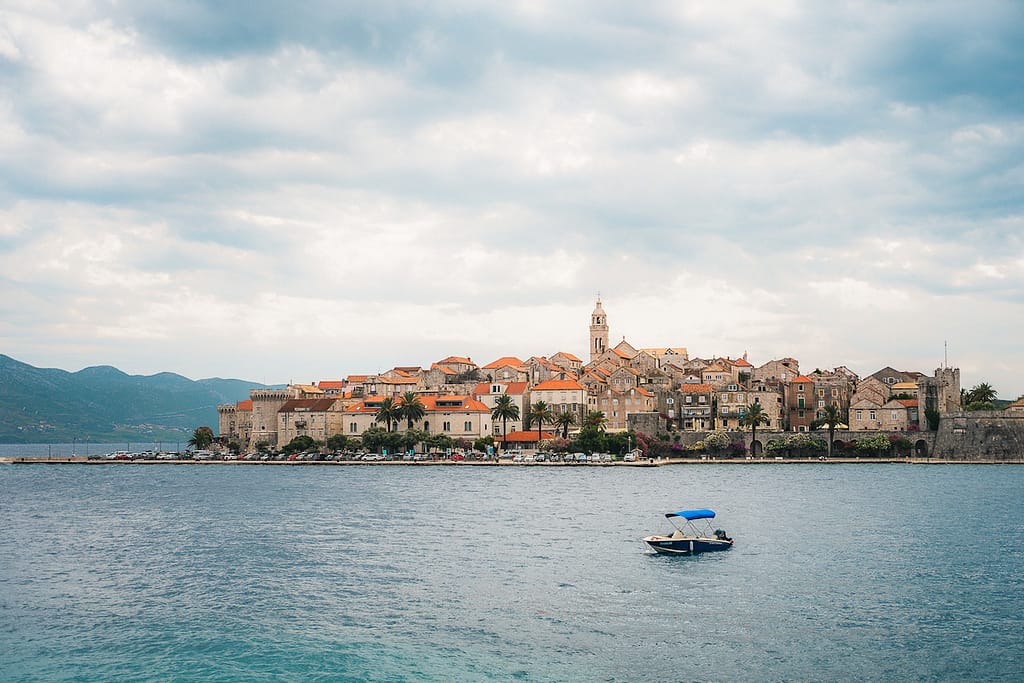 Money Saving Tip for a Weekend in Dubrovnik: The Dubrovnik Pass
If you want to see the top attractions in Dubrovnik, check out the Dubrovnik Pass. For a single price, the card will give you free entry to the following attractions, including the Dubrovnik City Walls, as well as free bus fares and discounts on other attractions in the city.
Dubrovnik City Walls
Rector's Palace
Maritime Museum
Ethnographic Museum
Marin Držić House
Dubrovnik Natural History Museum
Friars Minor Franciscan Monastery
Museum of Modern Art Dubrovnik
Dulčić Masle Pulitika Gallery
The Pulitika Studio
Fort Revelin
You can purchase the card for one day, three days (perfect for this weekend in Dubrovnik itinerary!), or a week. The pass costs about $35 for one day, which is the same cost as the Dubrovnik Walls — so as you can see, it's a great value!
Weekend in Dubrovnik: FAQs
Is 3 nights enough time in Dubrovnik?
Three nights is the perfect amount of time to spend in Dubrovnik. You'll have two nights in the city to explore the famous sites and a final day for an island excursion. If you only have a two-day weekend in Dubrovnik — that's also a great amount of time. Use the first two days in this itinerary and save the third night for when you have time to come back!
When is the best time to visit Dubrovnik?
Summer is the most popular time to visit Dubrovnik, but during July and August, the city is extremely hot and crowded. Instead, visit during the shoulder season in the spring (April, May, and June) or the fall (September and October) for more pleasant temperatures, smaller crowds, and lower prices.
How do you get to Dubrovnik?
Dubrovnik has its own airport (Dubrovnik Airport) that is about a 30-minute drive from Old Town. You can rent a car at the airport or choose to take the airport shuttle bus run by the Plantanus Travel Agency. Dubrovnik is mostly walkable, and public transportation is readily available, so we recommend taking the airport shuttle bus.
Plan the Perfect Weekend in Dubrovnik with This 3-Day Dubrovnik Weekend Itinerary
Dubrovnik is the perfect weekend destination. You can spend two to three nights exploring the streets, relaxing at bars, and swimming in the cool, blue waters of the Adriatic Sea. With two nights, you can see Old Town in all its glory, walk the famous walls, and visit a few of the stunning palaces and ancient monasteries. With three nights in Dubrovnik, you can explore a bit further to see some of Croatia's most beautiful islands, such as Mljet, Korčula, or Lokrum.
This weekend in Dubrovnik itinerary has shown you the perfect way to spend three days in Dubrovnik. With tips on how to save money, what and when to see everything, as well as how to plan some time to relax, you can now have the perfect weekend in Dubrovnik without the stress of planning everything yourself!
Save This 3-Day Weekend in Dubrovnik Itinerary for an Upcoming Getaway
Read More
Planning an epic vacation through Europe? Check out some of these other posts to plan the perfect vacation (or get some additional destination inspiration!):