London may have a reputation for being an expensive city to visit, but in fact, there are plenty of cheap things to do in London, as well as a multitude of things to do in London for free.
George Orwell once famously wrote that "one of the worst things about London (is) the fact that it costs money even to sit down," but that is simply not the case anymore, as there are so many cheap things to do in London. Keep reading below for all our best recommendations on free and cheap things to do in London while traveling on a budget!
This post was written by guest contributor Sarah from Slow Travel.
Free Museums
When asked about the free and cheap things to do in London, most people will mention the free museums, which are definitely a highlight of the city — free or not!
These museums range from major tourist attractions, such as the British Museum and the Science Museum, to the countless smaller museums, which are also free but less well-known.
1. The British Museum
The British Museum is the most popular of the big museums in London, with millions of visitors flocking to see the Rosetta Stone, the Egyptian mummies, the controversial Parthenon marbles, and thousands of other artifacts from across the world.
Although the British Museum can get really crowded during the day, visiting on a late-night Friday opening means that it is much easier to get up close to some of these incredible objects and makes the whole experience a far more enjoyable one.
2. The Science Museum
The Science Museum takes you through innovations from across the centuries with five floors of space exploration, a James Watt engine, a Herschel telescope, early computers, and whole displays dedicated to science and technology.
Many exhibits have interactive features, making them ideal for those visiting London with children or families.
3. Smaller Museums
However, it's in the lesser-known free museums in London where visitors can find some real surprises. Visitors can hold a real bar of gold at the excellent Bank of England Museum, watch a light show in an underground Roman Temple at the London Mithraeu, or explore the golden Inner Temple of Freemasons in the Museum of Freemasonry — all for free.
Petrie Museum of Egyptian Archeology is also a wonderful place to explore, filled with thousands of ancient Egyptian artifacts cobbled together on dusty shelves, and the British Library has rooms filled with some of the oldest and greatest works in British literature, making it one of the best literary spots in London!
Free Art Galleries
Exploring the numerous art galleries in London is one of the best things to do in London for cheap (or for free!) — whether you're an art lover or not.
4. The National Gallery
London has some of the finest art galleries in the world, of which The National Gallery is the crown jewel! Home to works by Van Gogh, Monet, Turner, Da Vinci, Botticelli, Rembrandt, Titian, and more, The National Gallery is a fabulous place to spend hours just sitting, contemplating, and deciding which works are your favorites!
5. National Portrait Gallery
Right behind The National Gallery is the newly opened National Portrait Gallery, where there are galleries filled with famous British faces such as Queen Elizabeth I, Shakespeare, the Bronte Sisters, Mary Seacole, and Churchill.
6. Tate Modern
If modern art is a preference, then the enormous Tate Modern on the banks of the River Thames is perfect. Although there is a charge for some of the smaller, changing exhibitions, there is free access to most of the museum, which is home to some truly surreal and thought-provoking art, as well as a viewing gallery that has wonderful views over the capital.
7. Tate Britain
Tate Britain is another large, free art gallery, but has a combination of traditional and modern art, making it ideal for those who like a bit of both genres. Rosetti, Millais, Turner, and Spencer combine with some outlandish sculptures and designs in a neo-Classic listed building.
Royal Heritage Sites
No visit to London is complete without seeing some of the royal heritage that dominates the city!
8. Changing of the Guard at Buckingham Palace
Although visiting one of the palaces is not cheap, you can still watch the Changing of the Guard at Buckingham Palace for free.
There is no need to join one of the many tours — it is just a case of getting to the railings in good time and staking a claim to a space from which to watch it. Mounted royal guards can also be seen at Horseguards Parade, just down the road from Downing Street, and are happy to be included in photos so long as you don't touch their horses.
9. Traitor's Gate
Traitor's Gate at the Tower of London is another one of the best things to do in London for cheap. This is where many Tudor royals saw their last glimpse of the outside world before being transported into the Tower of London by boat to await their executions.
Anne Boleyn, Elizabeth I, Lady Jane Grey, and more all made their final journey through this dramatic-looking, ancient portcullis.
9. Ceremony of the Keys
It's also possible to get into the Tower of London for about $6 by booking to see the Ceremony of the Keys — one of the best cheap things to do in London!
This ancient ritual has been performed every night for the past 600 years, and visitors can watch as the King's Guards lock down the Tower in full Tudor regalia, complete with a rendition of the Last Post. Tickets must be bought in advance from the Royal Collection Trust.
Cathedrals, Churches & Cemeteries
London is home to some extraordinary cathedrals, abbeys, and churches — many of which you can visit for free (or for cheap!).
10. St. Paul's Cathedral and Westminster Abbey
Although some cathedrals, including St Paul's Cathedral and Westminster Abbey, charge visitors quite a lot of money to explore inside their hallowed walls — there is no charge to attend one of their services.
Evensong is a particularly good service as it is at the end of the day and lasts for less than an hour. Although most of the buildings are closed for sightseeing and photography is not allowed during this time, it is still a great chance to see inside these magnificent buildings for free!
11. Smaller Churches
London has about 2,000 smaller churches and religious buildings, and they are all open for free. Many have small museums in their crypts, and it is possible to spend hours at a time in some of the best ones.
St. Bride's Church on Fleet Street and All Hallows by the Tower are well worth an extended visit and are some of the best churches to visit in London for free.
12. The Magnificent Seven Cemeteries
The cemeteries of London are a fantastic place to spend time, particularly those known as "The Magnificent Seven" — Abney Park Cemetery, Brompton Cemetery, Highgate Cemetery, Kensal Green Cemetery, Nunhead Cemetery, Tower Hamlets Cemetery and West Norwood Cemetery.
Highgate Cemetery is perhaps the most famous of them all, where graves and vegetation jostle for supremacy in this truly unique overgrown space. Although it costs just over $12 to visit, visiting this cemetery is one of the best cheap things to do in London, as it's easy to spend a whole day wandering amongst the graves, spotting famous names, which include Karl Marx, George Michael, Douglas Adams, Malcolm McLaren, and many more.
The catacombs on Egyptian Avenue in Highgate Cemetery are amazing pieces of architecture and, once visited, will never be forgotten. Other cemeteries and graveyards across the city are free to visit and have some equally famous burials and fascinating sights to see.
Spectacular City Views
London is a sprawling city that extends as far as the eye can see. Naturally, many visitors want to see the incredible views from above! People pay about $38 to visit the top of the Shard for those views — but there are other places to get similar sights.
13. Sky Garden
Sky Garden — London's highest public garden — is one of the best places to enjoy incredible views of the city for much cheaper than the Shard. Although the "garden" part of its name is something of a misnomer, this building has some fantastic views over the city for free — just be sure to book tickets in advance!
14. More Free Views
Just outside the Greenwich Observatory, there are some wonderful open views over the skyscrapers of the business district in Canary Wharf. The benches on Parliament Hill — part of Hampstead Heath — also provide the perfect place to enjoy the views from the comfort of a more rural setting.
Sunset River Cruises
River cruises are much touted by tour companies keen to sell a trip down the River Thames at great expense. They often include food and drinks and even sunset views to entice people in. It is possible, however, to book your own cruise down the River Thames at a fraction of the cost.
16. Uber Boat by Thames Clippers
Uber Boat by Thames Clippers is a fabulous (and cheap!) way to travel up and down the Thames River for cheap. You can book a sunset cruise for only £10 (or just about $12) with comfortable seating, a snack bar that serves food and drinks, and all the amenities you need.
Getting on one of these boats — much the way you would any form of public transport, like the tube — and sailing from west to east provides a luxurious boat ride. Plus, if you time it right, the setting sun will fall between the bastions of Tower Bridge as you approach, which is a truly spectacular sight. Try an evening trip from Greenwich to Tower Millennium for the best views!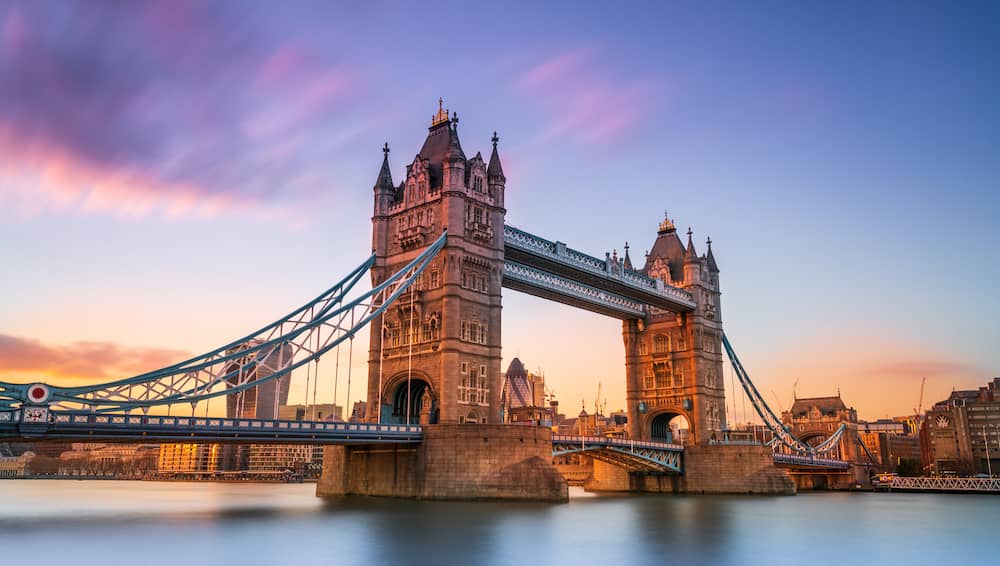 Beautiful Parks & Green Spaces
Known as one of the greenest capital cities in the world — London has countless parks and gardens that are completely free to visit.
17. Hyde Park
Hyde Park is perhaps the largest and most famous of the public parks in London. In addition to the assorted monuments, flower gardens, and sports courts in the park, visitors can hire a small rowing boat to ride out onto Serpentine Lake for minimal cost.
There are also free art galleries and exhibition spaces in the middle of Hyde Park, some large playgrounds (including one for seniors!), and — most entertaining of all — Speaker's Corner. There is a centuries-old London tradition of people being able to speak on any subject matter in Speaker's Corner. This tradition dates back to when the park was next to Tyburn, an area where thousands of people were hanged for all manner of crimes.
18. More Free Parks
Other parks in London to visit for free include Richmond Park, Hampstead Heath, Regent's Park & Primrose Hill, and a host of others. They all have free activities and events happening throughout the year — all of which can be found on their websites.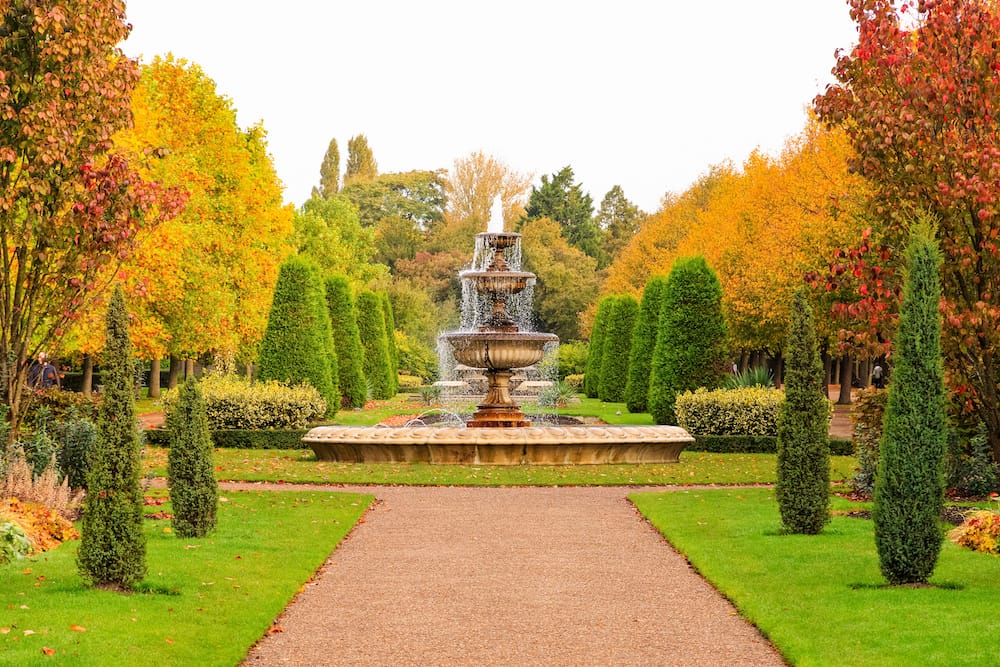 Bustling Markets
London is home to many famous markets which span the city and sell a huge range of goods. There is no need to spend any money or join an organized trip — exploring these markets on your own time will cost nothing (unless temptation strikes!).
19. Borough Market
Borough Market, which dates back to the 12th century, is located underneath railway lines in a huge Victorian structure of glass and wrought iron.
Borough Market is the oldest food market in London and now sells food from around the world, with sumptuous displays of fresh and exotic fruits, cheeses, breads, meats, and countless food stalls serving street food from across the globe.
20. Portobello Road Market
Portobello Road Market, located in Notting Hill, is the place to go for collectibles, vintage knick-knacks, jewelry, and ornaments — as well as to explore the famous streets and mews that are featured in this part of the city.
21. Greenwich Market
Greenwich Market is the place to go for art, antiques, and vintage goods. Since it's an indoor market, it is also ideal to explore on one of London's (not unusual) rainy days.
22. Convent Garden Market
Covent Garden Market is popular with all visitors. Though it was once famous for its fruit and vegetables, the market now also includes clothes, gifts, and hand-crafted goods and usually has street entertainers to keep the crowds amused (entirely for free!).
Colorful Street Art & Graffiti
Street art is another aspect of London that attracts many visitors, with its colorful designs lighting up dark and neglected corners.
23. Banksy Tunnel
Underneath Waterloo train station is the Banksy Tunnel. Banksy Tunnel was named in 2008 after Banksy held a graffiti festival in this once dingy tunnel where buses had been stored.
Since then, it has become a mecca for some of the best graffiti artists around and is now the only place in London where they are allowed to work without a permit. The entire tunnel, including the ceilings, is covered in street art, with the designs changing daily and sometimes in front of your eyes.
24. Brick Lane
Brick Lane is another great place for some serious street art. Although it is not technically permitted, that hasn't seemed to stop the graffiti artists, and the designs cover the already quirky street. The overall effect is an overwhelming mishmash of bright colors, skillful art, and unique shops and businesses.
Leisurely Walking
Walking is an underrated activity in London, which is crisscrossed with countless walking routes, including the Thames Path, Jubilee Walkway, Jubilee Greenway, and London Loop. The routes, which are marked with symbols on the pavements, cover the whole of London's landscapes, including riverside, urban, and rural areas.
25. Southbank
Southbank — alongside the Thames River — is the perfect place for a stroll on a warm day. It's easy to see why so many people love strolling in Southbank, with the beautiful views over the city, food stalls, a famous second-hand book market, and musicians and street entertainers who attract large crowds with their family-friendly fun.
26. Chinatown
Chinatown is another place for a fascinating walk. Chinatown is beautifully decorated with Chinese lanterns and is located right in the heart of the theatre district. This area is filled with an endless stream of people — and it is the perfect spot for some people watching.
27. Guided Walking Tours
Free Tours by Foot is an awesome company that does free walking tours in London. Westminster, the Royals, Jack the Ripper, Harry Potter, and World War II are just a few of the subjects they'll cover during the tour. These guided tours can last a couple of hours or nearly a whole day, and there is no cost — making them one of the best cheap things to do in London!
28. Self-Guided Walking Tours
However, the best way to explore London is to "follow your feet" and see where they take you! Spend some time exploring the hidden alleyways, small parks, and quiet residential roads. London's city center is very safe, and a walk through it can be very rewarding, with cool sights and buildings surprising you around each corner.
FAQs: Cheap Things to Do in London on a Budget
What are some free things to do in London?
Some of the best free things to do in London include watching the Changing of the Guard Ceremony at Buckingham Palace, walking around Hyde Park, free walking tours, and visiting popular museums and art galleries, including the British Museum, the Science Museum, The National Gallery, and Tate Modern.
What is famous and cheap in London?
Some of the best famous attractions to visit in London for cheap include Hyde Park, Borough Market, Highgate Cemetery, the British Museum, the National Gallery, and the Changing of the Guard at Buckingham Palace.
How can I save money on London attractions?
In addition to making your way through this list of free and cheap things to do in London, look into bundling attractions with the Go City All-Inclusive Pass.
With the Go City All-Inclusive London Pass, you will pay a one-time fee (£89–199) for a pass to visit as many attractions as you can during a selected timeframe (2–10 days). Attractions include the Tower of London, Westminster Abbey, St. Paul's Cathedral, Kensington Palace, Shakespeare's Globe Theatre Tour, and 90+ more.
By bundling, you can see more and spend less — in fact, you can save up to 50% on top attractions, tours, and activities. Go City is a great tip for traveling to London for cheap if you still want to see the major attractions and sites.
Experience the Best of London on a Budget with These Cheap Things to Do in London
This is just a small selection of all the free and cheap things to do in London!
As you can see, it's perfectly possible to have a fun-filled stay in London while only paying for your flight, accommodations, and food. If you know where to look — there are tons of cheap things to do in London that make traveling on a budget a breeze!

Disclosure: Some of the links in this post about cheap things to do in London are affiliate links, meaning, at no additional cost to you, I earn a commission if you click through and make a purchase. This helps me keep the content on my website free, like this post about cheap things to do in London.
Save the Best Cheap Things to Do in London for Later
Read More
Planning a trip to Europe? If so, check out some of these other fabulous destination guides for inspiration: