Got just one day in Copenhagen? Knowing how to make the most of your time will be key if you have only 24 hours in Copenhagen. It will be impossible to see everything in a day, whether on a layover, a quick business trip, or just trying to squeeze in as many cities as possible on your European vacation.
Fortunately, though, Copenhagen isn't huge. That means you can pack in a lot without feeling like you're racing through a marathon. Sure, it's going to be a busy day. But hey, busy days make the best stories, right?
Curious about where you'll be grabbing that world-famous Danish pastry? Or where to catch the most chill sunset of your life? Stick around — because you're about to get a one-day itinerary for Copenhagen that shows the best of what this city has to offer!
This post was written by guest contributor Astrid from Seek Scandinavia
Morning
The plan below may look like your morning is packed, but don't worry — everything is pretty close to each other, so you won't feel rushed if you start early enough. You'll even have enough time to actually soak in your surroundings, which — let's be honest — is the best way to experience any city!
One big tip to make getting around during your one day in Copenhagen as easy as possible is to rent a bike. Riding a bike is fun and super practical in this bike-friendly city, as you'll cover more ground and see the city like a local. Basically, it's a win-win!
Brunch
It's well known that pastries are one of the things that Denmark is famous for. And if the pastries are amazing, you can assume that Danish brunches are on another level! With a variety of bread, pastries, fresh fruit, and yogurt — it's a meal that covers all the bases!
Find a café or a brunch spot close to where you're staying. Copenhagen has no shortage of fabulous places, but some of the most popular are Sidecar, Kompa9, and Kalaset. A hearty brunch will keep you going, especially with all the walking (or riding!) you'll do during your one jam-packed one day in Copenhagen!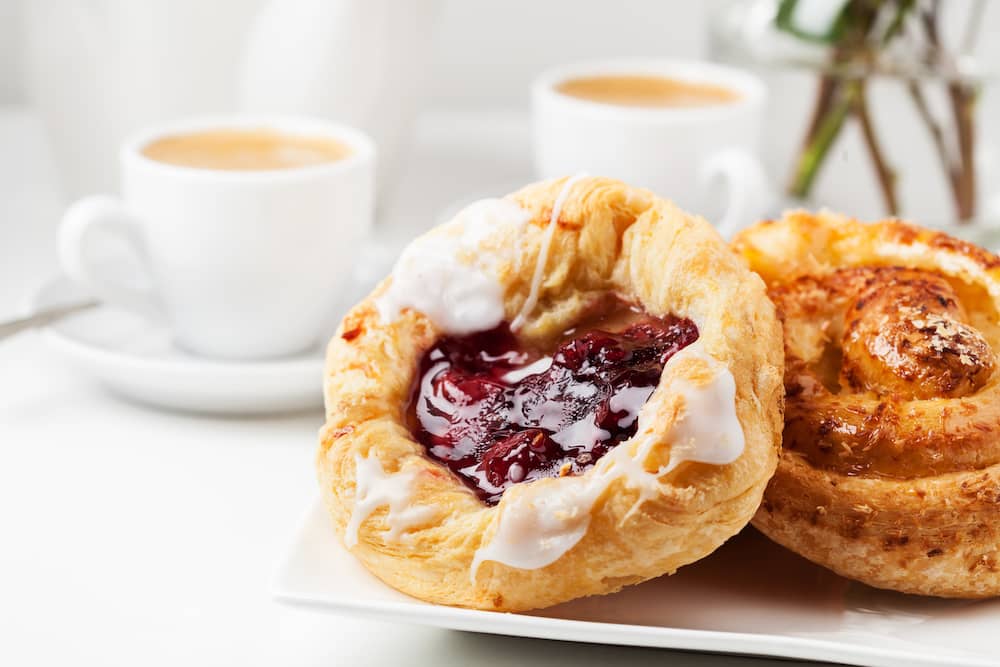 Nyhavn
After brunch, make your way to Nyhavn. This waterfront area is easily recognizable by its colorful buildings, making it the best spot for a photo in the city. It's also an excellent place to take a moment to sip on a coffee and observe the comings and goings of the area.
If you want to see the city from a different perspective, Nyhavn is also a popular starting point for canal cruises in Copenhagen. These cruises typically last around an hour and offer a unique view of the city's landmarks.
Amalienborg Palace
Once you've had your fill of Nyhavn and snapped some photos, start heading towards Amalienborg Palace. It's an easy walk, and the scenery as you stroll along the waterfront is lovely (although it can get a bit windy, so pack a jacket just in case).
And if you time it right, you might even see the Changing of the Guard. It happens daily, and while it's not a high-octane event, it's a traditional ritual that gives you a glimpse into Danish royal life. Even if you don't catch this ceremony during your one day in Copenhagen, you'll still get to find the guards in their ceremonial outfits, which is great to see in itself!
Kastellet
Next up is Kastellet, which is pretty close to the palace. Kastellet is an old fortress shaped like a star, surrounded by moats. However, the vibe here is more park-like than a military stronghold these days. People jog and walk their dogs here, and you can see a few historical buildings and windmills scattered around.
Kastellet is a nice, chill place to wander, and the elevated ground offers some decent views of the surrounding area.
Little Mermaid
You definitely can't spend 24 hours in Copenhagen without stopping by the Little Mermaid statue. We'll be honest — it's smaller than most people expect. But hey, it's iconic as the most famous mermaid in Denmark, and you're already in the area if you've visited Kastellet. So it's worth a stop!
The statue is just a short walk away along the waterfront. It attracts crowds, so don't expect a personal moment with the mermaid unless you're lucky!
Marble Church
By now, you've built more of an appetite for walking. Good, as there's more to explore!
Head down Store Kongensgade, a main street that'll take you past the Marble Church. This imposing church with its massive dome is hard to miss. If you're not into going inside, the exterior is pretty impressive and makes for lovely photos. The area around the church is often quieter than other touristy spots, so it's an excellent place to catch your breath if needed.
Kongens Have
Continue on, and you'll find yourself at Kongens Have, also known as the King's Garden. Now, this is where you'll want to slow down. This park is home to various gardens, sculptures, and tree-lined pathways. It's a place locals go to unwind, and you'll see a mix of people lounging, having picnics, or playing games.
Kongens Have doesn't have that overly manicured look — it's more like a comfortable, lived-in backyard (if your backyard happened to be massive and historical!).
In the middle of all this greenery sits Rosenborg Castle. Even if you're not a history buff, the castle's architecture and the surrounding moat are interesting. If you're into that sort of thing, it houses the crown jewels! But even if you decide not to go inside (which you might not have time to do with only one day in Copenhagen) — the exterior is worth a look. Plus, it's an excellent backdrop for any photos you want to take!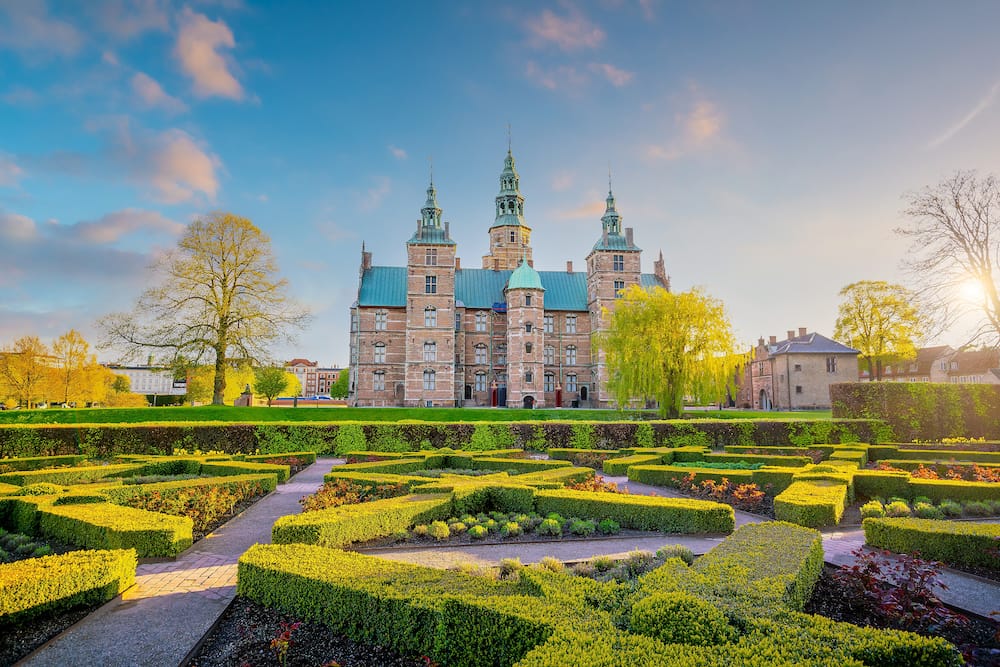 Tovehallerne
By now, you're probably starting to feel a bit hungry, but luckily, there's just the spot for you — Torvehallerne. This isn't your average market — it's more like a foodie paradise. Imagine an array of stalls selling all sorts of edibles, from fresh produce to ready-to-eat meals, gourmet chocolates, and, yes, coffee (because you might need a midday pick-me-up by this point)!
The big draw here, especially for visitors, is the chance to try out Denmark's famous open-faced sandwiches, known as smørrebrød. They come in various flavors, topped with anything from herring to roast beef, shrimp, or veggies. They're like a little piece of artwork you can eat!
But hey, if smørrebrød isn't your thing — no worries. You've got Italian, Spanish, Japanese, and more cuisine options. It's like a mini United Nations of food stalls. Whatever your stomach is craving, you're likely to find it here.
If the weather cooperates, grab your food and head outside. There's something extra satisfying about eating al fresco in Copenhagen (maybe because good weather days can be a rarity). But even if the skies are gray, the inside seating area is comfy, bustling, and an excellent place to people-watch and enjoy your meal.
And let's talk drinks — specifically, beer. Denmark knows its beer, and the Mikkeller store inside Torvehallerne is an excellent place to get acquainted with the local craft scene. But if beer isn't for you, that's fine, too. There are also fresh juice stalls and coffee shops that serve up some mean brews in this expansive market!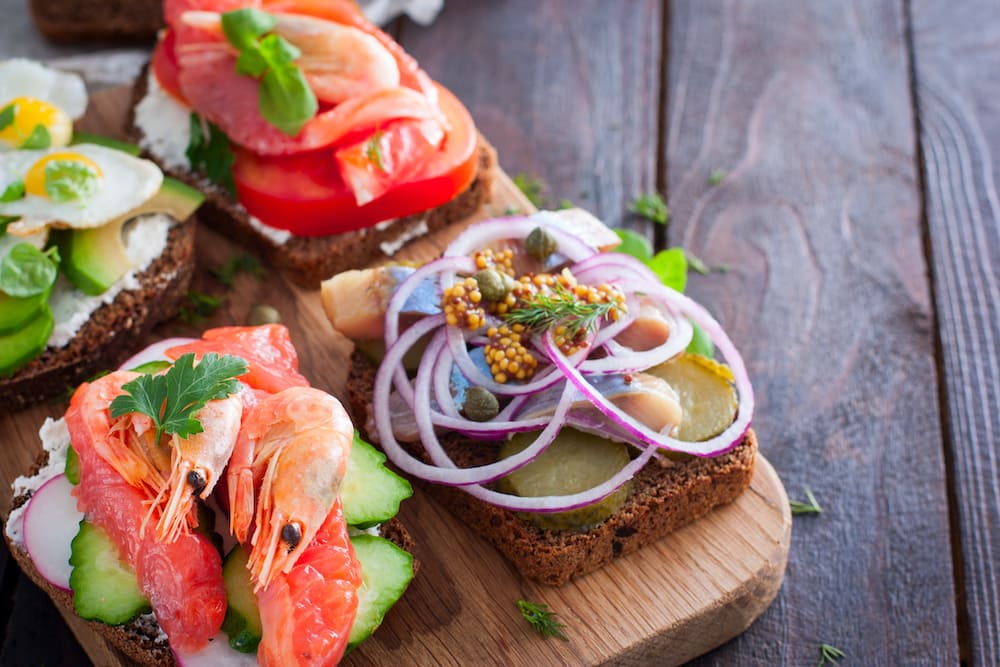 Afternoon
Rundetårn
Now that you're all fuelled up, it's time to shift gears. Next on the agenda is the Rundetårn, or Round Tower. This place isn't just a tower but also a historic observatory. The real kicker? There's no staircase to get to the top. Instead, it's got this wide spiral ramp that was initially built so a horse and carriage could make the ascent. Why not, right?
If heights aren't an issue for you, you should consider making the climb, as it doesn't take that long. The view from the top is a solid panorama of Copenhagen's rooftops and spires. And if you're into photography, this is an excellent spot for landscape shots. But if you're not feeling it, the building itself is interesting enough to check out from ground level.
Strøget
Next, let's head down to Strøget. This street is one of Europe's longest pedestrian shopping areas, so naturally, you'd expect some retail therapy opportunities. There's something here for everyone, from big-name brands to smaller local shops. Even if you're not in the mood to spend money — just walking along this lively street is an experience!
Strøget isn't just about shopping; it's got a great vibe. Street musicians, outdoor cafes, and people from all walks of life make the atmosphere quite dynamic. It's a nice mix of "old" and "new" Copenhagen. You'll see historic buildings one moment and super modern designs the next. Whether you end up with shopping bags or a bunch of memories — Strøget is a must-see during one day in Copenhagen!
Frederiksholms Kanal
Once you've had your fill of the bustling streets and maybe even picked up a keepsake or two, it's time to switch it up and find some calm. Head down to Frederiksholms Kanal for a pleasant, mellow stroll. Some pretty impressive architecture flanks the canal, and one of the standout buildings is Christiansborg Palace.
Today, Christiansborg Palace wears many hats. It's the seat of the Danish Parliament, the Prime Minister's Office, and the Supreme Court. Basically — it's where all the big decisions get made. But politics aside, the palace and its spires make for a charming backdrop as you wander along the canal. You can also go on a private walking tour of Christiansborg Palace!
If you find your energy flagging a bit, why not refuel? There are some cafes along the canal where you can grab a pastry. Alternatively, before heading down the canal, take a little detour from Strøget to Sankt Peders Bageri. It's the oldest bakery in Copenhagen, and its cinnamon rolls are to die for when they're freshly out of the oven! After all, when in Denmark, do as the Danes do, right? A little sugary pick-me-up might be just what you need to keep going.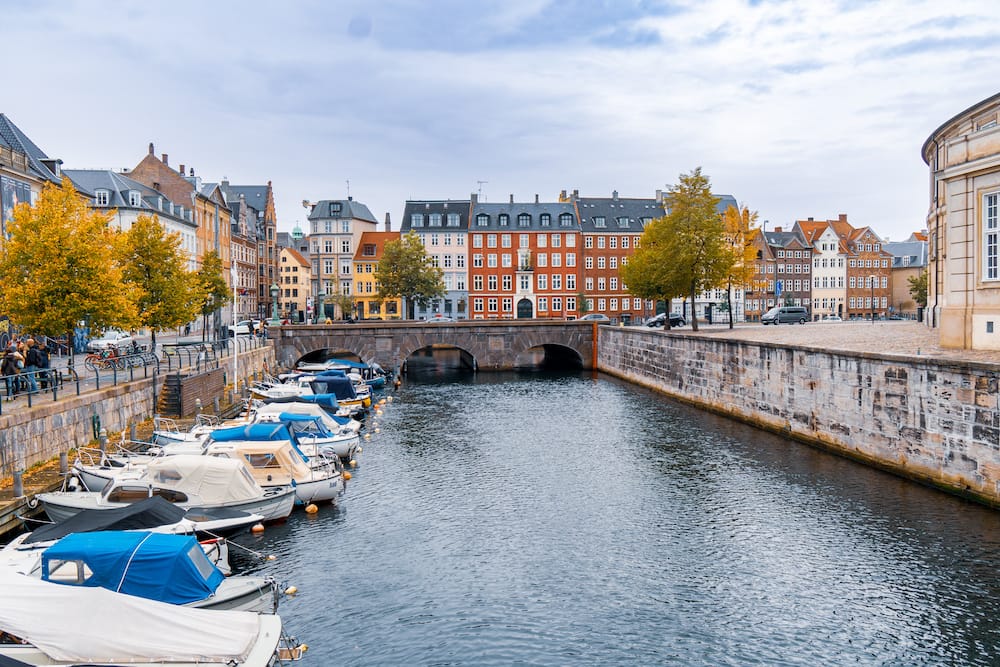 Copenhagen Waterfront
Now, let's talk about that waterfront near the building known as The Black Diamond. This is where you'll see boats of all sizes going about their business. It's a bustling but oddly calming sight, like watching a dance where everyone knows their steps. If the weather cooperates, this is a golden opportunity to grab a drink or a snack and find a spot among the locals by the water.
People here take their outdoor leisure time seriously, especially when the weather is good. You'll see folks wrapped up in conversations, reading, or watching the boats go by. It's one of those simple but awesome experiences that lets you feel like a local, even for a short while, during 24 hours in Copenhagen
Freetown Christiania
You've seen a fair bit of Copenhagen by now, but how about ending the afternoon by stepping into a different world altogether — Freetown Christiania. This self-proclaimed "free town" is kind of its own thing within the city, a place where normal rules seem a bit, well, flexible.
Getting there is doable on foot if you're up for a longer walk, but if your legs feel the miles, hop on a bike or catch public transport. Either way, you're in for something unique. Christiania blends homemade houses, art galleries, music venues, and some rather eclectic characters. Photography isn't allowed in certain areas, so watch for signs.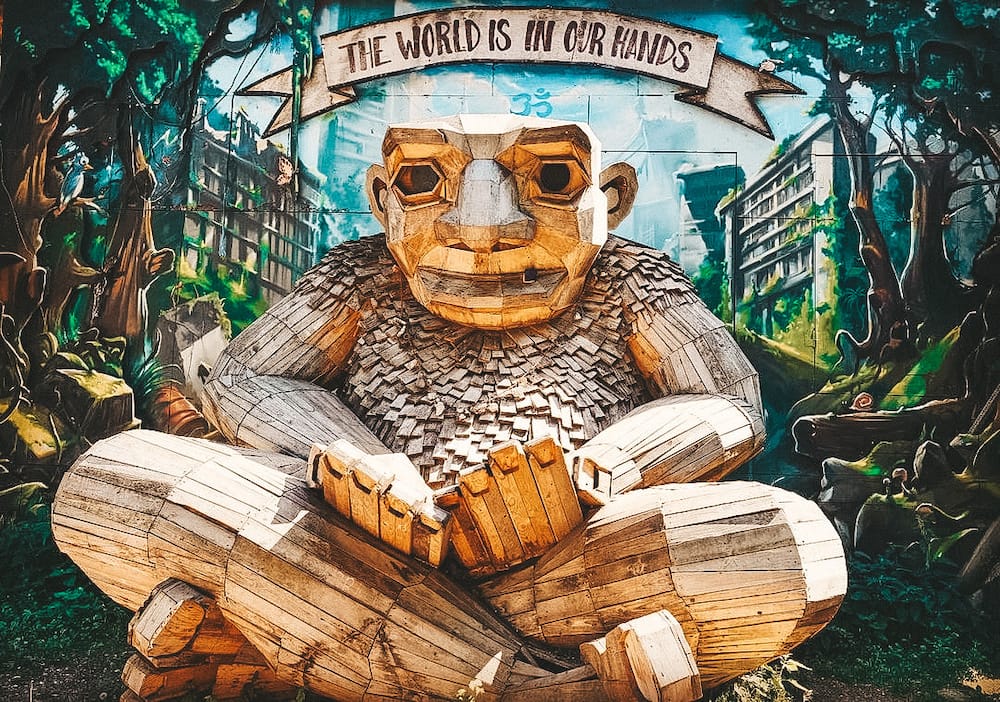 Church of Our Savior
While in that part of town, see if you can spare some time for the Church of Our Savior. Don't let the somewhat understated exterior fool you — the tower is the real star here!
Why? Well, because you can climb it for easily the best views in the city. Remember that it's not for the faint of heart, especially as you near the top and the stairs move to the outside of the spire. But if you can handle it, the view is genuinely something else. Climbing the tower takes some time, so you should plan accordingly. You don't want to rush this one, mainly to make sure that you can linger for a bit once you're up there just to take it all in.
Evening
Luxury Dining
Evening's rolling in, which means it's time for another crucial part of any travel itinerary — dinner. If you're feeling fancy and have some cash to splash, Copenhagen is like a playground for foodies. Seriously, the city's Michelin-star game is strong.
Noma, anyone? Yes, that place has been dubbed the best restaurant in the world a few times! Or maybe you'd like to try Geranium, another top-tier spot. Either way, if you go this route, you're in for mind-blowing culinary experiences!
Mid-Range Dining
On the other hand, if you're not in the mood to splurge, you can still eat really well during one day in Copenhagen without breaking the bank.
You'll want to head over to the Vesterbro Neighborhood for that cozy, authentic Nordic dining vibe (soft lighting, wooden decor, the whole deal). Places like Madklubben Vesterbro offer hearty Danish fare without the gourmet price tag. Another great option is Fiskebaren, if you're into seafood served in a casual but super tasty manner.
Feel like turning dinner into a full-on night out? Copenhagen's Meatpacking District is where you want to be. The name might sound industrial, but it's become a hub for great restaurants and bars. For a chill but stylish dining atmosphere, try Gorilla. If you're more in the mood for small bites with your drinks, NOHO is a cool spot with a club-like atmosphere later in the night. You can also always go on a culinary tour or food tour to taste the best that Copenhagen has to offer!
Reffen
If you're in Copenhagen for one day during the summer, there's one more spot you should consider heading to for dinner — Reffen. Situated across the canal from Nyhavn, it's got a sort of end-of-the-day oasis vibe that may just be the highlight of your day here in the Danish capital.
Reffen is a street food paradise, with food trucks and stalls serving everything from gourmet burgers to Asian fusion. Try Duck It if you're in the mood for some mouthwatering duck dishes. Or, if you're craving some solid Mexican food in the middle of Denmark, La Neta has got your back with some legit tacos.
Once you've grabbed some food and maybe a drink, sit by the water. The sun is getting ready to call it a day, and in Copenhagen's summer, that happens super late, around 10 PM. So you've got plenty of time to soak it all in. People are chilling, conversations are flowing, and the sunset over the water makes the whole scene kind of magical. It's a perfect place to end your one day in Copenhagen!
FAQs: One Day in Copenhagen
Is it worth going to Copenhagen for a day?
Yes, it's worth going to Copenhagen for one day! You'll have plenty of time to see the city's top attractions, like Nyhaven and Christiansborg Palace, eat some Danish specialties, like danishes and smørrebrød, and you might even have time to go on a canal cruise!
What is the dress code for restaurants in Copenhagen?
Copenhagen is a laid-back city, so you can show up to most restaurants in your casual attire. However, if you plan to dine at one of Copenhagen's Michelin-star restaurants for dinner, you might want to bring a change of clothes to match the fancier atmosphere!
Is Copenhagen a walkable city?
Copenhagen is a flat city that is built around waterways with a central, compact downtown area. Copenhagen's layout makes it a very walkable (or bikeable!) city. Most major attractions are within easy reach of each other — which is ideal for one day in Copenhagen!
See the Best of Copenhagen with This One Day in Copenhagen Itinerary
And there you have it — a whirlwind of a day that takes you through Copenhagen's best hits. Sure, you won't cover everything, but you'll have the chance to taste the food, soak in the culture, and maybe even catch a sunset with some of the best vibes you'll ever find.
Whether exploring by foot or making life easier (and a bit more fun) by biking throughout the city, Copenhagen is easy to get around in just one day. And from Michelin-starred splurges and food truck munchies to historic palaces and alternative communities — you'll never be bored during one day in Copenhagen!

Disclosure: Some of the links in this guide to one day in Copenhagen are affiliate links, meaning, at no additional cost to you, I earn a commission if you click through and make a purchase. This helps me keep the content on my website free, like this guide to one day in Copenhagen.
Save This One Day in Copenhagen Itinerary for Your Upcoming Day Trip