Cinque Terre, the five gorgeous towns in Italy along the Ligurian Sea, is one of the most beautiful places I have ever visited. The rugged coastline villages are peppered with colorful houses and gorgeous scenery that are jaw-droppingly beautiful. But, I'd like to argue that you'll also be amazed by the delicious food and drinks! I mean, what to eat in Cinque Terre is one of the main attractions of visiting. You are in Italy, after all!
Even though it is common to associate Italy with pizza and pasta, It may surprise you to learn that the best cuisine in Cinque Terre does not include these two iconic dishes. Instead, the Ligurian coast is full of locally made food and drinks that make finding what to eat in Cinque Terre unique (and delicious!).
Are you visiting Cinque Terre soon? If so, here's what to eat in Cinque Terre while you enjoy your trip to these five stunning coastal villages!
What to Eat in Cinque Terre
1. Focaccia
Did you know that focaccia bread originated in the Ligurian region of Italy, where Cinque Terre is located? I didn't know this before my trip, but it makes sense because the focaccia here is on another level!
Most focaccia bread is brushed with olive oil and dusted with salt. You can top off your focaccia with numerous Ligurian delicacies, like olives or pesto. The focaccia has a crunchy exterior, and the warm interior melts in your mouth with every bite. My mouth is watering just writing this!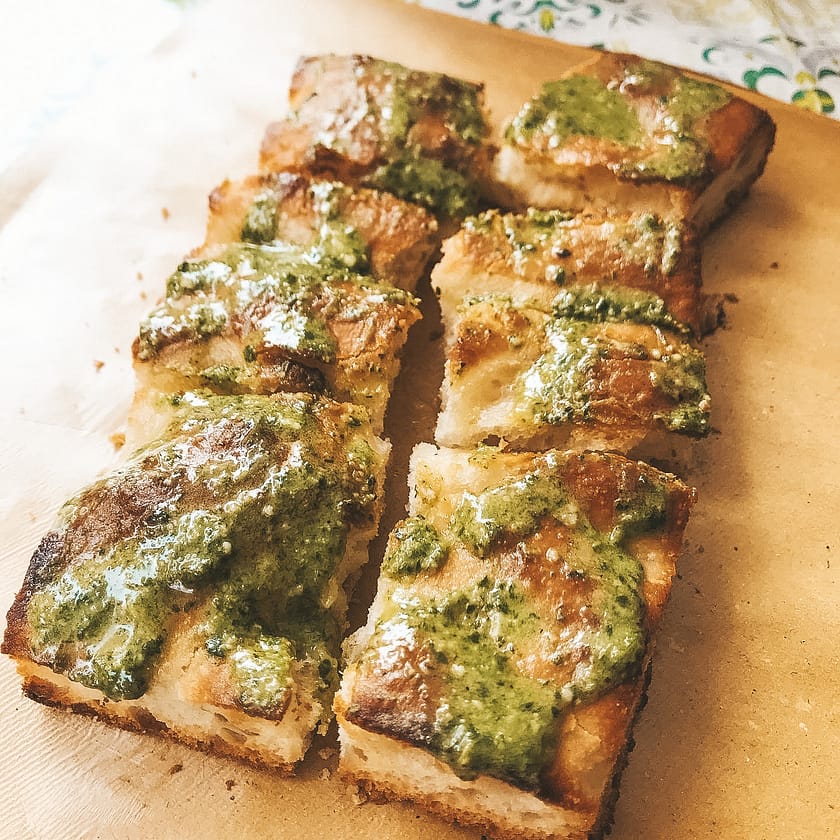 2. Pesto alla Genovese
Pesto is another Ligurian specialty that you have to try while you're in Cinque Terre. Enjoy some delicious pesto sauce on trofie, a special kind of pasta, or on focaccia bread (my favorite way to eat it!).
You can also get little jars of pesto alla Genovese to bring home with you to share with family and friends. They aren't hard to find either. The pesto jars are available in almost every store!
3. Aperol Spritz
The Aperol Spritz is one of the most popular aperitifs in Italy and is a refreshing and enjoyable complement to the beautiful coast. The Aperol Spritz is a popular apertivo (or pre-meal drink) that is enjoyed in several regions of Italy, including Cinque Terre. The cultural ritual of enjoying an apertivo before a meal was born in Turin, Italy — check out these best things to do in Turin if you add this beautiful city to your Italy itinerary.
Made like a limoncello spritzer, an Aperol Spritz subs out the Limoncello with Aperol. The bright orange hue of the drink is a gorgeous complement to the ocean's deep blue tone. It makes for a lovely photo and is just as pleasant to enjoy!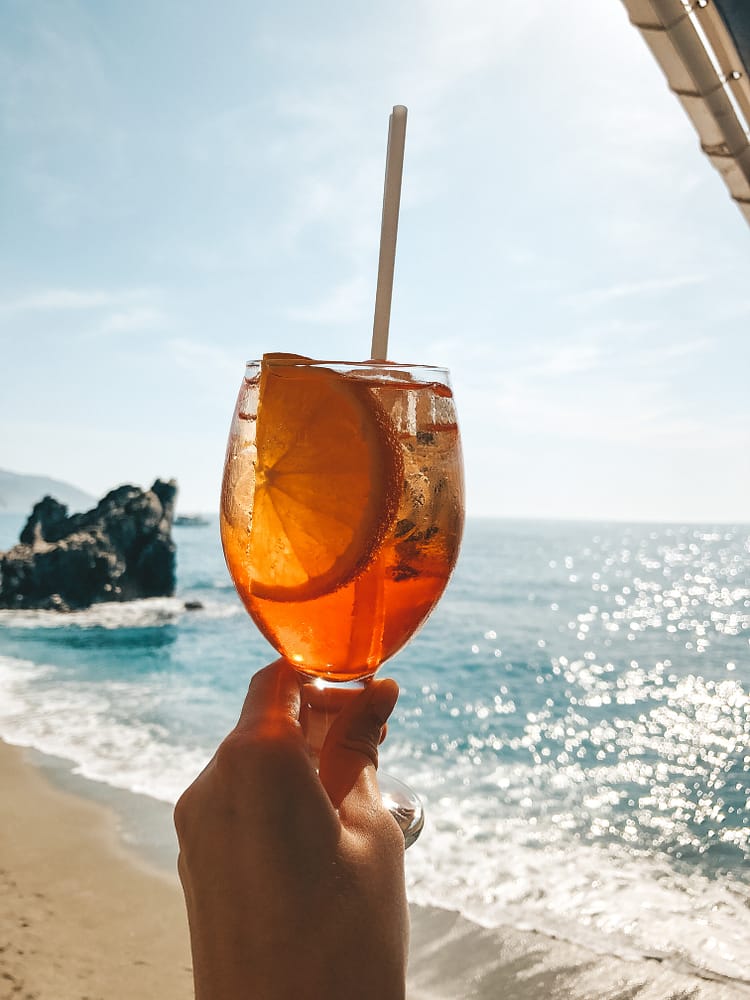 4. Seafood
Even though tourism is undoubtedly the primary source of income for Cinque Terre, many villagers in the five towns make their living as fishermen. Fresh seafood from the Ligurian Sea is a popular dining option among locals and visitors alike.
I am not a big seafood eater, but my husband is. One night during our trip, he ordered seafood spaghetti filled with calamari, mussels, clams, octopus, and more. He enjoyed how fresh the seafood was and said you could certainly taste the quality.
You can also order fresh seafood and fish fried and eat it out of a paper cone! Fried seafood cones are a scrumptious and fun way to enjoy this Cinque Terre specialty.
4. Gelato
Gelato is a must if you are visiting anywhere in Italy. But the gelato in Cinque Terre was my favorite during my trip! I especially enjoyed the stracciatella gelato, a sweet cream gelato with chocolate chips.
Gelateria Vernazza in Vernazza and Geleteria La Scogliera in Monterroso are two great gelato shops in Vernazza and Monterroso. I've also heard fantastic things about 5Terre Gelateria Creperia in Manarola.
5. Limoncello
Limoncello is easy to come by in Cinque Terre and is available to purchase in every restaurant, bar, or store. Made from the fresh lemons grown in the villages, this delicious drink is simply a blend of lemon peel, alcohol, water, and sugar.
For a refreshing take on limoncello, try a limoncello spritzer. It's made with prosecco, limoncello, and soda water and is delicious!
7. Cinque Terre D.O.C. White Wine
Cinque Terre is esteemed for its dry white wine. Cinque Terre D.O.C. wine is locally made and rarely found outside of the Ligurian region. It pairs well with the local cuisine, especially seafood!
Where to Stay in Cinque Terre
Here are some recommendations of places to stay during your visit to Cinque Terre!
Eat Your Way Through Cinque Terre
Okay, my mouth is officially watering! If you are visiting the five villages soon, I might be a bit jealous. I hope this list of what to eat in Cinque Terre helps you enjoy every moment of your culinary experience!
Enjoy Cinque Terre. Salute!
Disclosure: Some of the links in this post about What to Eat in Cinque Terre are affiliate links, meaning, at no additional cost to you, I earn a commission if you click through and make a purchase. This helps me keep the content on my website free, like this post about the What to Eat in Cinque Terre!
Pin "What to Eat in Cinque Terre" for Later!
Did you enjoy this post about what to eat in Cinque Terre? If so, check out these other Travel by Brit foodie guides!