Searching for free and cheap things to do in Split, Croatia? This guide is for you. From historical landmarks to scenic parks and bustling local markets — Split offers a wide range of activities that won't break the bank.
Whether you're keen on delving into the city's ancient past or simply soaking up the sun on its stunning beaches — this guide has it all. In this post, we'll share a rundown of affordable (and even free!) ways to make the most of your visit to this famous Croatian city.
So, without further ado, here are the best free and cheap things to do in Split, Croatia!
This post was written by guest contributor Olivia from Inspired by Croatia, an American with Croatian roots who has lived in Croatia since 2014!
Free & Cheap Things to Do in Split, Croatia
1. Go on a free walking tour.
If you're traveling on a budget, free walking tours are a great way to get to know the new city you're in without having to spend a lot of money on classic tours. Free walking tours are generally comprehensive and offer a deeper dive into the city than you'd get exploring solo.
You can join this Free Split Walking Tour that lasts just over one hour, where a local guide will take you around the city to see the highlights, like the Saint Domnius Bell Tower and Diocletian's Palace. Due to some quirky Croatian regulations, the tour isn't entirely free. It costs less than $1 — a small price to pay for the wealth of information you'll gain during the tour (not to mention the incredible opportunity to meet other like-minded travelers!).
While not mandatory, it's always a good idea to tip your guide at the end — even a few dollars is appreciated, but it could be more, depending on how much value you got out of the tour.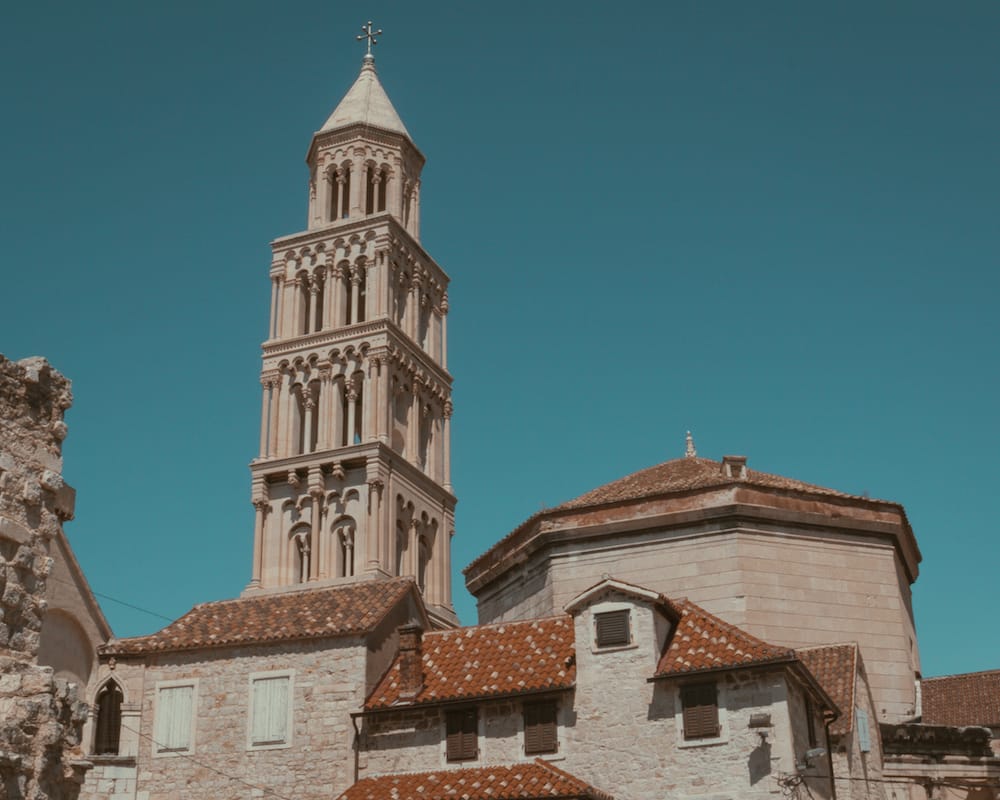 2. Soak up the greenery and views at Marjan Hill.
Marjan Hill is easy to reach from the center of the Old Town Split and is hands-down one of the best free things to do in Split. Often called the "lungs of Split," this green oasis is carpeted with fragrant pine trees and lined with beaches galore.
The park offers several well-marked trails weaving through its lush Mediterranean forest, each one providing a unique experience of the landscape. Several paths lead to the highest point of the park — Telegrin Peak — at an elevation of 584 feet. There are a total of 314 steps that lead to the top, but once you reach the summit, the views are unbeatable!
Getting around Marjan Hill can involve some serious climbing, but there are plenty of places to rest around the park, including a cafe. Bring plenty of water and snacks if you plan to hike or jog, especially in the summertime! For nature lovers, this park is an absolute must-visit on your Split itinerary.
3. Bask in the sun on Split's beautiful beaches.
Split is a paradise for beach lovers, boasting miles of coastline along the dazzling Adriatic Sea.
Bacvice Beach is a local favorite, popular for its shallow waters and sandy shores. It's not uncommon to catch locals engaged in a casual game of "picigin" — a fun, low-key ball game that's often played at this beach. The game's objective is to keep a small ball from falling into the water by passing it around using only the palm of your hand.
To find the best beaches in Split, you'll want to head over to Marjan Hill Forest Park. The park is fringed with several pebbled and rocky beaches — complete with crystal-clear water and plenty of shade — making them the perfect escape from the midday sun. Kasjuni Beach, in particular, stands out for its picturesque scenery, so if you only visit one beach in the area — let it be this one!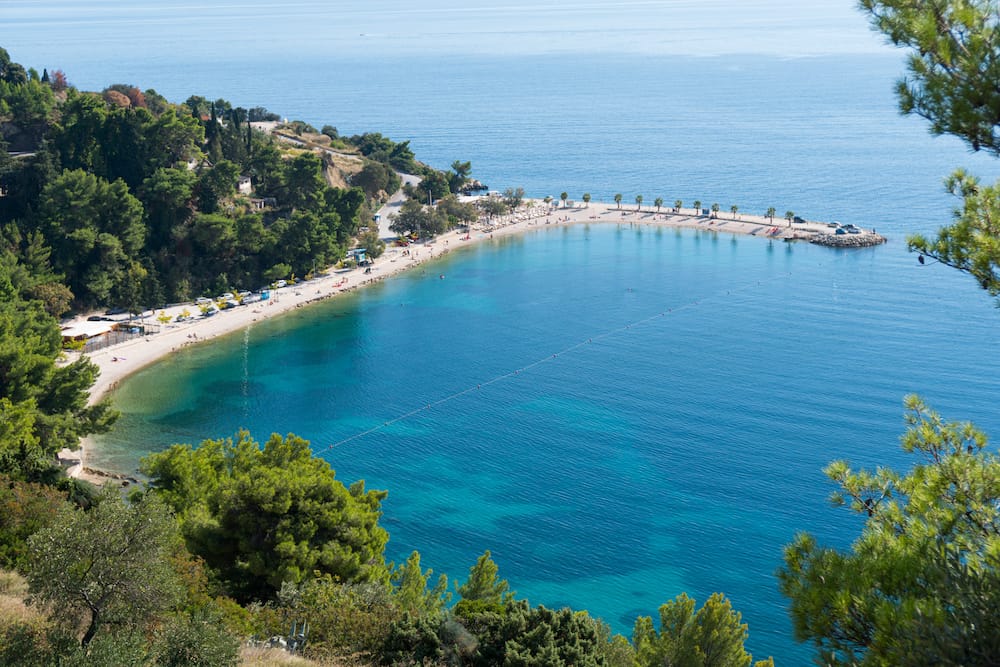 4. Visit the famous Diocletian's Palace.
One place in Split you've likely heard of is Diocletian's Palace — the city's most iconic landmark and one of the best cheap things to do in Split for history lovers!
Diocletian's Palace — built in the fourth century — is now a UNESCO World Heritage site. You might be surprised to learn that modern-day Split is built around the ancient palace, so unlike a traditional "palace," there are no official entry or exit points. Instead, remnants of the structure intertwine with newer buildings, making this palace a truly unique attraction.
The most notable area of Diocletian's Palace is the Peristyle — the palace's central square. If you have a few dollars to spare, it's worth sitting on the steps of the Peristyle, ordering a drink, and soaking up the remnants of the ancient Roman Empire. You'll even notice some Egyptian heritage, thanks to a 3,500-year-old perfectly preserved sphinx watching over the Peristyle.
5. Enjoy a free concert in the Vestibule.
Step into the Vestibule — also known as the Rotonda or Atrium — and you'll find yourself in the first stretch of the imperial corridor within Diocletian's Palace. Not only is this spot a unique architectural gem — rectangular from the outside but oval on the inside — it's also a prime location for snapping photos thanks to its skylight and unique structure.
During the summer, the Vestibule transforms into an intimate concert venue when a local group puts on free performances of a cappella-style Dalmatian songs. This special event brings the palace to life and will leave you feeling like you've stepped back in time. The dome shape of the Vestibule and opening to the sky provide excellent acoustics, making it an ideal location to enjoy the harmonious sounds of traditional singing recognized by UNESCO.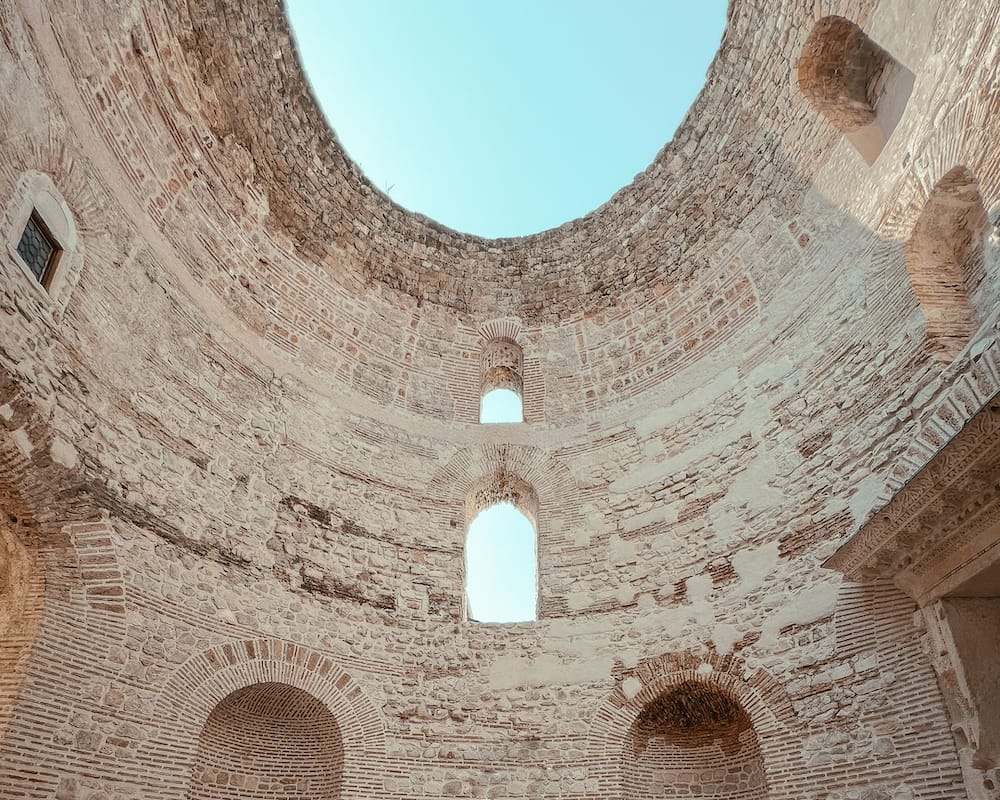 6. Rub the big toe of Gregory of Nin.
The colossal Grgur Ninski (Gregory of Nin) statue is hard to miss, standing at an imposing 82 feet, and is one of the most iconic landmarks in Split. It's just outside the Golden Gate — one of the four Roman gates leading into Diocletian's Palace.
Crafted by none other than the acclaimed Croatian sculptor Ivan Mestrovic — the same one who sculpted the St. John the Baptist Statue in the Temple of Jupiter — this bronze giant pays homage to Gregory of Nin, a 10th-century Croatian bishop.
The statue is thought to bring good fortune — all you have to do is rub his big toe! It's hard to miss — now, the big toe has turned a shiny, gold color after thousands of tourist have touched the toe in hopes their wishes will come true. This is one of the best cheap things to do in Split — even if it is a little odd!
7. Stroll through the vibrant farmer's market.
If you want to dive into the local scene, go to the Pazar — Split's daily farmer's market — conveniently located next to the east wall of Diocletian's Palace.
This bustling market is a great way to get a glimpse into the local life and the produce that is specific to the region. Stroll through the stalls and feast your eyes on the colorful array of fruits and vegetables stacked high on the market tables alongside locally made cheese, honey, cured meats, and other treats. Sometimes, a friendly vendor will even offer you a sample!
Split's Pazar is also the ideal spot to grab some affordable breakfast or snacks for the beach and support the local farmers while you're at it. The peaches are exceptionally juicy in the summertime, and the apricots are not to be missed, either!
8. Visit the Temple of Jupiter.
Just off of the Peristyle lies the Temple of Jupiter. This temple was once dedicated to Jupiter — the king of the Roman gods — but now serves as the cathedral's baptistry.
In the temple, you'll find a bronze statue of St. John the Baptist, created by famous Croatian sculptor Ivan Mestrovic. At the temple's entrance, you'll be greeted by a gigantic, black granite sphinx brought over from Egypt 3,500 years ago under orders of Emperor Diocletian. Of the original twelve sphinxes that made the journey — only this one has stood the test of time.
However, the temple's highlight is the striking barrel-vaulted ceiling that is still wonderfully preserved — so don't forget to look up when you step inside!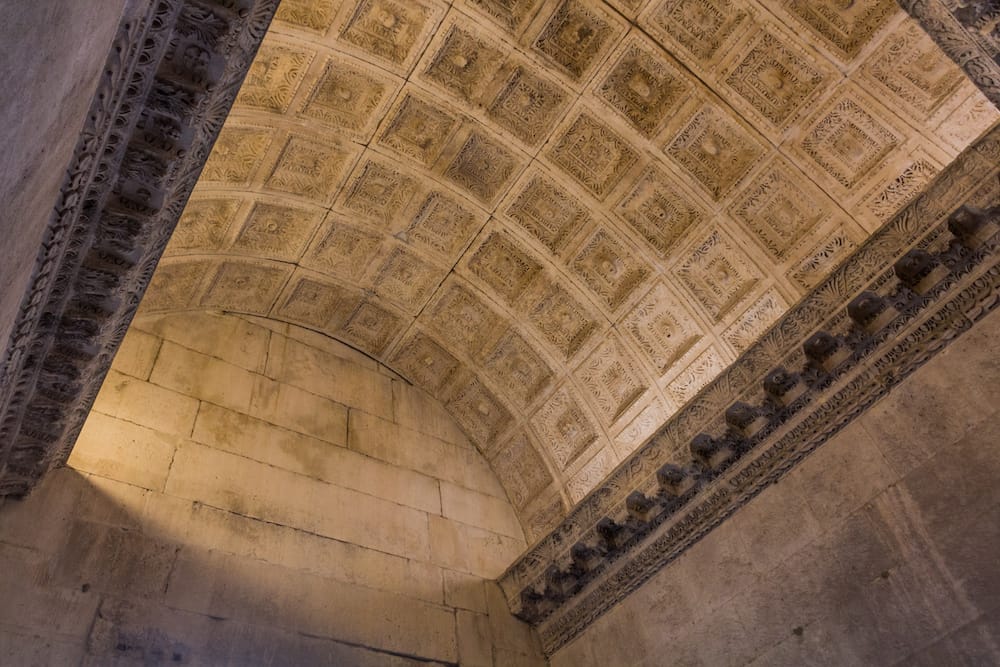 9. Explore the Museum of Fine Arts.
If you've roamed around all the historical sites of Split and still haven't gotten your fill of cultural activities — pay a visit to the Museum of Fine Arts. This museum showcases the rich artistic heritage of age-old Dalmatian culture alongside contemporary works by Croatian and international artists. It's one of the best cheap things to do in Split because it costs just over $5 to enter.
The Museum of Fine Arts features around 500 sculptures and paintings in its permanent collection. You'll find impressive works by renowned artists like the Venetian painter Paolo Veneziano, as well as talented Croatian maestros like Vlaho Bukovac and Ivan Mestrovic.
10. Dig through history at the Archeological Museum.
If you're a history buff, you won't want to miss the Archeological Museum in Split — it's the oldest museum in Croatia!
The Archeological Museum opened its doors in 1820. While its original purpose was to care for the ancient monuments of Salona — the former capital of the Roman province of Dalmatia — and Diocletian's Palace, the museum has since transformed into an extensive collection of artifacts from the Greek and Roman periods.
Admission to the Archaeological Museum costs just over $5 per person, and it is only a short walk from the city center, making it one of the best cheap things to do in Split!
11. Admire the incredible artwork at Galerija Mestrovic.
Situated in Marjan Hill Forest Park, Galerija Mestrovic (Mestrovic Gallery) is a gallery dedicated to the works of Ivan Mestrovic, a 20th-century Croatian sculptor — the one who crafted the bronze statue of St. John the Baptist and Gregory of Nin. Remember him?
While the museum primarily showcases the artist's work — the gallery is a work of art itself. With nearly 200 sculptures made from marble, bronze, and wood, plus a staggering collection of 500+ drawings — this gallery offers a deep dive into Mestrovic's talent.
Entrance to the gallery is around $12 per person. And, fun fact: you might recognize some of Mestrovic's works if you are from the United States — two of his works, The Bowman and The Spearman, can be found in Grant Park in Chicago!
12. Take a relaxing day trip to Trogir.
Take a break from the busy streets of Split and visit the charming town of Trogir, a UNESCO World Heritage Site that's just an hour's boat ride away. For about $7, you can catch the Bura Line from Split's main ferry port and enjoy a scenic sail along the stunning Adriatic Coast.
Trogir is basically an open-air museum. It is a darling pedestrian-only island town that oozes medieval charm from every corner. There are plenty of things to do in Trogir to fill your day — from meandering the cobblestone streets and grabbing a specialty coffee from CHI to climbing up to the top of the cathedral bell tower for the most epic views.
The best part? You can do all this and still catch the boat back to Split in time for dinner!
13. Embark on another fun day trip to Omis.
Another picturesque town near Split worth visiting is Omis — complete with rugged cliffs, a sparkling river, and a historical fortress perched high above the town. Omis is perched beneath the towering cliffs of the Dinara Mountains and at the mouth of the Cetina River and is only a 30-minute drive from Split.
Omis isn't just for sightseeing — it's also an adventure-seeker's paradise. If you love an adrenaline rush, check out the Omis zipline, which cuts through Cetina Canyon and is the most famous zipline in Croatia! Other heart-pounding activities include rock climbing, canyoning, and rafting down the Cetina River.
With its spectacular mountain views, lush forests, and fresh air — a visit to Omis is a great way to explore Croatia's wild side. Even if you don't join an adventure tour, the dramatic scenery is enough reason to make the day trip from Split!
Cheap Things to Do in Split: FAQs
Is Split affordable?
Yes, Split is overall an affordable city to visit. There are plenty of cheap things to do in Split, like walking around Diocletian's Palace and exploring the parks, beaches, and other green spaces throughout the city. Generally, accommodations are more affordable than other popular destinations in Europe, like London, Paris, and Rome.
How can I spend my day in Split?
Spend your day in Split by exploring the popular sites in Diocletian's Palace, like Peristyle, Temple of Jupiter, and Vestibule, perusing Pazar Market for some local goods, and climbing to the top of Marjan Hill for incredible sunset views.
Is Split a walkable city?
Split is a small, walkable city. All the popular sites are relatively close together and easy to navigate. You can also take the bus, ferry, and train around Split and to the nearby popular destinations like Omis and Trogir.
Final Thoughts on Cheap Things to Do in Split, Croatia
There you have it — the best free and cheap things to do in Split without spending a fortune.
From historical gems like Diocletian's Palace and the Temple of Jupiter to natural wonders like Marjan Park and the city's gorgeous beaches, there's something in Split for every budget. And with plenty of transportation options — you'll never be too far away from adventure!
Hopefully, this guide has helped you discover some new, exciting, and, best of all, cheap things to do in Split. Whether you're on a budget or looking for free fun — Split won't disappoint!
Disclosure: Some of the links in this post about cheap things to do in Split are affiliate links, meaning, at no additional cost to you, I earn a commission if you click through and make a purchase. This helps me keep the content on my website free, like this post about cheap things to do in Split.
Save These Cheap Things to Do in Split for Your Upcoming Trip
Read More
Looking for more things to do in Croatia or planning an epic European adventure? If so, check out these helpful blog posts: