Are you searching for a festive destination to travel to this Christmas? Or, are you just looking for a way to get in the holiday spirit? If so, you can't miss this list of fun, festive ways to celebrate Christmas in cities across the United States!
From Christmas markets to ice skating rinks, these activities will certainly make your holiday season one to remember, no matter which city you travel to during the holiday season.
I collaborated with some incredible blogger friends to create this list 14 of unique ways to celebrate Christmas in cities across the United States. We hope that it helps you to plan an unforgettable holiday vacation!
1. Prescott, AZ
Christmas Parade & Courthouse Lighting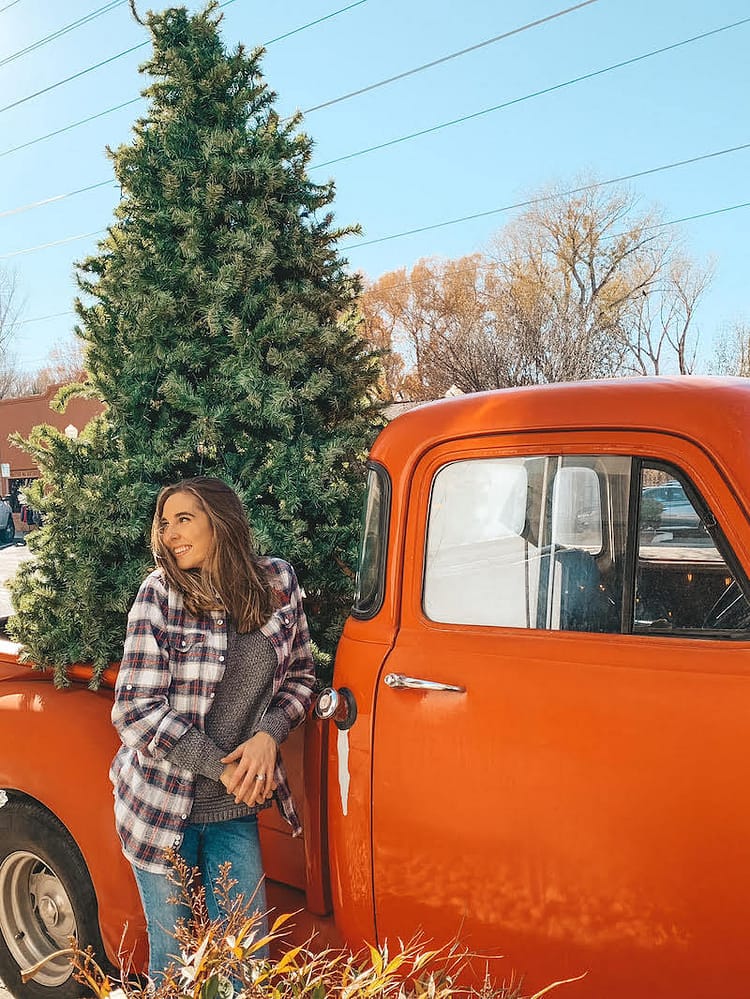 Images Courtesy of Brittany from Travel by Brit
Prescott is one of the best cities to visit in Arizona during the Christmas season—the western culture and exciting festivities offer visitors an authentic, hometown "Cowboy Christmas" experience! In fact, Prescott has been nicknamed "Arizona's Christmas City" due to their commitment to getting in the holiday spirit each year!
Each year, on the first Saturday of December, the city hosts a festive Christmas Parade in downtown Prescott. The parade features creative floats by local businesses and organizations, festive lights and costumes, and of course, Santa himself!
After the parade, enjoy walking around historic Downtown Prescott. Search for unique Christmas presents at the local shops & vendors along Whiskey Row, grab lunch at Prescott Brewing Company, or enjoy a warm drink at one of Prescott's fantastic coffee shops (The Porch & Wild Iris are my favorites!).
Later in the evening, visitors and locals gather for the Yavapai County Courthouse Lighting—an annual tradition for over 60 years. Wait in anticipation for the Courthouse lights to turn on to experience some Christmas magic!
There is no charge to attend the Christmas Parade and Courthouse Lighting in Downtown Prescott. If you are visiting Phoenix or Sedona during the Christmas season, Prescott is the perfect day trip. It's only an hour and a half drive from both cities!
Recommended by Brittany from Travel by Brit
[RELATED: The 4 Best Day Trips from Phoenix]
2. Newport, RI
Christmas at the Newport Mansions & Dickens Christmas Dinner Theatre Train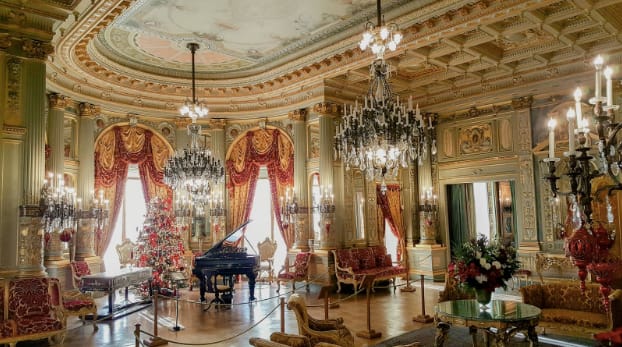 Image Courtesy of Experience Rhode Island
Rhode Island may be the smallest state, but we throw some of the best celebrations for Christmas in cities across the country. While the whole state definitely gets in the spirit, Newport takes the prize.
From the Dickens Christmas Dinner Theatre Train to the Christmas in Newport Festival to Christmas at the Newport Mansions, this little city takes the happiest time of the year to a whole new level. It gives the North Pole a run for its money!
In the picture above, you get a glimpse inside Christmas at the Newport Mansions. Some of these gorgeous mansions and stately homes get decked out for the holiday season and draw tourists from around the country. You can buy your tickets for this event, or you can make it part of a Christmas tour through a local tour company!
Newport is classic New England. If you're looking for enchantment, cobblestone streets, and twinkling lights this holiday season, visit the literal movie set (where are my Moonrise Kingdom fans at?!) that is Newport!
Recommended by Lauren from Where the Suitcase Is
3. Vienna & Annapolis, VA
Winter Walk of Lights & Local Shopping
Image Courtesy of Only in Your State
Even though it can get crazy busy, I love spending the holidays in the Northern Virginia area. After all, there's no shortage of activities to boost the holly-jolly spirit when every museum, shop, market, and monument seems to host a special event.
If you want to see some magical winter lights, you'll have to drive out of the capital to Vienna. There, at the Meadowlark Botanical Gardens Winter Walk of Lights, you'll experience a gorgeous, romantic winter wonderland. The lights glisten off the snow, the starlight is dazzling – and they even have smores and hot cocoa for you!
For more fun in Virginia, I like driving to Annapolis to explore some of their adorable local shops. I especially love checking in at my favorite bookstore there, Old Fox Books and Coffeehouse. I mean, what screams holiday cheer more than a shelf full of books and a hot cup of coffee, right?!
Travel north to Washington D.C. to experience extra holiday magic. I love to visit the Downtown Holiday Market, go ice skating outside the National Gallery of Art, and pop into the U.S. Botanic Garden to see their unique holiday display (and to warm up, since they keep it pretty toasty in there for the plants). I also like to wander through the National Zoo to see their Zoo Lights display.
Would you face the D.C. hullabaloo for the holidays? Give it a shot, and I'm sure you'll enjoy celebrating Christmas in these cities as much as I do!
Recommended by Addison from Luv It Like a Local
4. New York City, NY
Light Shows, Ice Skating & the Radio City Christmas Spectacular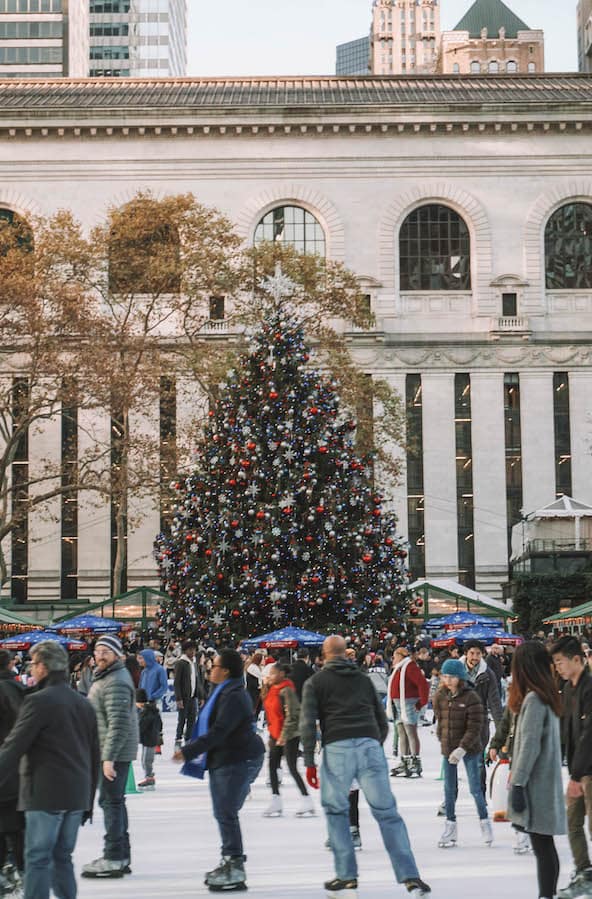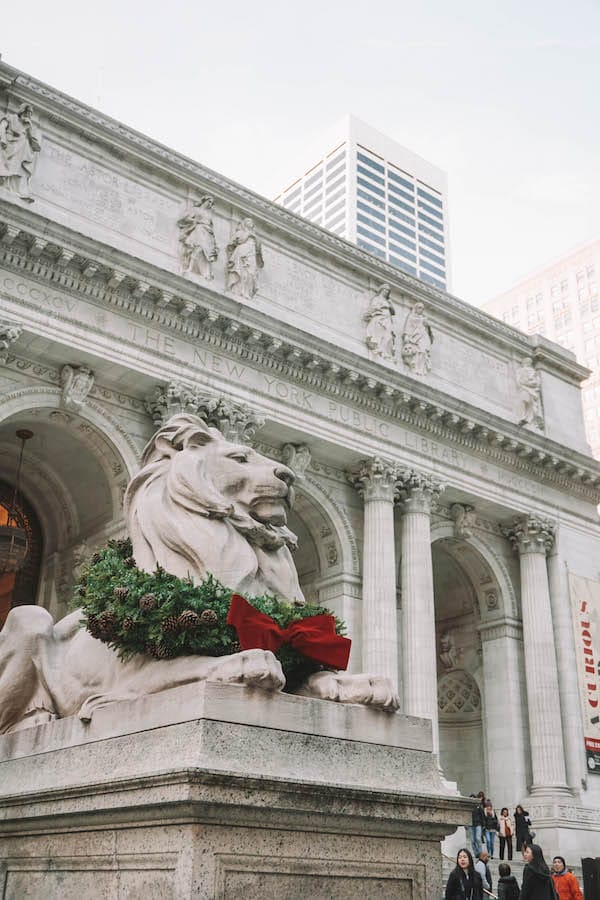 Images Courtesy of Claire from Tall Girl Big World
In my (incredibly biased) opinion, no other US city does Christmas quite like The Big Apple. There's ice skating, winter markets, festive eats, and Christmas lights galore! Even after living in NYC for three years, I never managed to do and see all of the city's holiday activities.
Some of the top Christmas activities in NYC that tourists and locals alike adore include:
Oogling the Macy's windows (they have a new design each year!)
Watching the light show on Fifth Avenue after dark
Window shopping in the Bryant Park Winter Village
Seeing the Rockettes at Radio City in the Christmas Spectacular
Admiring the 20-foot Christmas tree at The Met (it's decorated with a Baroque Neapolitan nativity scene)
Ice skating in Central Park
Attending The Nutcracker at the New York City Ballet
Christmastime is one of the busiest times to visit NYC, but it's also one of the best. Whether you're there to see the sights, shop the holiday sales, or eat your way through the Christmas markets, there is no doubt that New York City is one of the best places to celebrate Christmas in cities across the U.S.!
Recommended by Claire from Tall Girl Big World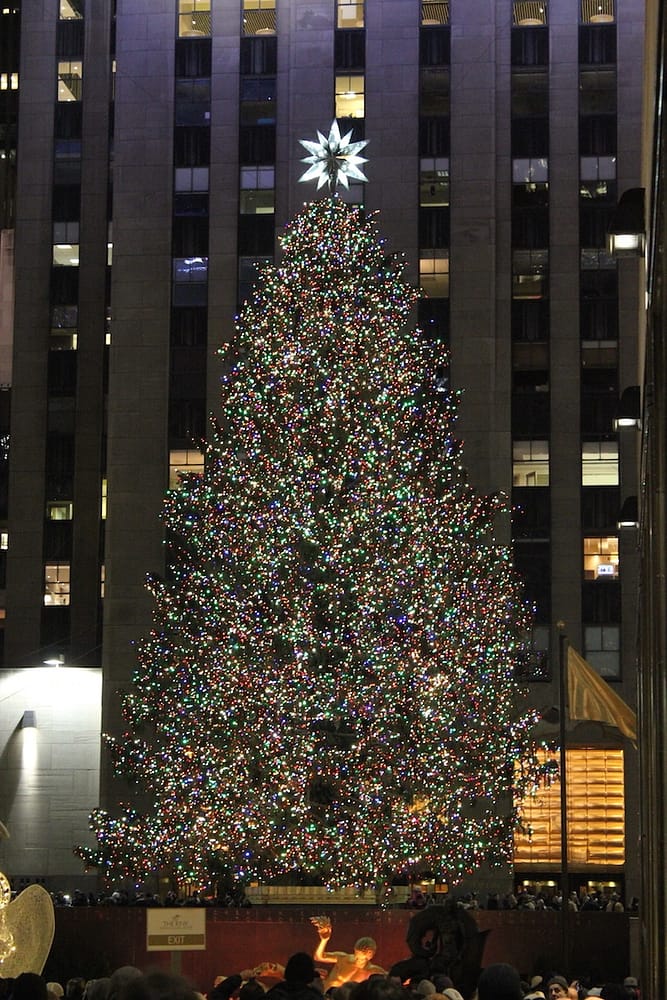 Images Courtesy of Sharyn from Childless Merlennial
Street Vendors, Window Shopping & Rockefeller Center Tree
Crisp, cold air, hot pretzel, twinkling lights, and the most magnificent window displays you've ever seen. That's just part of the beauty of New York City during the holiday season.
There's truly no place in the world like NYC, but that's even more true in December. Here are some activities I love during the holidays!
Look at the Christmas Tree in Rockefeller Center, where you can also go ice skating.
Take a stroll on Fifth Avenue at night to see the stunning window displays at stores such as Saks, Tiffany's, and Bergdorf Goodman.
Watch The Nutcracker at the New York City Ballet or watch the Radio City Rockettes.
Go to Macy's in Herald Square to meet Santa and see the decorations.
Take a stroll in Central Park.
Get a slice of New York pizza, a pretzel, and a hotdog from street vendors.
Recommended by Sharyn from Childless Merlennial
[RECOMMENDED: 3.5 Hour Christmas Magic Tour of Brooklyn, NY]
5. Huntsville, AL
Tinsel Trail, Candlelight Christmas & Santa's Village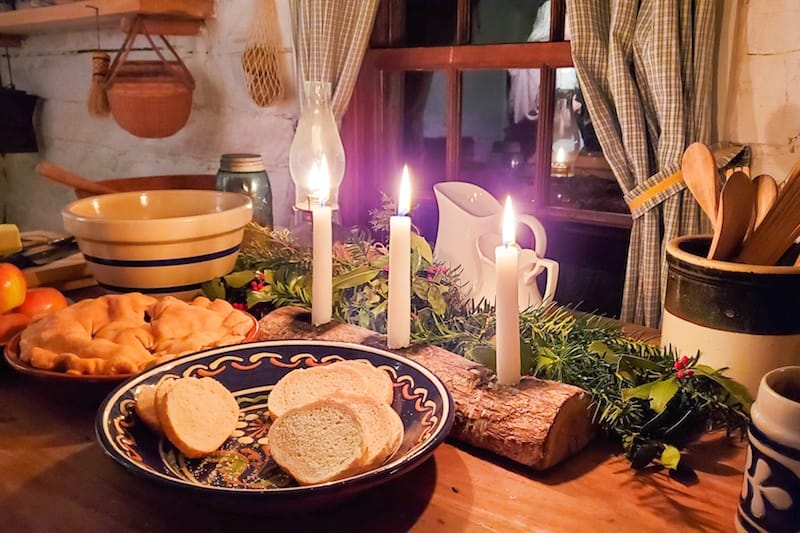 Image Courtesy of Erin from Flying Off The Bookshelf
If you live in the Southeast USA, visiting Huntsville is the perfect way to spend a holiday weekend. From festive light displays to Santa visits, Huntsville's events are full of Christmas cheer. Here are a few of my favorites:
Tinsel Trail: Stroll through Big Spring Park and admire the decorated trees on this free Christmas tree trail. You can even up the Christmas ante with some ice skating in the park.
Santa's Village: This Christmas wonderland happens every evening during December at the Historic Huntsville Depot. You can visit Santa, see live reindeer, and decorate cookies in Mrs. Claus's kitchen. (Note: During 2020, this event has changed to Ten Nights of Santa at the EarlyWorks Children's Museum.)
Kris Kringle's Candlelight Christmas: Step back in time at Burritt on the Mountain the first weekend in December. You can visit with Kris Kringle, eat roasted chestnuts, make old-fashioned Christmas ornaments, and listen to live holiday music.
Huntsville Botanical Garden Galaxy of Lights: Drive through the light display at Huntsville's Botanical Garden. These magical Christmas lights are a beloved local tradition.
Shopping at Lowe Mill: Lowe Mill is the largest privately owned arts facility in the southern United States, and you can find unique Christmas gifts for everyone on your list—from hand-drawn maps to beautiful pottery.
And Huntsville has even more impressive Christmas events! From holiday markets to Nutcracker performances, a holiday weekend in Huntsville is the perfect way to celebrate Christmas in cities throughout the Southern USA!
Recommended by Erin from Flying Off The Bookshelf
6. Washington D.C.
National Christmas Tree Lighting Ceremony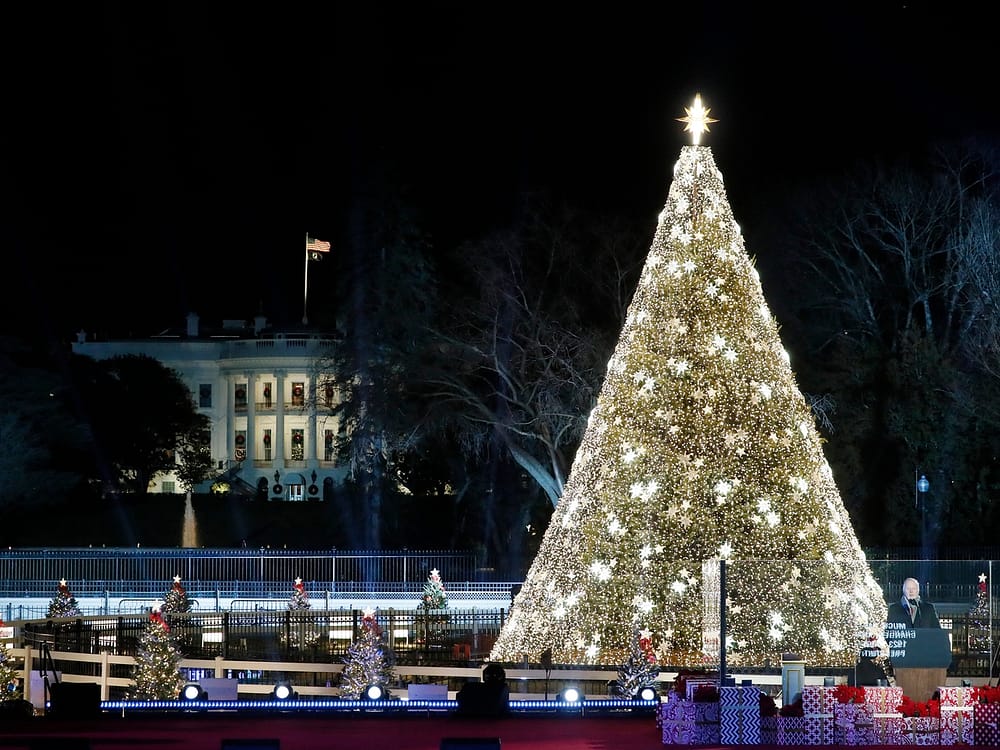 Image Courtesy of The National Tree
If you are looking for a Christmas celebration in the U.S. with a long history, the National Christmas Tree Lighting Ceremony in Washington D.C. is a must-visit!
Not only is the official opening of the tree and lighting a festive evening with music and singers, but it's also a great activity throughout December until the beginning of January. Leading up to the National Christmas Tree at the White House is the Pathway of Peace—a festive walkway with Christmas decorations representing all 50 U.S. states!
Once you've reached the National Christmas Tree, you will see a gigantic and beautiful tree. If you visit between 10 AM and 10 PM, the tree will also be lit.
The tradition goes back almost 100 years, to 1923 when President Calvin Coolidge was the first present to participate in the lighting ceremony. The annual tradition continues to bring US citizens together with the message of hope and peace.
Recommended by Lara from The Best Travel Gifts
7. Philidelphia, PA
Annual Christmas Village, Ice Skating & the Macy's Christmas Light Show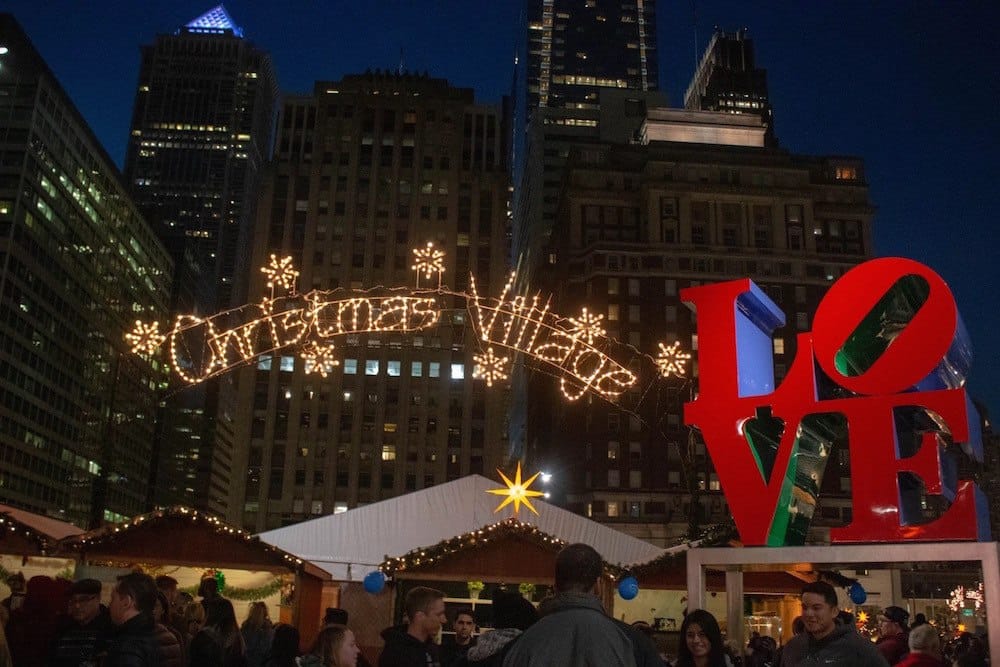 Image Courtesy of Devin from Dev's Detours
Although New York is the most popular Christmas attraction on the East Coast, don't count Philadelphia out from your travel plans. The City of Brotherly Love is full of Christmas cheer during the holiday season!
Philadelphia's main December attraction is the Annual Christmas Village at iconic LOVE Park. From Thanksgiving until Christmas eve, the village hosts 60+ vendors for shoppers to buy gifts from. Themed after traditional European Christmas markets, the village offers European treats, along with local options, like Philly's own French Toast Bites by Lokal Artisan Foods. After shopping, grab yourself a bite to eat paired with a craft beer or hot cider to indulge in at the beer garden while enjoying the variety of entertainment provided each night at the Christmas village.
Directly across the street from the Christmas Village is Dilworth Park, where you can ice skate under the beautiful holiday lights projected onto the historic City Hall building. You can also ice skate at Penn's Landing, where you can play arcade games, enjoy spiked hot chocolate, and skate underneath the Ben Franklin Bridge at the Blue Cross RiverRink Winterfest.
Christmas lights are a Philadelphia staple during the holiday season. From the Macy's Christmas Light Show, down to South Philadelphia's locally decorated streets, you can take a holiday lights tour to find the best Christmas lights on every corner of the city. Find out for yourself this season, and come check out Philly's winter wonderland!
Recommended by Devin from Dev's Detours
[RECOMMENDED: Philadelphia Holiday Lights Tour]
8. Carmel, IN
Christkindlemarkt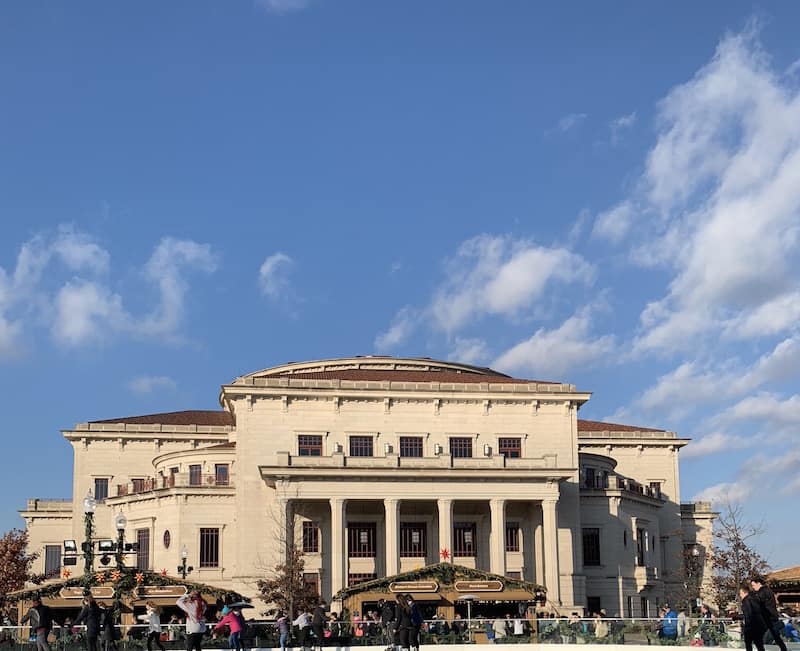 Images Courtesy of Julianne from Pints, Pounds, and Pates
Most people probably wouldn't expect to find an authentic German Christmas market in suburban Indianapolis, but you'd be surprised! This part of the Midwest became the new home to thousands of German immigrants during the 19th century, so it was only fitting that Carmel, Indiana is the proud home of the relatively new tradition of its yearly Christkindlmarkt, which continues to delight crowds from after Thanksgiving until Christmas Eve, each year.
With classic Christmas market traditions, such as delicious mulled wine (served in keepsake boots), traditional craft making, and authentic, imported German souvenirs on offer, you'll forget you're in the middle of the Heartland. Add an ice-skating rink, live music, and people playing huge German horns, and you'll see why this is the hottest ticket in town.
There's no charge to stroll around the Christkindlmarkt (which literally means "Christ child market" in German), but you do need to reserve a time and pay a fee for the skating rink (which gets busy!). Parking is available in the large parking structure next-door, in addition to several outlying lots all around.
And, while you're here, check out everything else that's happening in Carmel's bustling little downtown. From The Center for the Performing Arts, to the Midtown district's shops and restaurants, there's something for everyone!
Recommended by Juilanne from Pints, Pounds & Pate.
9. Park City, UT
Electric Parade, Holiday Sing-a-Long, North Pole Express Train & Snowfest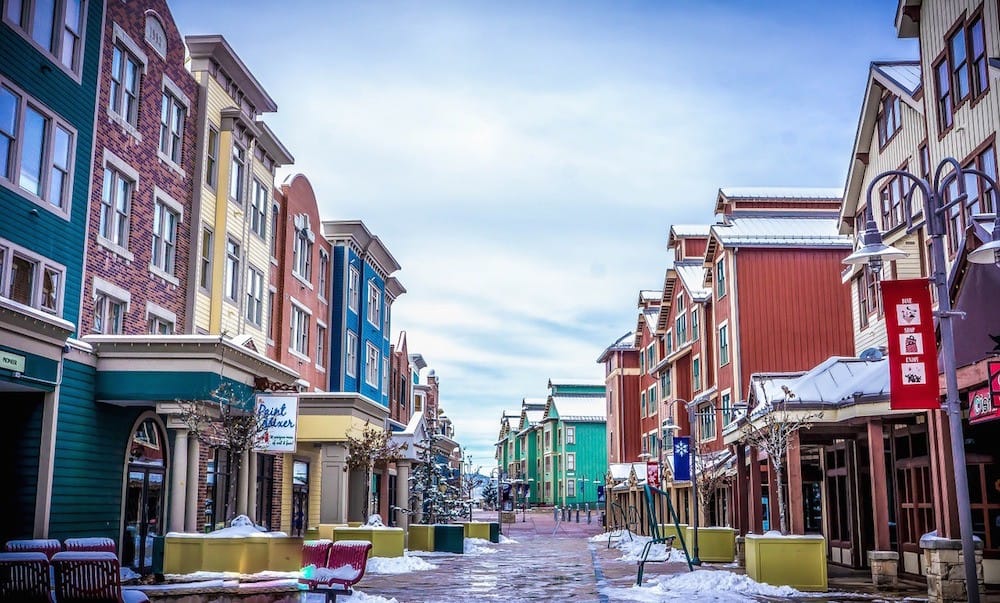 Just 35 minutes from Salt Lake City, nestled high in the Wasatch Mountains, Park City, Utah, is a world-renowned winter sports mecca. It happens to be spectacularly beautiful, and it's one of the most festive Christmas cities in the United States to boot.
Park City is picture-perfect and charming year-round, but it's truly magical during the holidays. Historic Main Street is all decked out in twinkling lights, the giant Christmas tree at Canyons Village is lit, and the entire community comes together to participate in dozens of fun events.
There's the Electric Parade, the beloved Park City Holiday Spectacular Sing-a-Long, the Heber Valley Railroad North Pole Express train, and the highly-anticipated Snowfest. This long-running annual festival includes ice sculpture contests, carolers, family movie nights, the Torchlight Parade, Santa Comes Down Town Lift (which is precisely what it sounds like – Santa riding Town Lift down the mountain to meet everyone!), and much more.
One of the best aspects of spending the holidays in Park City is that even if you don't ski or snowboard, there are plenty of other activities to enjoy. You can enjoy fly fishing, sledding, tubing, snowshoeing, snowmobiling, or even dog sledding! If you're looking for something more low-key, Park City's shopping, dining, and resorts & spas are all world-class, too.
Recommended by Taryn from Chasing Trail
[RECOMMENDED: Stein Eriksen Lodge Resort & Spa]
10. Maui, HI
Road to Hana, Epic Hikes & Snuba Diving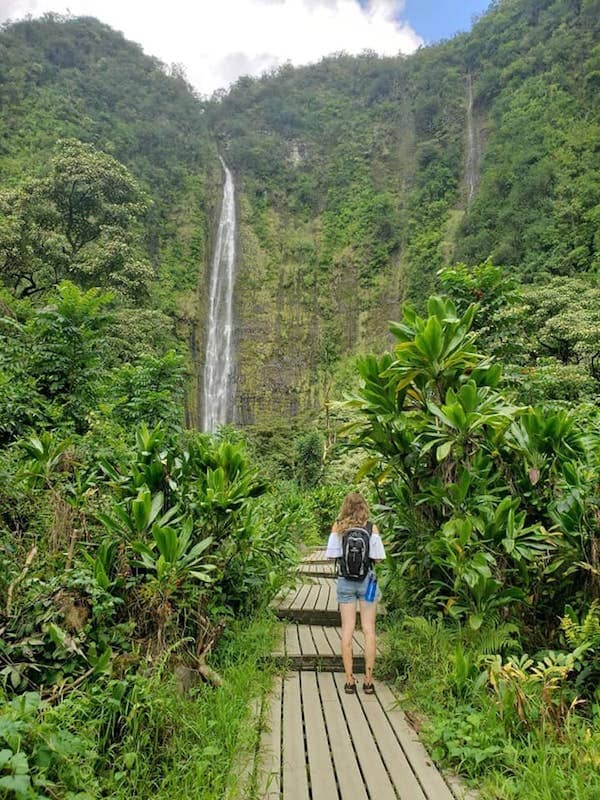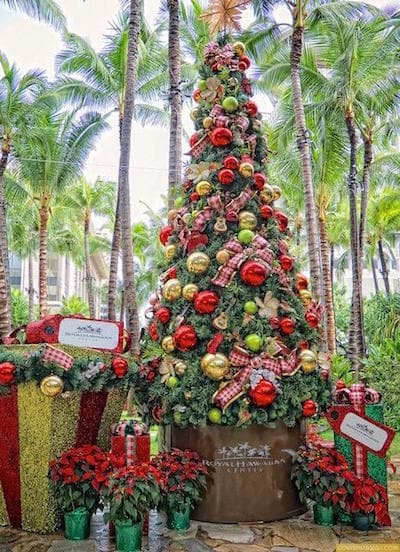 Images Courtesy of Jordan from The Homebody Tourist (left) and Go Visit Hawaii (right)
If you are looking to escape the cold and snowy weather this Christmas, Maui is one of the most surprising places to celebrate Christmas in cities across the United States! With average temperatures of 72 degrees F in December, you will never want to leave.
Start your Christmas celebration by heading on the Road to Hana. Here you will drive 55 miles around 600+ hairpins turns through the lush Maui rain forest. You will see countless roadside waterfalls, banana bread stands, and epic beaches. Be sure to stop at Haleakala National Park (at the end of The Road to Hana) to hike the Pipiwai Trail through a magical bamboo forest.
Continue your Christmas festivities by enjoying beach days, searching for sea turtles, exploring epic hikes, or watching the sunset on top of Mount Haleakala. If feeling extra adventurous, book a SNUBA diving trip (a form of surface supplied diving), where you can dive up to 20 feet under the sea, with no experience necessary!
It's time to grab your family, rent a condo on the beach and get ready to have a Christmas no one will forget!
If you are hoping to explore the whole island during your stay, I found Kihei to be the perfect home base. It's about 25 minutes from the airport and in the middle of all the attractions!
Recommended by Jordan from The Homebody Tourist
[RECOMMENDED: Road to Hana Adventure]
11. Chicago, IL
Ice Skating, Igloo Dining & Christmas Markets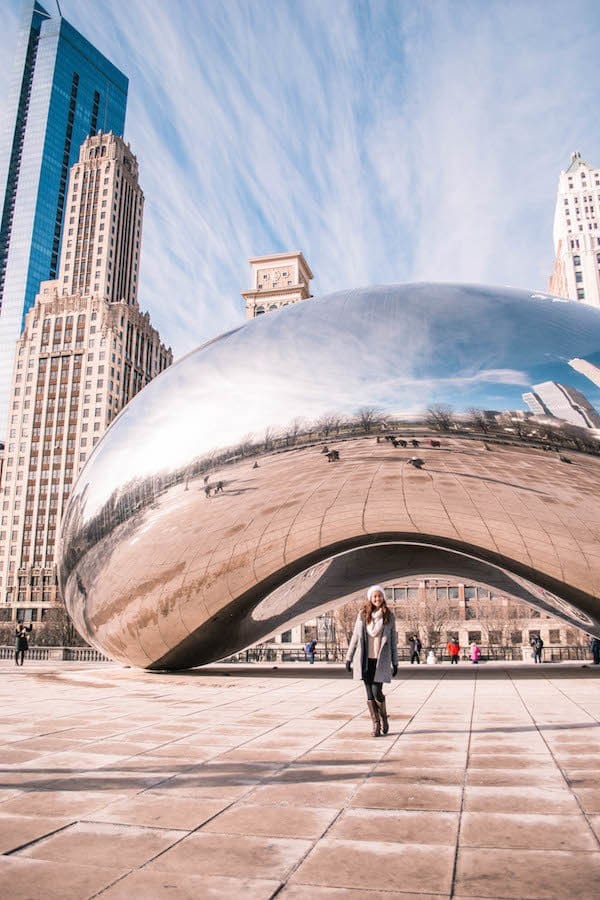 Images Courtesy of Christina from Cwissio Travels
I am SO excited for the holidays, and whenever chilly weather hits, the first place I think of is Chicago. While the summer months are fun and lively, spending wintertime in Chicago is straight out of a movie. The snow is falling, the city is filled with lights, décor, and holiday spirit, and there is just so much joy.
I've put together a list of my favorite things to do during the holidays in Chicago to make your visit to the windy city a magical experience.
Ice Skating at Maggie Daley Park: This beautiful outdoor ice-skating rink is right by the Cloud Gate (the Bean), and the rink is shaped like a ribbon, so you have plenty of space to skate around!
Igloo Dining: Chicago gets super cold during the winter, and what could be better than dining in a heated igloo with transparent walls where you can see the city and the beautiful city lights around you? There are multiple restaurants around the West Loop where you can book your spot to dine in a private igloo!
Christkindl Market: Visiting Christmas markets always gets me in the holiday spirit! This market has so many cute shops where you can find great gift ideas and get some hot apple cider or hot cocoa while you walk around and explore!
Recommended by Christina from Cwissio Travels
12. Buffalo, NY
Canalside Light Display, Niagara Falls & Carolcade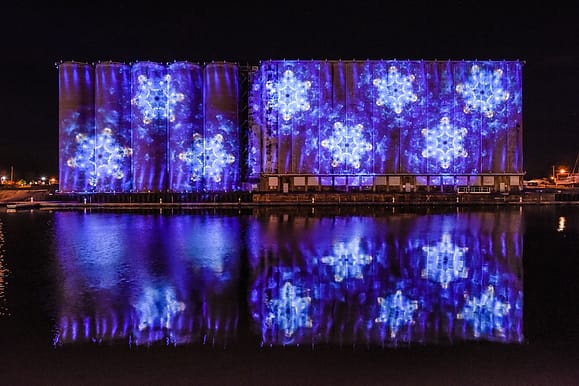 Image Courtesy of New York State Governor
Buffalo gets a bad rap for its winter weather, but what better time to enjoy the snow than Christmas? Spend a long weekend in Buffalo in December, and we promise you'll fall in love with this city. Stay downtown and enjoy the open-air skating rink (if ice skating isn't your thing, there are ice bikes and curling too!), get a hot mulled cider, and take in the lights at Canalside. You'll also be able to see the light display on the historic grain elevators just across the river (see above!).
Take a drive to see Niagara Falls. If you're lucky, the falls might even be frozen! Or go to the Fairgrounds Festival of Lights for all the Christmas light viewing pleasure your heart desires. Plan to spend an afternoon and evening in East Aurora, a picturesque town with small shops, fantastic food, holiday lights, and events like Carolcade, where there are no open container laws, so you can sip while you stroll.
If skiing is more your speed, stay in Ellicottville and check out Holiday Valley. Stroll through the village at nighttime if you want to feel like you're in a Norman Rockwell painting.
There's so much to do when you spend Christmas in cities around the Buffalo area. And the best part? The area is affordable, friendly, and easy-to-navigate—no NYC traffic here!
Recommended by Nicole & Naomi from Authentically Herself
13. Disney World, FL
Dream Lights, Cookie Stroll & Christmas Tree Trail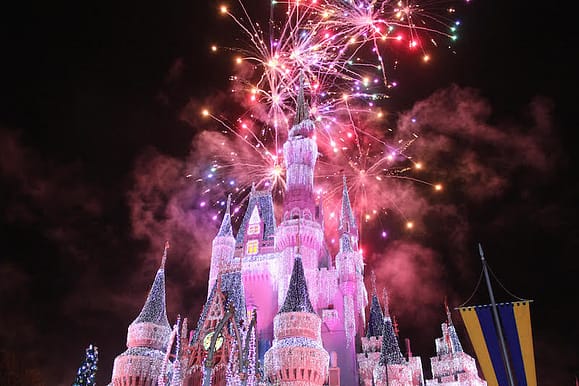 Image Courtesy of Sharyn from Childless Merlennial
Disney World the Most Magical Place on Earth! While Disney is magical year-round, it's got an extra sprinkle of pixie dust during the holidays.
The holiday season at Disney is my absolute favorite time of year. There's nothing like seeing the Dream Lights sparkle over Cinderella Castle in the Magic Kingdom. Each night, they do a show with the Frozen characters, and Elsa lights up the castle for the night.
Recently, they added the Festival of the Holidays at Epcot with unique booths with different holiday food and drinks from around the world, along with shows and crafts highlighting holiday traditions. One of the best parts is the Cookie Stroll, where you buy five different holiday cookies from around the World Showcase and get the sixth one free! It's one of my new favorite annual Disney holiday traditions.
At Hollywood Studios and Animal Kingdom, enjoy the projection shows that light up the Hollywood Tower Hotel and Tree of Life. Visit Disney Springs to walk along the Christmas Tree Trail to see Christmas trees decorated with ornaments from different Disney movies and attractions. They also have an opportunity to take photos with Santa, but you must get there early to put your name down as the wait can be several hours long.
If you've never visited Disney during the holidays, I highly recommend this incredible experience!
Recommended by Sharyn from Childless Merlennial
14. Boise & McCall, ID
Snow Sports, Christmas Lights & Hot Springs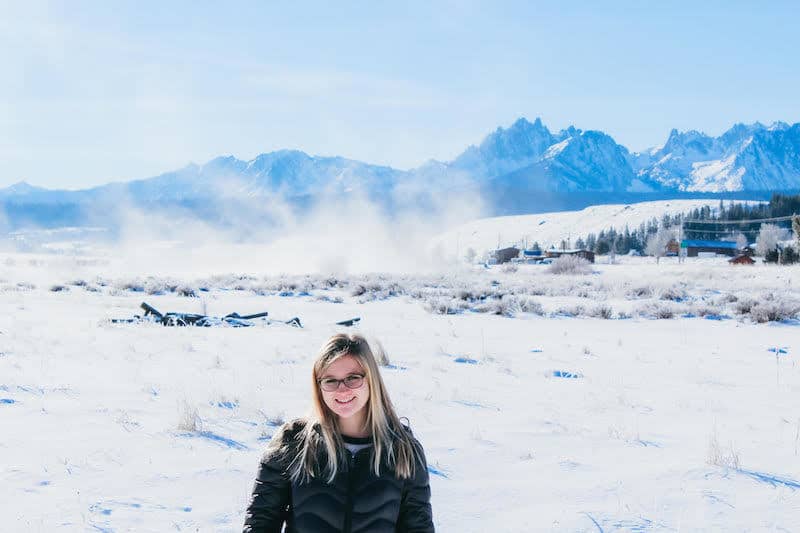 Image Courtesy of Abby from My Journey to Clean
When I was seven, I moved from my hometown of Boise, Idaho, to Arizona. We lived there for six years but always made the 17-hour drive back to Idaho for Christmas. Even though I live in Idaho again, it's at the top of my list of places to spend Christmas in cities across the U.S. due to the nostalgia, small-town vibes, and Christmas lights dotting quiet neighborhoods.
Fly into the Boise airport and stay at my favorite hotel downtown, The Inn at 500. While downtown, stroll through Hyde Park to see the Christmas lights, dine at Fork, and eat a scoop of American Gelato from The STIL. Drive an hour to relax in natural hot springs at The Springs.
For more snow or snow sports, drive 45 minutes to Bogus Basin, 2 hours to Tamarack Resort, or 3 hours to Brundage Mountain Ski Resort. If you make the 3-hour drive to McCall, make sure you check out the McCall Winter Carnival for snow sculptures, The Activity Barn to sled, and take a sleigh ride to feed wild elk at Hap and Florence Points. On your way out of town, grab a giant cinnamon roll or delicious omelet at the Pancake House.
Idaho would love to have you for Christmas! It is a merry place.
Recommended by Abby from My Journey to Clean
Discover Christmas in Cities Across the U.S.
Which of these cities is on your bucket list to visit at Christmas? Let me know in the comments below!
Disclosure: Some of the links in this post are affiliate links, meaning, at no additional cost to you, I earn a commission if you click through and make a purchase.
Save this Post to Celebrate Christmas in Cities Across the U.S. for Years to Come!