Well, it finally happened to me—the dreaded thing that happens to every traveler at some point or another, but I thought I could (hopefully) dodge it for the rest of my life. An airline lost my luggage, and let me tell you—it's been quite an ordeal getting it back!
After the initial dread (and let's be honest, frustration!) of realizing one of our pieces of luggage wasn't on the baggage carousel, my husband and I turned to each other and asked: "What happens if the luggage is lost?"
Before last month, I had no idea how to get luggage back from the airport or what to do if your luggage is lost. However, now that I am (unfortunately) an expert, I thought I would share some tips and tricks with you and how to walk through the claims process if you ever find yourself in this sad situation.
How to Get Your Luggage Back from the Airport: Steps You Need to Take
Did you know that seven out of every 1,000 bags were mishandled (lost, delayed, damaged, or stolen) during the first quarter of 2022? While it may seem like the odds your bag will go missing are low—it is certainly not impossible. If you're waiting at the carousel and your bag never shows up, here's what you need to ensure you get your bag (or the value inside) back as quickly as possible.
1. Double Check Your Carousel
If you get off your flight, head to the baggage claim, and don't immediately see your bag—don't panic (yet). It's not unusual for luggage to be delayed on the tarmac, come in waves to the baggage claim, or switch carousels halfway through luggage delivery.
Pay close attention to the baggage claim screens and what's being announced over the loudspeakers. If you've been waiting for at least 30–45 minutes and it appears that all the baggage from your flight has already been delivered, find the baggage desk for your airline to report your missing bag.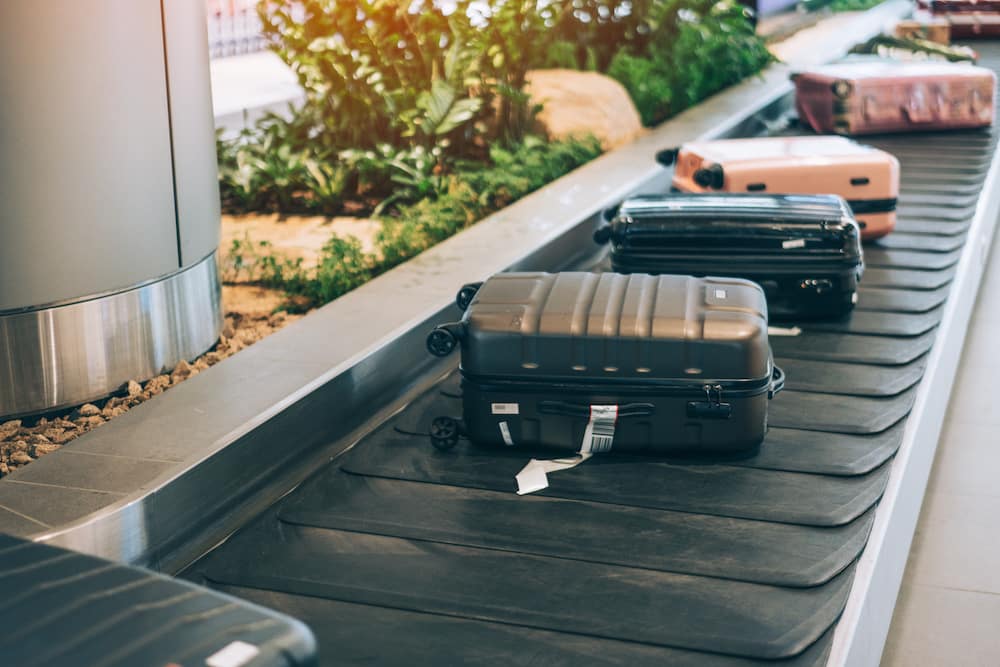 2. Report Lost Baggage to the Airline Immediately
You must report your missing bag before you leave the airport, so head to the baggage claim or check-in desk to speak with an airline representative. If you cannot find an airline representative, call the airline to report your lost luggage before leaving.
The airline representative will ask you for your baggage claim tag information and then pull up your flight to see where your bag is. If your bag is somewhere at the current airport, they'll help you find your bag. However, if your bag was lost somewhere between your first and last destination, they'll collect more information for a missing bag report, like the bag's appearance, luggage contents, flight number, and contact information, like your name, phone number, and address.
If they don't immediately offer it, be sure to ask the airline for a copy of the filed report for your missing bag. They'll usually tell you they will send it on the first flight out of the airport later that day or the next morning, so be sure to ask for a phone number you can contact if your baggage isn't delivered when promised.
3. Request Free Delivery
Before leaving the baggage desk, ensure your suitcase will be hand-delivered for free when your bag arrives. Most airlines will offer free delivery to your house, hotel, or vacation rental, but if they don't, it's something you should be able to negotiate.
Sometimes, the airline will even offer a complimentary flight credit if you pick up the baggage from the airport yourself, and the amount is calculated based on the distance between your residence and the airport. We were offered a $170 airline credit if we chose to pick up our missing bag at the airport when it was delivered.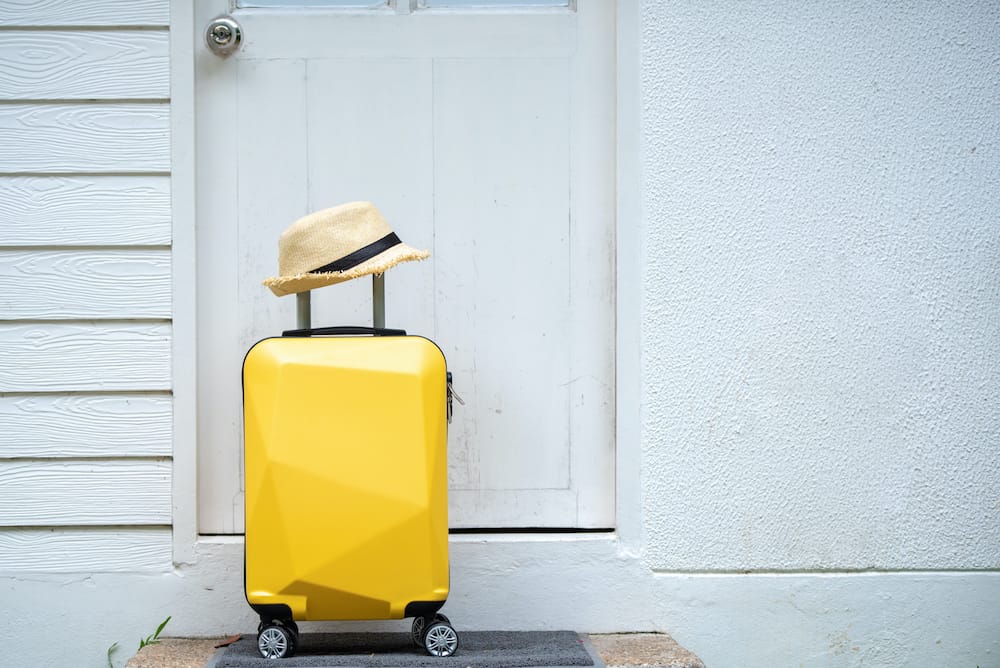 4. Request Reimbursement for Baggage Fee
If you paid to check your bag, you should also request reimbursement for this fee before leaving the baggage desk. Sometimes, the airline will reimburse you for your baggage fees once your luggage is delayed for at least 12 hours after submitting a report, which is why it's important to talk to the airline as soon as possible.
Alternatively, the airline will have you include the baggage fee in your claim for incidental purchases, like clothing and toiletries, or reimbursement for the lost luggage.
5. Keep Receipts for Expenses
After you've completed the steps listed above, you can leave the airport and head home or to your hotel, but chances are, you're going to need to stop at the store to pick up some essentials until your bag is returned to you.
Most airlines will reimburse "travel essentials" or "reasonable expenses," like clothing and toiletries. As a rule of thumb, most airlines will reimburse $50 per day, so try to stay within that budget if you'd like to be refunded. If you're unsure whether your purchase will qualify as "essential" or "reasonable," you may be able to ask the airline representative what qualifies before leaving the airline's baggage desk. Remember, you must keep your receipts if you want to receive compensation. As soon as your luggage arrives, you can file a claim on the airline's website with these receipts to receive your reimbursement.
If you feel that the airline's reimbursement budget is slim, your credit card may also qualify you for reimbursement. Popular cards, like Chase Sapphire Preferred and Chase Sapphire Reserve, each allow you to claim $100 per day for five days. This applies to the cardholder and immediate family if the luggage is delayed six hours or more. However, you usually have to book part (or all) of the flight on the card to qualify for reimbursement and must file your claim with the airline first.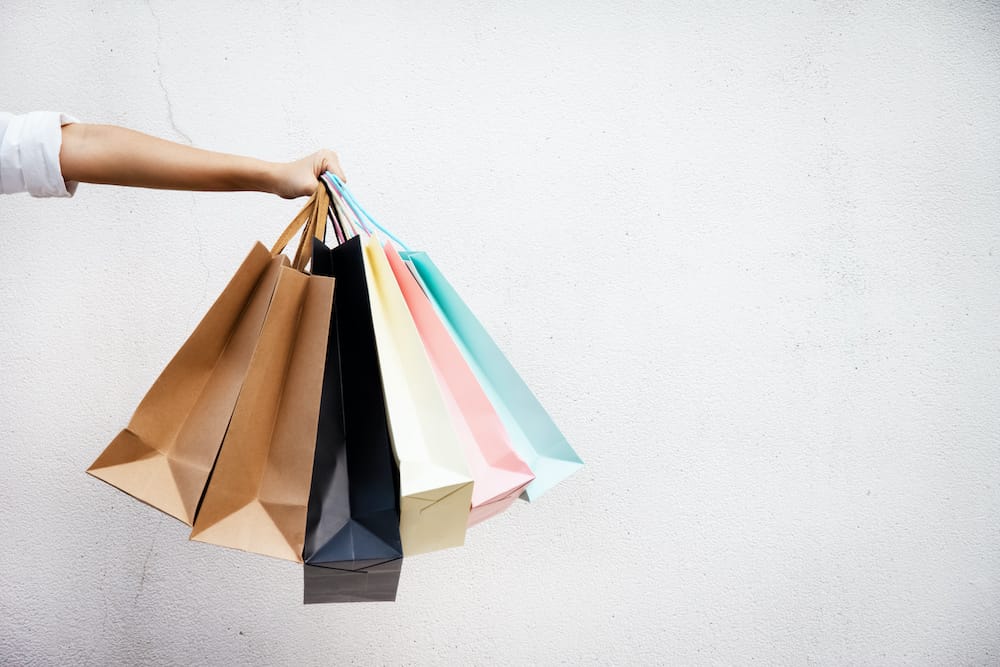 6. Submit a "Lost Bag" Claim to the Airline
After shopping, you can track the status of your bag online with your file reference number, first name, last name, and bag tag information. However, if your bag isn't showing any progress getting to you—it may truly be lost. Unfortunately, this is what happened to our bag earlier this year.
Most airlines will declare a bag lost anywhere between 5–14 days. We are fortunate that our airline declared the luggage "lost" after five days (as opposed to two weeks), so we could file a claim for all the contents inside our bag sooner rather than later. Typically, the claim form will ask you to list everything inside the bag, including purchase dates, receipts, prices, and more. It is tedious to file the claim, but you'll have a better chance of being reimbursed if you provide detailed information.
Receipts are the best form of proof, followed by bank statements, and then photos of you wearing the item (when applicable). If you don't have any of the above, a screenshot of the item online with the current sale price is an absolute last resort. Also, don't forget to request reimbursement for the suitcase itself. Unfortunately, depreciation does apply, so if you paid $150 for lululemon leggings a few years ago (RIP to my favorite leggings), you probably won't get $150 back.
From our experience, we filed for a $2,100 reimbursement from our airline, and we ended up receiving roughly $1,350 back directly from the airline. It took us roughly a month (30 days) to hear back from the airline, and once we did, they sent the payment to my PayPal account immediately.
7. Check Credit Card & Travel Insurance Benefits
Unfortunately, it's likely your reimbursement from your airline for your lost luggage won't be as much as you claimed. However, if you booked your flight on a card with travel insurance—you may be in luck!
Some credit cards and travel insurance, like the Chase Sapphire Preferred and Chase Sapphire Reserve, allow cardholders and their immediate family members up to $3,000 per passenger for lost or damaged luggage. Usually, they will require you to submit your reimbursement request and total reimbursement from the airline, and then they will pay the difference. So, in our case, we should receive $750 from our credit card company. 
Every credit card and travel insurance plan is different, so read up on the policies of your card now to know what you're entitled to if an airline loses your luggage.
8. Examine Your Luggage
If your luggage is delivered to you within five days—that's great!
When your suitcase arrives, evaluate your bag and the contents inside. If the bag or the items inside suffered any damage, take photos of the damage and submit a claim to the airline, similar to the process listed above for a missing bag. If you have the receipt for your suitcase or damaged items handy, submit those with your claim too. Usually, you'll need to let the airline know within 24 hours of delivery if your luggage or the contents inside needs to be repaired or replaced.
9. Keep the Airline Accountable
Finally, the last step on this list of what to do if your luggage is lost is to follow up with the airline. If they don't follow up with any of these steps—it's your job to keep them accountable.
Continue touching base with the airline and completing all the steps in the process. You are entitled to your reimbursement. However, remember that processing claims take time, so don't expect immediate reimbursement. Also, remember that the customer service representatives aren't the ones who lost your bag—being kind, understanding, and patient will go a long way!
What to Do If Your Luggage Is Lost: Tips for Making the Process Easier
Finally, here's all the information I'm either glad I knew or wish I had known or done to make the process of getting luggage back from the airport easier and smoother!
Keep all your receipts.
First, if you don't already keep a record of all your receipts, I recommend doing that starting right now! Keep a folder in your email inbox with all your receipts for online purchases of clothing, makeup, etc.
I love using Fetch Rewards to keep a record of all my in-store purchases—and I get rewarded for it, too! Fetch Rewards is an app you can download, and after making a purchase, use it to snap a picture of your receipt on your phone. Each receipt is worth a certain number of points. When you've accumulated enough points, you can trade in your points for 100+ retailers, like Starbucks, Amazon, Kroger, and Target, and even travel brands like Southwest Airlines, Delta Air Lines, Airbnb, and Celebrity Cruises!
My Fetch Rewards account was a lifesaver when filing my claim for my lost luggage. I found tons of receipts I had logged on to the app and could submit to the airline that I wouldn't have otherwise had if I didn't use the app. Plus, I've also redeemed over $40 in rewards since using the app, so it's a win-win for me! If you want to give Fetch Rewards a try, use my referral code, Y2ETKB, for anywhere from 2,000 – 4,000 free points!
Keep track of all the information from the airline.
After filing your missing bag report, always keep a copy of this with you—it's smart to keep a photo on your phone, just in case.
If you need to call someone from the airline to follow up with the status of your luggage, they'll ask for this information, and if you eventually need to file a claim for a missing bag, the airline will require you to include this information in your claim.
Use Apple Air Tags to track your luggage.
Want to know my biggest regret from the lost luggage fiasco? Here it is—not putting an Apple Air Tag in my luggage. If you're unfamiliar with Air Tags, they are small tracking devices you can connect to the "Find My Devices" App on your iPhone.
When you place an Air Tag in your luggage, you can always track the location of your luggage on your phone, so when your luggage goes missing, you know exactly where to find it. Even though you can't guarantee the airline will return your "tagged" luggage to you, this device increases the chances you will be reunited with your lost bag.
Personally, I will be purchasing Apple Air Tags to use on every flight moving forward. If you'd like to buy some for your travels, you can find them on Amazon.
Fly nonstop on one airline when possible.
Depending on your destination, it's not always possible, but it's best to fly nonstop on one airline to ensure your bags get to your destination. While luggage can get lost at any time, the more complex your flight is, the more likely it is your bags will be lost. When you involve more than one airline (or more than one flight), it becomes easier for the airline to shift blame to another airline.
Ask yourself: "Is it worth saving $200 per ticket for a multi-stop itinerary with two different airlines? Or would I rather pay for a higher likelihood my bags will be delivered, and in the event the airline loses them, a better chance of getting them back?"
Don't lose your bag tag.
So, you know that little "bag tag" sticker the airline gives you after your bag is checked? That small sticker is really important to use when filing a missing bag report if your bag is lost since it includes all the tracking information for your bag. Don't throw this away until you receive your bag from the airport and verify it's in good condition. You can literally put it anywhere safe—your purse, wallet, backpack, fanny pack, or wherever. Just don't put it in the trash can!
Note: In addition to keeping your baggage tag from the airline, you should also always keep your own luggage tag with your name, phone number, address, and current information on your bag. Before every trip, check to make sure this information is still current. If it's outdated, your bag may get delivered to the wrong location.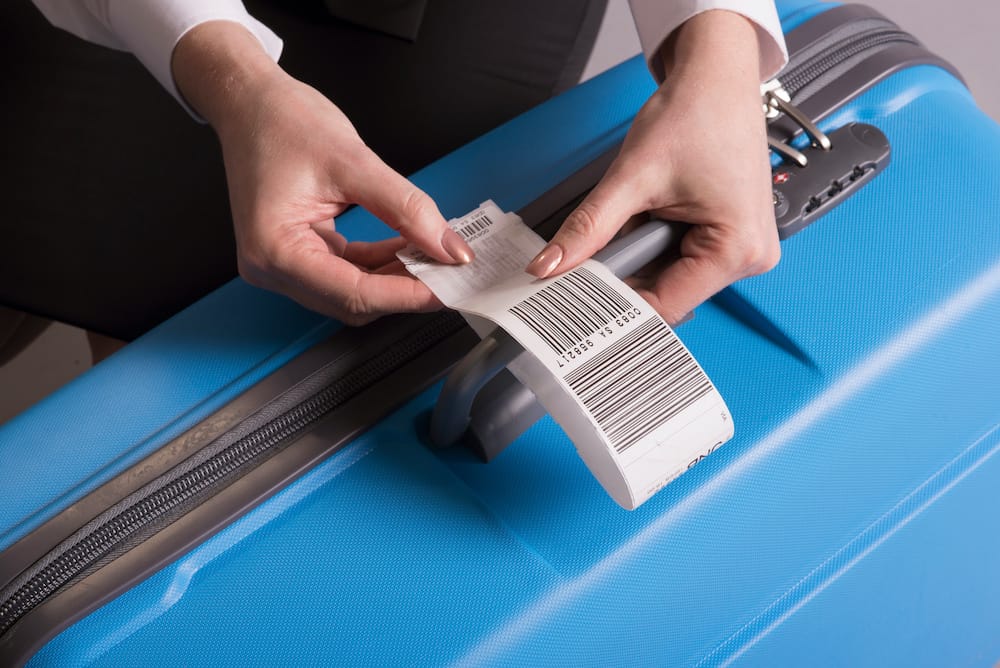 Keep essentials and valuables with you.
I'll be honest—I hate flying with a carry-on. First off, I'm a chronic over-packer, and second, I get nervous I'll have to throw out my expensive makeup at security. However, despite my dislike of carry-on bags, you bet I'll be using one whenever possible from now on! If the airline doesn't check your bag, they can't lose it—it's as simple as that.
Even if you do have to check a bag, try to keep the essentials with you in your carry-on, like a change of clothes, a toothbrush and toothpaste, and toiletries you might need. Also, never pack expensive electronics, jewelry, and irreplaceable items in your checked bag. Keep these in your carry-on bag since they will likely be too expensive (or even impossible) for the airline to replace.
Choose a bright-colored suitcase.
In general, having a bright-colored or unique suitcase is helpful, so you can easily spot it on the baggage carousel. However, it's also smart to have a unique-looking bag if it goes missing. Airlines see thousands of black, brown, and grey bags every day. If you don't already have a bright or patterned bag, consider investing in one now!
Personally, I love my Samsonite Omni 2 Hardside Expandable Luggage with Spinner Wheels because it's durable, versatile, and long-lasting. It also comes in eye-catching colors, like Rose Gold, Purple, or Lagoon Blue (pictured below), to help your luggage stand out from the dull colors everyone else has.
Snap a quick photo of your luggage.
Before your trip, it's smart to take a photo of your luggage (both the outside and the contents inside) and keep it on your phone with you.
First, a photo of the suitcase itself is helpful to share with the airline representative. They can note the color, brand, and size of your suitcase from the photo, making it easier to find your lost bag. Next, a photo of what's inside your bag is helpful for you if you need to file a claim. If you pack in a rush, you may forget what's in your bag, which can keep you from getting your full reimbursement. Before you zip up your suitcase, take a quick snapshot of everything inside to jog your memory, if needed.
Book travel with a credit card with built-in insurance.
If you don't already have a credit card with built-in travel insurance, like Chase Sapphire Preferred and Chase Sapphire Reserve, I highly recommend applying for these cards. 
Not only do they have tons of travel benefits, like a $50 hotel credit, points for airlines, hotels, and rental cars, and other unique benefits, but they also provide peace of mind that even if the airline doesn't reimburse you—they will pick up the slack. If you cannot or are not interested in using a credit card to book travel, it may be wise to invest in a travel insurance plan—especially if you're going on a big trip. I haven't used travel insurance personally, but I've heard great things about World Nomads. 
FAQs: What to Do If Your Luggage Is Lost
Are airlines responsible for lost luggage?
Yes, once an airline determines your bag is lost (usually between 5-14 days after your flight), they are responsible for compensating you for the bag's contents, including the bag itself. The payment amount is subject to maximum reimbursement limits and depreciation.
How much money do you get if your luggage gets lost?
According to the Transportation Department, the maximum liability is $3,800 for domestic flights and $1,800 for international flights, subject to depreciation and reimbursement limits set by your airline.
Will my lost luggage be found?
Most luggage is eventually found, so it's classified as "delayed" for 5–14 days after your flight. However, once the airline classifies your bag as "missing," you can file a claim for compensation for the bag's contents.
What to Do If Your Luggage Is Lost: Be Patient, Persistent & Prepared
Are you still wondering what to do if your luggage is lost? Ultimately, being patient while waiting for your luggage, persistent with the airline to get your luggage and the reimbursements you are entitled to, and prepared with the correct information, photos, and receipts you need is the best way to get your bags—and money—back.
Do you have any remaining questions for me about what to do if your luggage is lost? Feel free to leave them in the comments below!

Disclosure: This post about what to do if your luggage is lost contains affiliate links, referral links, and referral codes. I earn a commission if you click through and make a purchase at no additional cost to you. This helps me keep the content on my website free, like this post about what to do if your luggage is lost.
Save These Tips for What to Do If Your Luggage Is Lost
Did you find this post about what to do if your luggage is lost helpful? If so, check out these other helpful travel tips: