You've dreamed about it, saved for it, and now, the time has finally come—time to plan your trip! You're excited but also stressed. There's so much to think about—flights, hotels, activities, and budgeting—where do you start?
Planning an international trip can be overwhelming. My husband and I experienced this stress when we planned our 16-day European honeymoon at the same time as our wedding. We knew we would need some help, so we found some incredible travel apps to help us organize, plan, and execute an incredible trip!
My 7 Favorite Travel Apps
The truth is, you shouldn't have to plan your trip alone—especially when there are so many fantastic free travel apps that can help you!
Instead of bombarding you with every app on the market, I've found what I believe to be the best travel app in each travel category. Here are the seven best travel apps to help you plan and enjoy the trip of a lifetime!
1. Flights App: Hopper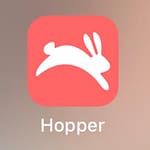 Hopper monitors price fluctuations on flights and hotels you are watching and sends you a notification when it is the best time to buy.
Take the stress out of monitoring flights with Hopper:
Watch various trips at the same time
Filter out layovers, stops, or extra fees
Search the cheapest flights from your local airport via a "Deals Feed."
The best part? You can book your flights directly from the app for free! My husband and I used Hopper to find an excellent deal on our nonstop, round-trip flights from Phoenix to London last fall. We are already watching flights on Hopper for our next trip!
2. Lodging App: Booking.com
I confidently stand by Booking.com as the best travel app to book hotels and rentals. Booking.com offers millions of properties worldwide—from hotels, resorts, hostels, apartments, and homestays. No matter your preference or budget, there is something for everyone!
Booking.com offers incredible perks:
Payment is not due until check-in.
You can change your booking at any time leading up to the trip
Most rooms offer a free cancellation
If that isn't enough to impress you, the thing I love most about Booking.com is the Genius loyalty program.
It's super easy to join. All you need is:
Two completed stays within that past two years (just one booking a year!)
That's it! When you become a Genius member, you get at least 10% savings on thousands of properties worldwide, not to mention other travel perks.
When my husband and I arrived at our hotel in Paris (at a Genius discounted rate), we were offered a complimentary breakfast each morning because of our Genius membership. Thanks, Booking.com!
3. Maps App: Google Maps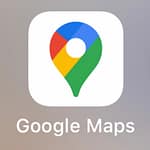 Many travelers don't consider using a map until they arrive at their destination. Why would you? That's what I thought until I started using Google Maps. Aside from providing fantastic maps, Google Maps offers excellent benefits to travelers who explore the app before their trip even begins.
Before your trip, you can use Google Maps to:
Find hotels near public transport or walking distance from things you want to do before you book them
Pin attractions & restaurants you want to visit
Create an itinerary to share with family and friends
Download offline maps for the places you will travel to (a must for international travel!)
Google Maps makes it easy to search for restaurants, landmarks, museums, train stations, coffee shops, and more in the areas you are traveling in. This maps app also gives you a realistic expectation of the walking distance or travel time between activities.
When you know what you want to do each day, create an itinerary. Based on where you will be, download an offline map of each area to guide your travels—even without an internet connection.
4. Travel Budget App: Tripcoin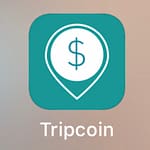 A travel budget is challenging to create and more challenging to maintain. That's why I love to use Tripcoin to monitor my travel budget and to track my expenses.
Here are some of the incredible features that make Tripcoin so great:
An unlimited allowance of trips and entries allows you to track every expense from each trip
There are customizable travel categories & payment methods
There is a currency converter included
No internet connection is needed to use the app
Tripcoin supports 150 currencies
Simple and straightforward, Tripcoin is the best travel app to keep you in budget while you plan and enjoy your trip!
[RECOMMENDED: How to Save Money to Travel on a Budget With This 4-Step Process]
5. Activities App: Pinterest
Pinterest may not be a travel app, but it is one of the best places to visit to gather ideas about what to see & do, where to stay, and what to pack for your trip.
I used Pinterest (almost exclusively) to plan our honeymoon. Pinterest gives people with travel experience or a local connection the opportunity to share real, helpful advice. If you need some travel inspiration when planning your trip, utilize Pinterest!
P.S. You can find me on Pinterest at Travel by Brit!
Another app I love to plan activities is Get Your Guide. They have tons of awesome day trips and excursions!
[RELATED: 10 Essential Travel Apps]
6. Travel Planning App: TripIt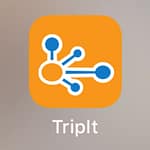 Where do you collect your flight confirmations, hotel information, and tickets for activities once you book them?
If you can't think of an answer to that question, you need TripIt—the vacation organizer that provides direct and easy access to all your travel information.
You can use TripIt to:
Keep track of tickets for flights and hotels
Create a travel itinerary in advance by marking maps, directions, and transportation
Record reservations for restaurants, tours, and other activities
Share your plans with the people you are traveling with
TripIt offers a Pro subscription for $48.99 a year that is more hands-on than the free version. It reminds you when to leave for the airport, alerts you how long security lines are, and tells you when to check-in, etc. I do not have the Pro subscription because it seems to be mostly airport management. I think as long as you have that under control, the Pro subscription is unnecessary.
The free aspect of this travel app is worth it. Long gone are the days of carrying around a clunky folder full of your hotel confirmations, tickets, and maps. TripIt will save you a lot of hassle by keeping it all in one place.
[RELATED: How to Plan an Epic Trip on a Budget]
7. Transportation App: Uber
If you don't have Uber downloaded on your phone before international travel, you should. Uber is helpful to use for longer rides rather than waiting for public transportation or a taxi.
Uber is safe and easy to use because:
Payment is made securely through the app.
Language barriers are not an issue because the app programs your destination.
You can follow your journey to ensure you are arriving at the correct location.
Afraid of pickpockets on public transport? Uber is an excellent solution for traveling with suitcases.
Uber is available in over 700 cities in over 80 countries. Visit this website to see if the ride-sharing service is available in your travel destination.
Focus on the Fun with These Travel Apps
It doesn't have to be difficult to plan and execute a fantastic trip. These seven travel apps will take the stress out of traveling so you can focus on the fun!
For more travel tips and advice, scroll up to subscribe to the Travel by Brit newsletter.
I can't wait to see you in your e-mail inbox!