Louisville, Kentucky, may be known for great bourbon, but let me tell you—there are just as many incredible places to eat in Louisville as there are places to drink. I was blown away by all the fabulous food and unique restaurant concepts my husband and I discovered during our time in Louisville, KY—and we were just there for a few days!
Since we were only in Louisville for a few days, we, unfortunately, couldn't enjoy all the fantastic restaurants in this vibrant city (though we certainly tried our best). However, all the cool restaurants in Louisville, KY, on this list were either places we visited and loved or places multiple people recommended to me, so now they're on the list for the next time I'm in Louisville!
So, without further ado, here are all the cool restaurants in Louisville, KY, with delicious food and immaculate vibes that you can't miss during your vacation!
Breakfast & Coffee
First up, breakfast! I'm leaving the breakfast, brunch, and coffee list short and sweet because these cool restaurants in Louisville are amazing. Once you start your morning at these charming restaurants—you won't want to go anywhere else for the rest of your trip!
1. Gralehaus
Gralehaus isn't just one of my favorite restaurants in Louisville—it's one of my favorite brunch spots I've ever been to, period! I can't recommend this place enough—the atmosphere is truly just as impressive as the food.
Gralehaus is built inside an old home from the 1900s located in the Original Highlands neighborhood in Louisville. The house's first floor is a restaurant that serves brunch daily from 9 AM – 2 PM, and the second and third floors have rooms for rent. Plus, the food is excellent—I'd especially recommend the coffee cake!
However, the best part about Gralehaus is the beautiful outdoor patio. It's filled with flowers, trees, and beautiful décor, and it looks just like a beer garden, which makes sense because Gralehaus shares the outdoor seating with Holy Grale, the bar next door.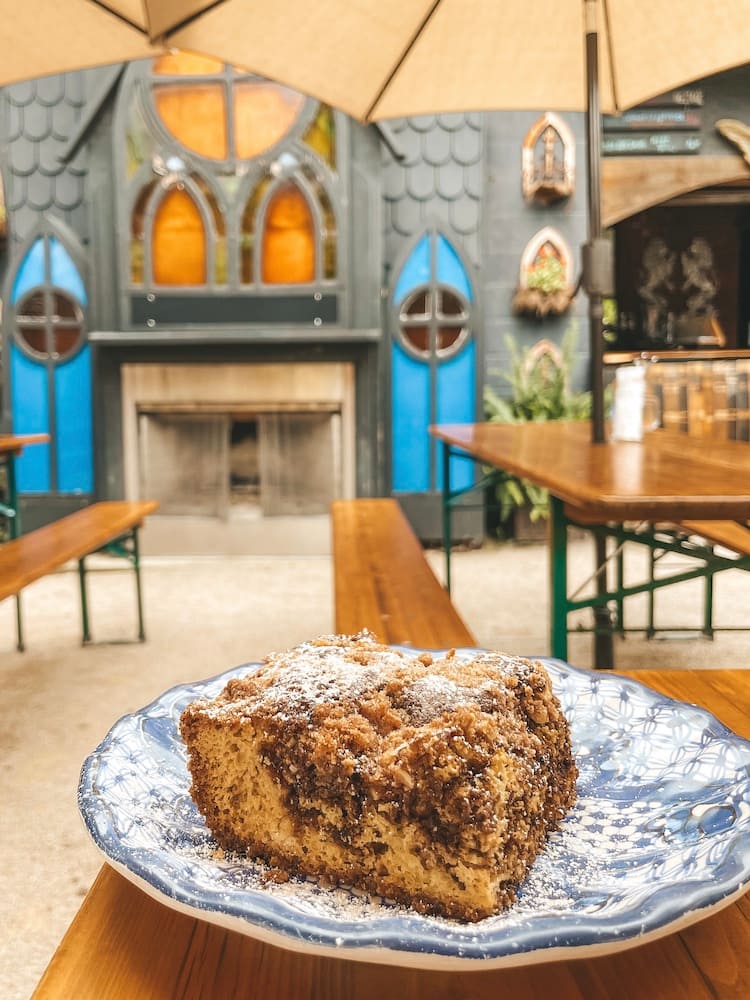 2. Biscuit Belly
Biscuit Belly is a local chain restaurant that started in Louisville and is slowly spreading across Kentucky—and even into Indiana. After visiting, it's easy to see why it's so popular!
Biscuit Belly serves southern favorites, like biscuit sandwiches, with a twist. For example, we ordered a buttermilk fried chicken sandwich with sweet pepper jelly and goat cheese called "The G.O.A.T."—and it was super tasty. They also have other unique sandwiches called the "Brisket Biscuit" and "The Boozy Bird," so you'll be able to find a sandwich to suit your palate!
However, don't sleep on the Bonuts. These donut holes are made from biscuit dough, dusted in sugar, and served with bourbon cream cheese or chocolate gravy (get the bourbon cream cheese—it's so good!). They also serve drip coffee by Heine Brothers' (a local Louisville coffee chain) and specialty coffee drinks, like the Cinnamocha and Praline Mocha.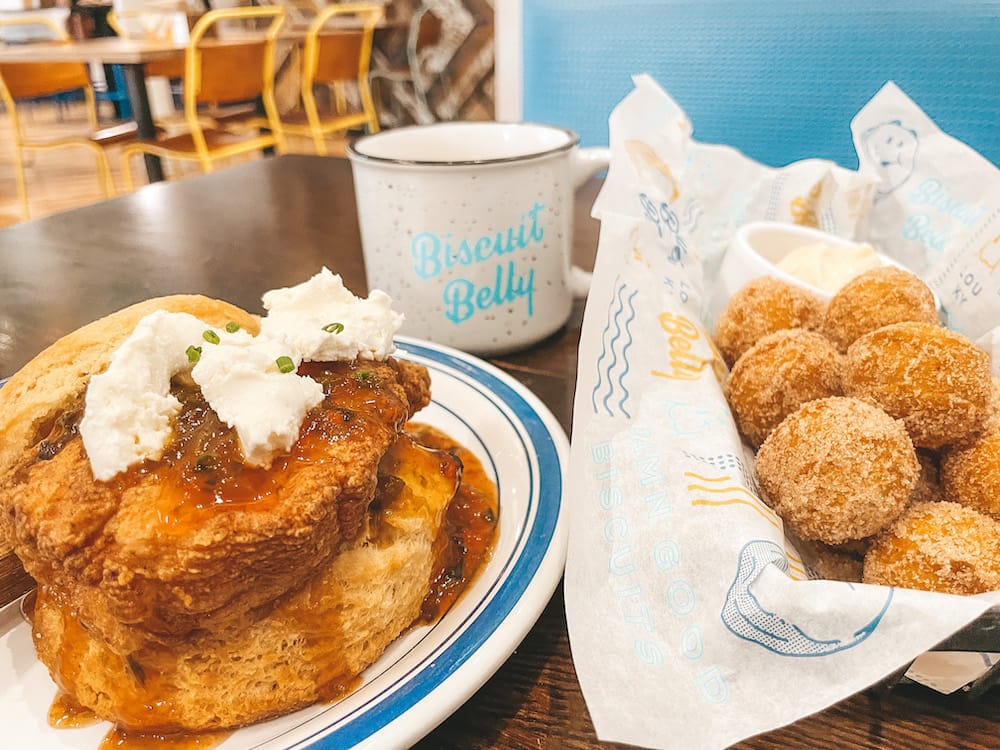 3. Quills Coffee
Quills Coffee is another local coffee chain that serves excellent craft coffee—and trust me, I'm a former barista, so I know what I'm talking about! (*wink*).
If you like fancy coffee, order a latte (or iced latte) with homemade bourbon caramel syrup. Of course, you're in Kentucky, so bourbon-themed everything is the way to go, but also—it was one of the best iced lattes I've ever tasted.
Quills Coffee has several locations across Louisville, but the one in NuLu has a beautiful, spacious outdoor patio if you'd like to enjoy your coffee outside.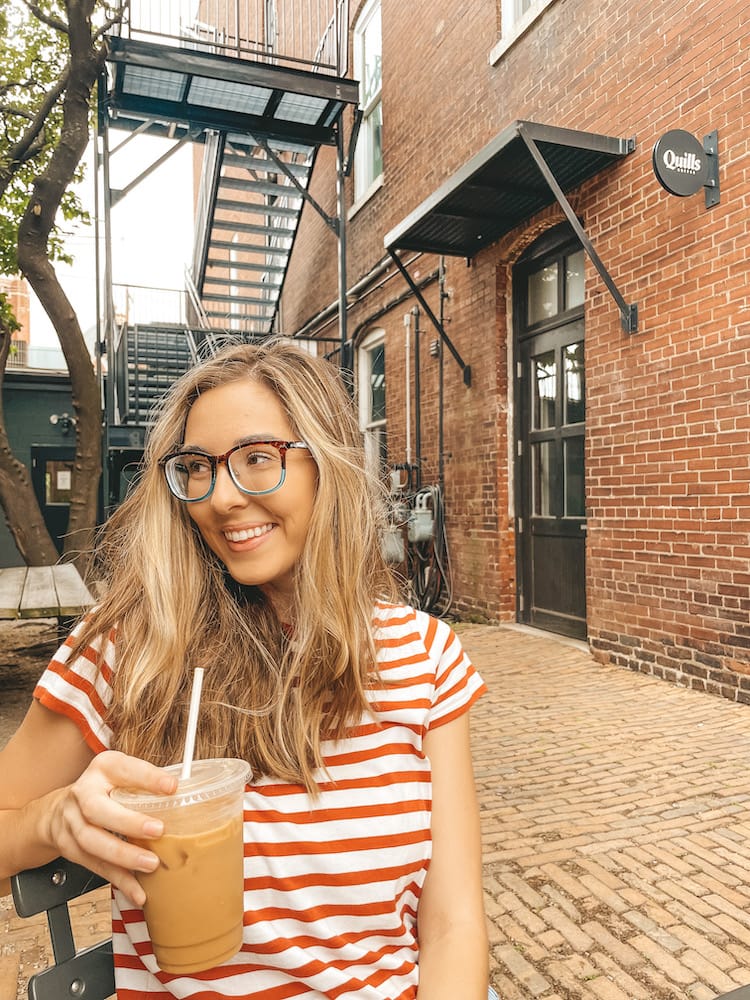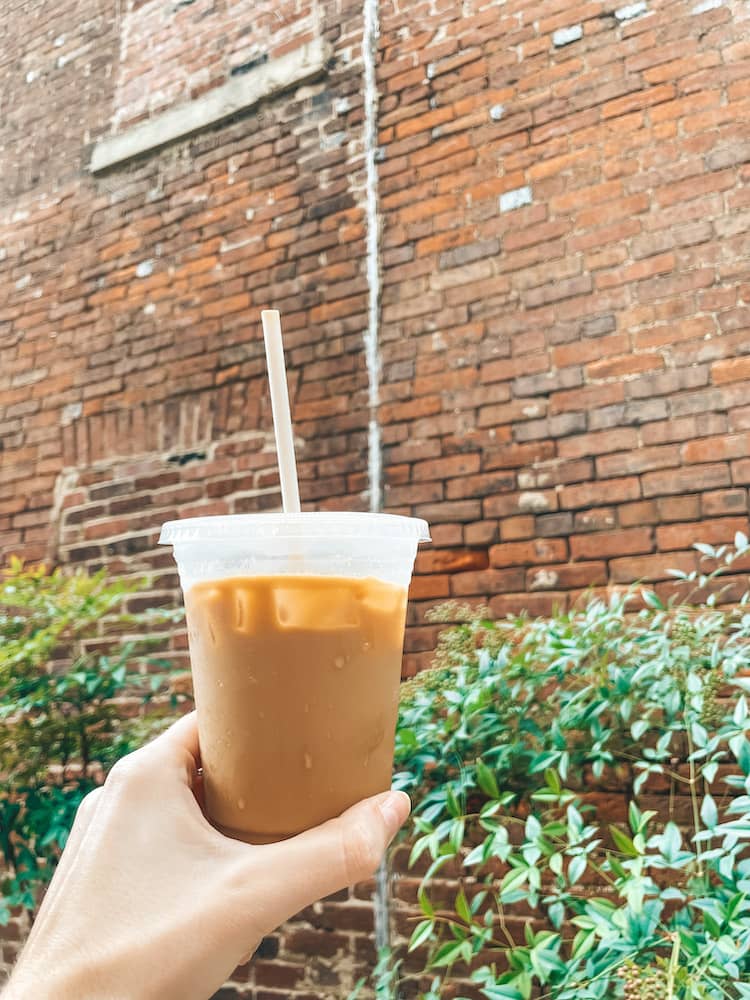 Lunch
If you're not too full after breakfast, here are some cool restaurants in Louisville, KY, with reasonable prices, quick service, and tasty food that are perfect for a quick lunch break.
4. Taco Luchador
Taco Luchador specializes in, well, you guessed it—tacos! This local chain has four locations throughout the city in Colonial Gardens, Jeffersontown, St. Matthews, and Highlands, so no matter where your adventures in Louisville take you, you'll find a Taco Luchador nearby.
You'll find tons of tacos on the menu, including Al Pastor, Tinga, Barbacoa, Carnitas, Baja Fish, Veggie, and more. Taco Luchador also serves tortas and plenty of starters, like Chips & Guacamole, Luchador Nachos, and more.
5. Feast BBQ
If you're looking for some good old-fashioned barbecue during your trip to Louisville, KY, look no further than Feast BBQ.
This local barbecue chain serves smoked meats, like Pulled Pork, Chopped Chicken, and Brisket, and made-from-scratch sides, such as Vinegar Slaw, Mac 'n' Cheese, Baked Beans, and more. Feast BBQ also serves salads and snacks, like Fried Pickles and Smoked Wings!
Feast BBQ has two locations in Louisville—one in Jeffersontown and another in NuLu. We visited the spot in NuLu (there was tons of seating!), and the barbecue was tender, juicy, and delicious. The only problem? There was so much food that I couldn't finish it!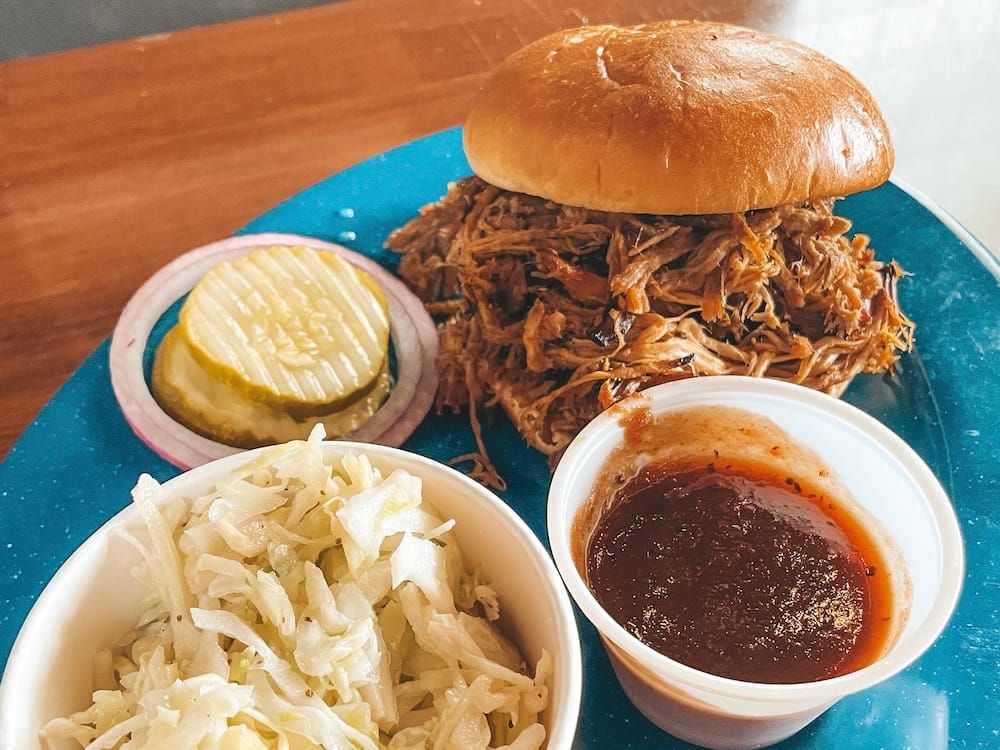 6. Royals Hot Chicken
Royals Hot Chicken is the Louisville, KY, take on Nashville Hot Chicken. Since we had just come from Nashville and already had our fill of hot chicken, we didn't stop here, but I've only heard good things about this local chain. They have two locations—one in NuLu and one on Shelbyville Road.
You can order a Fried Chicken Sandwich, Chicken Tenders, Chicken Tender Tacos, and more. They even have a Crispy Tenders Kale Salad for a healthier alternative. You can also choose how hot you'd like your chicken—from no heat to "Gonzo" hot.
7. In Season Harvest Kitchen
If you're looking for a quick and healthy lunch (especially after all the barbecue and fried chicken!), stop at In Season Harvest Kitchen in Downtown Louisville for a bowl or salad. This local establishment has a rotating seasonal menu that features fresh ingredients from farms and ranches across Kentucky.
We ordered the Crispy Wonton Chicken Salad from their summer menu, which was so tasty. The ginger maple vinaigrette it was topped with was so delicious. I would have bought some to take home with me if they had sold it. It was that good!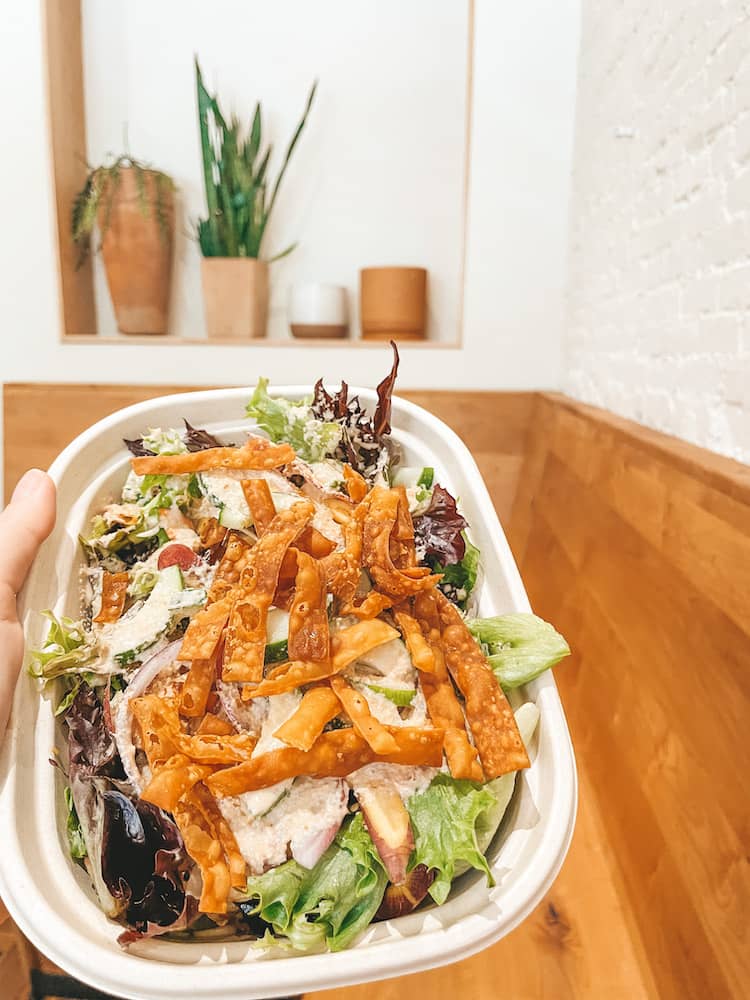 Dinner
There are tons of cool restaurants in Louisville, KY, with charming ambiance, beautiful décor, and, of course, delicious food. Make a reservation at these top places for dinner in Louisville, KY, during your vacation.
8. Proof on Main
Proof on Main is a popular restaurant in Downtown Louisville located in the 21c Museum Hotel. Though they serve breakfast, brunch, and dinner, their dinner menu and eclectic décor are what puts them on this list of cool restaurants in Louisville, KY!
Proof on Main showcases a unique, modern approach to local comfort food. They have entrees like Proof Bison Burger, Ora King Salmon, and House Fettuccine on their menu. Proof on Main also has a cocktail menu where bourbon is the star of the show, with drinks like the Vincent '52 and Rhinestone Cowboy, but also serve tequila, rum, and other spirits too.
21c Museum Hotel Louisville is, first, a hotel, and second, an art museum. So naturally, the décor in Proof on Main is contemporary, unique, and eclectic, just like the artwork in the hotel. You'll have to visit to see what we mean for yourself!
9. Doc Crow's Southern Smokehouse & Raw Bar
There aren't many cool restaurants in Louisville, KY, that are as well-known as Doc Crow's Southern Smokehouse in Downtown Louisville.
Located in a building from 1869 that formerly housed the Bonnie Bros. Distillers Warehouse, Doc Crow's has a rich history—and an even bigger claim to fame. Doc's Bourbon Room, located right next door, has the most extensive bourbon collection in the Western Hemisphere and is the second largest in the world, second only to another establishment in Japan. If you want to sample some bourbon while in Louisville—this is the place to do it.
In addition to the ample bourbon supply, the food at Doc Brow's is simply amazing. While I can't vouch for everything on the menu, the Half Rack St. Louis Ribs and Doc's Hot Fried Chicken (with the Bourbon Honey!) were both fantastic. Truly some of the most tender, fall-off-the-bone ribs I have ever eaten. Ever!
Also, get the Bourbon Ball Ice Cream for dessert. More on this to come later!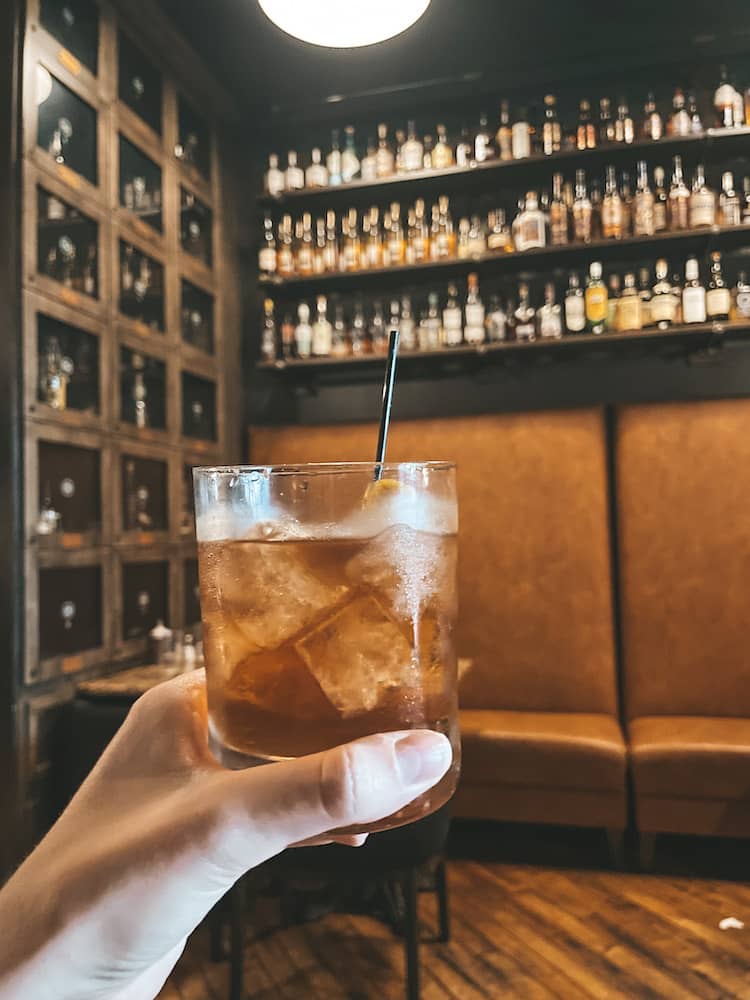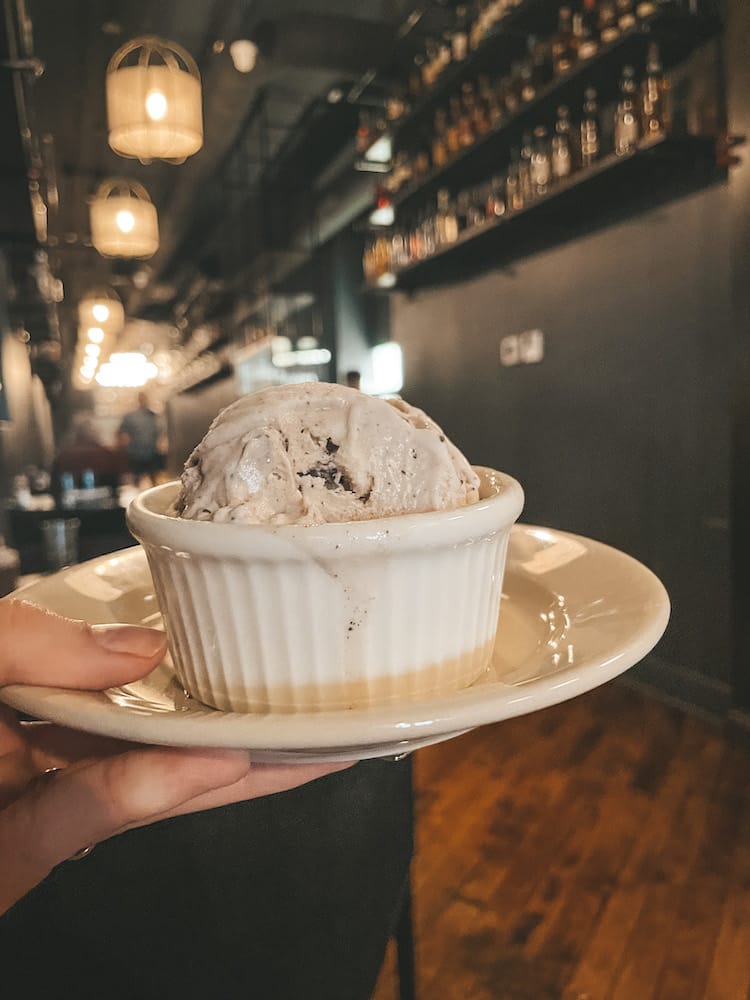 10. Lobby Bar & Grill at the Brown Hotel
Did you know Louisville, Kentucky, is known for a famous dish called the "Hot Brown," which was created in 1926 at the Brown Hotel?
The Brown Hotel is a historic hotel in Louisville with roots deeply tied to the city's history. If you're not staying here, it's worth visiting just to walk around the lobby, and while you're visiting, staying for dinner isn't a bad idea, either. They have three restaurants—the English Grill, J. Graham's Café, and the Lobby Bar, but the opulence and old-world charm of the Lobby Bar put this dining experience at the top of my list of cool restaurants in Louisville.
The Lobby Bar is open for dinner most nights from 5 PM – 9 PM, and they have a late-night menu available from 9 PM – 11 PM. In addition to their dinner menu, they also have an impressive bourbon and wine list.
11. Repeal Oak-Fired Steakhouse
So far, you have some fantastic options for dinner in Louisville, but you also can't miss the chance to visit Repeal Oak-Fired Steakhouse. This steakhouse is located in the lobby of Hotel Distil, an Autograph Collection Hotel, and the restaurant's ambiance is just as great as the food.
Repeal smokes all their steaks on oak-fired bourbon barrels, so you're in for a treat! In addition to steak, they have plenty of other entrees on the menu, like French Onion Gratinée, East Coast Oysters, Brush Creek Ranch Wagyu Burger, and Baked Alaskan King Crab. Repeal also has a cocktail menu with a section dedicated just to the Old Fashioned. My Repeal's Signature Old Fashioned was my favorite drink I enjoyed while in Louisville. The Old Forester 100 Proof, Vanilla Demerara Simple Syrup, and Black Walnut Bitters tasted terrific together.
We loved our dinner at Repeal Oak-Fired Steakhouse! Just be sure to make a reservation for dinner in advance. This restaurant tends to book up quickly.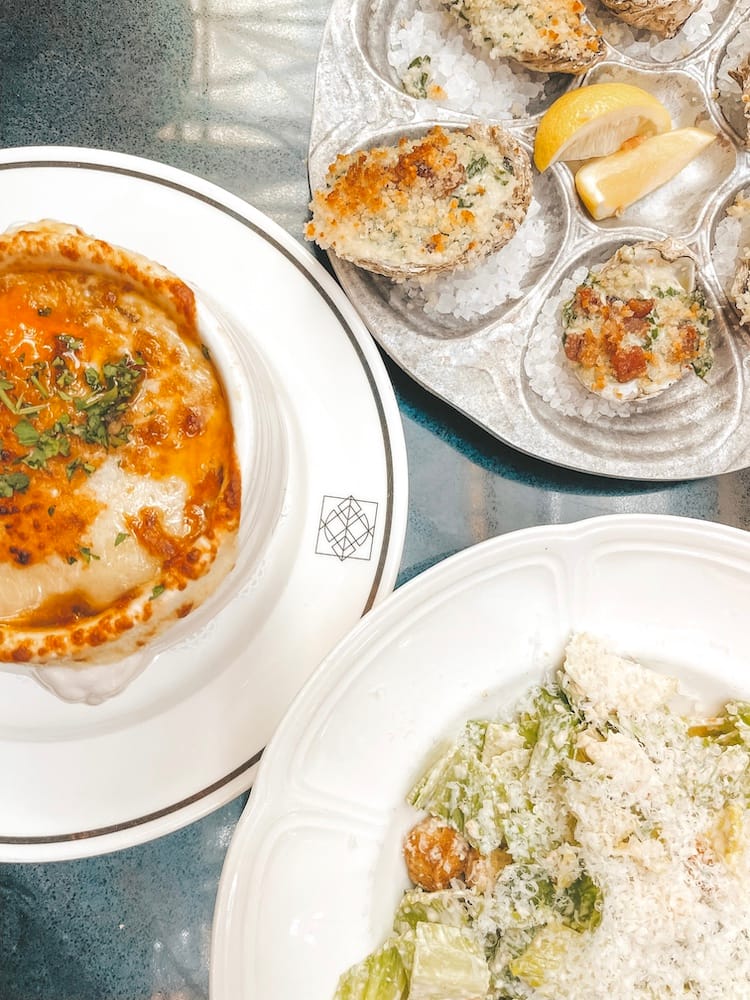 12. Fork & Barrel
Fork & Barrel is one of the cool restaurants in Louisville that you should check out during your vacation. Fork & Barrel is a local restaurant known for local ingredients, craft cocktails, and warm hospitality.
This spot serves up upscale American cuisine, so you'll find items like Be the Fork Smash Burger, Shrimp & Grits, and Stroganoff on their menu. They also have a White Wine Menu, Red Wine Menu, and Cocktail Menu. They even have a Mocktail Menu!
13. 610 Magnolia
610 Magnolia is one of the cool restaurants in Louisville located in the heart of Old Louisville—my favorite neighborhood in Louisville, filled with charming historic homes. This award-winning restaurant by Chef Edward Lee is great for a romantic dinner, celebratory meal, or another special occasion.
610 Magnolia is only open Wednesday – Saturday from 5:30 PM – 9 PM. The restaurant also requires reservations, so reserve your table in advance if you want to eat here. This upscale restaurant has a five-course tasting menu, and the food and prices change weekly, so check the menu and pricing before you go. 610 Magnolia also offers boutique wine parings you can choose to add to your meal, and they also offer original cocktails that focus on bourbon.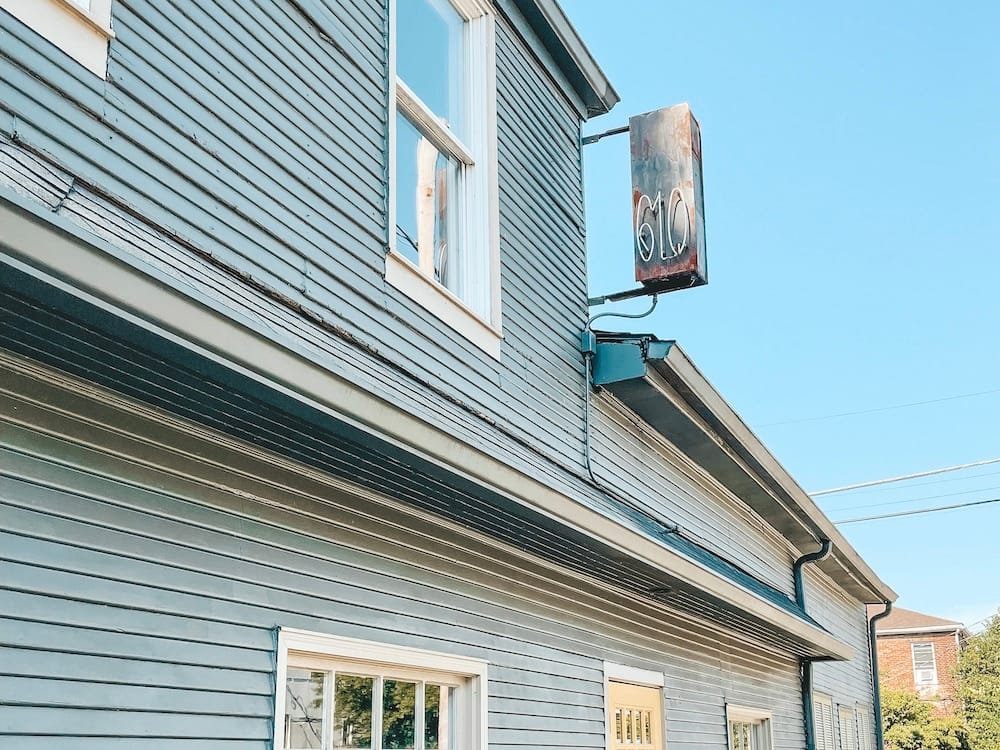 14. The Fat Lamb Modern Kitchen & Bar
The Fat Lamb Modern Kitchen & Bar is owned by Chef Dallas McGarity—a winner of Food Network's Chopped. They serve dinner from 5 PM – 10 PM on Tuesday – Saturday. Though I didn't have time to visit this restaurant in Louisville, KY, many people said it was their favorite meal they had while visiting Louisville!
The Fat Lamb Moden Kitchen & Bar features upscale "surf 'n' turf" menu items like Garlic & Herb Marinated Lamb Chops, Cajun Spiced Seated Chilean Sea Bass, Curry Spiced Salmon, and Hot Sauce Marinated Fried Chicken. If you check out this spot, let me know what you think!
Dessert
Now for my favorite meal of the day—dessert! Whether you love chocolate, cookies, or ice cream, you're sure to find something on this list of cool restaurants in Louisville to satisfy your sweet tooth.
15. Art Eatables
Art Eatables creates small-batch bourbon truffles. These premium candies source high-quality chocolate and bourbon to make tasty (& alcoholic) treats. This local chain makes all of their truffles by hand, and they have dozens of truffles filled with bourbon made in Kentucky. You'll likely be able to find a truffle with your favorite bourbon inside!
I tried the (non-alcoholic) Bourbon Smoked Sea Salt Caramels. They were so delicious! While you're here, grab some truffles to bring home for your family and friends to give them a taste of Louisville, Kentucky!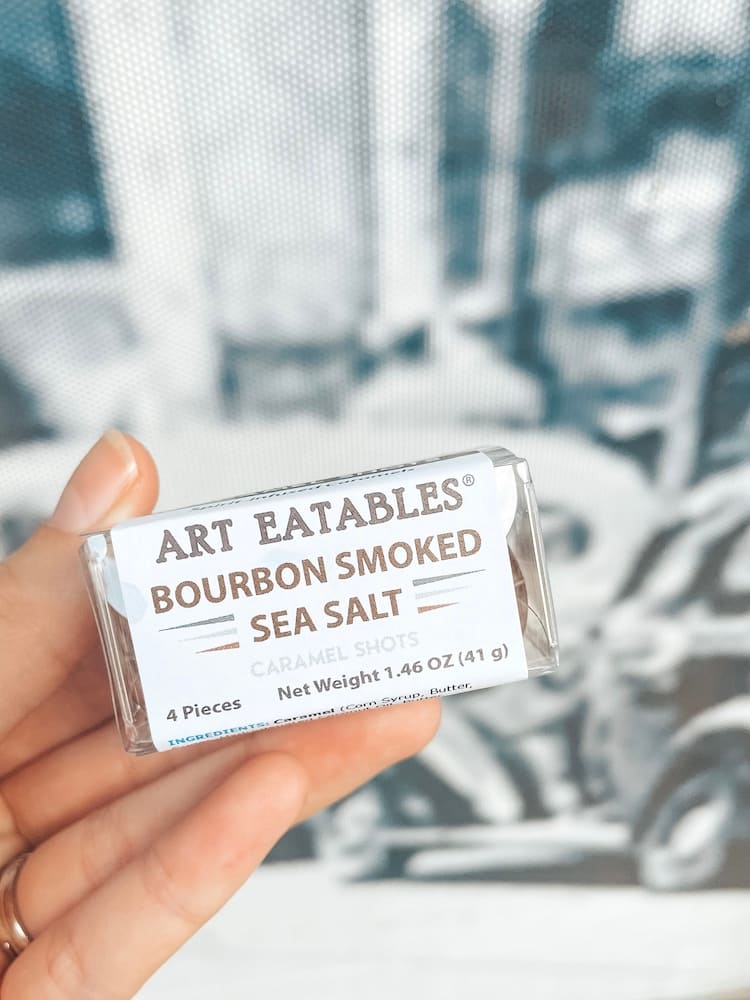 16. PLEASE & THANK YOU
PLEASE & THANK YOU is a local chain with four locations across Louisville, KY, that serves fresh-baked cookies. Although they are famous for their Chocolate Chip Cookies, they also have other goodies you can try, like an Oatmeal Cream Pie, Sugar Cookie, and Peanut Butter Cream Pie. Yum!
PLEASE & THANK YOU also has some fantastic coffee (from what I've heard). They have traditional coffee and "fancy" drinks, like a Butterscotch Latte, Ganache Latte, and Harvest Moon Latte. They're open 7 AM – 5:30 PM on Monday – Saturday and from 8 AM – 5:30 PM on Sunday.
17. The Comfy Cow
Finally, we end this list with my favorite food—ice cream. The Comfy Cow is a local ice cream chain with upbeat, inventive flavors, like Bourbon Ball, Brown Butter Peanut Brittle, Salted Caramel, and Say Cheesecake.
Though we didn't actually step inside The Comfy Cow during our visit to Louisville, we did have a scoop of their Bourbon Ball Ice Cream for dessert at Doc Crow's, which was delicious! I'd highly recommend a scoop of this flavor (or another that sounds good to you) during your trip to Louisville.
Get a Taste of Kentucky at These Cool Restaurants in Lousiville
Which of these cool restaurants in Louisville sounds the most appealing to you? It's hard to choose, right? When you do, let us know in the comments below!

Save These Cool Restaurants in Louisville, KY, for Your Vacation
Read More
Did you love this post about cool restaurants in Louisville? If so, check out these other blog posts about Louisville to help plan your trip: